The Power of Forced Appreciation in Mid-Sized Multifamily with Mario Brown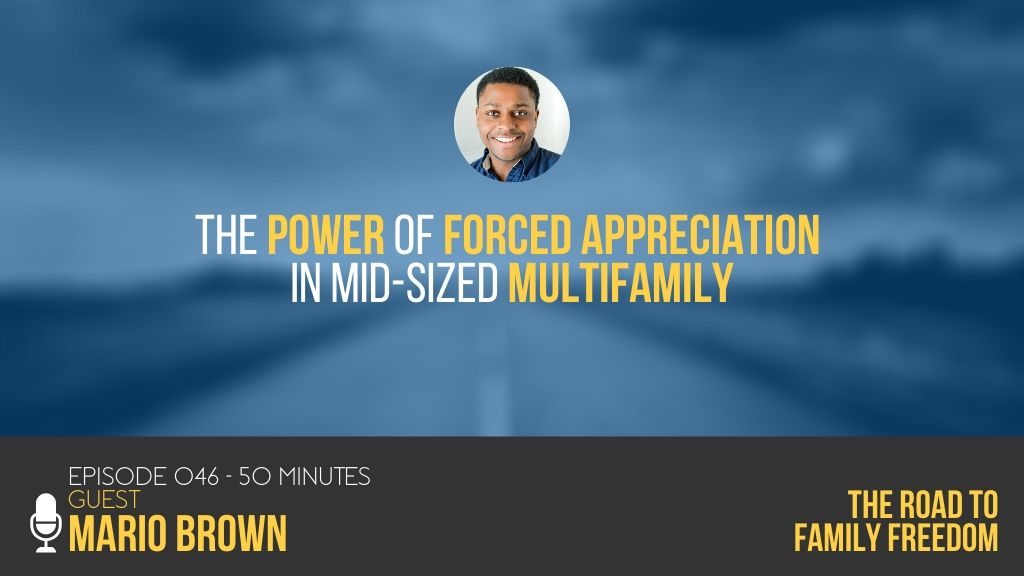 Mario Brown – is a Greenville, SC real estate agent who specializes in new residential construction, as the co-founder of Affordable Upstate, he and his team buy and reposition mid-sized multifamily in South Carolina, where he talks to Neil Henderson and Brittany Henderson, the hosts of The Road to Family Freedom podcast. Mario Brown talks about the various ways they force appreciation on their assets all while instituting environmentally conscious utility programs.
Post-Interview Analysis 
Key Lessons Learned: When you are the owner/operator of a multi family asset, it's important to remember you are in the customer service business, and your customers are your tenants. While it's important not to be a pushover, you should remember you are providing those customers with a clean, safe, pleasant place to live.

You learn by doing. There's only so much you are going to learn from reading books, listening to podcasts. The sooner you can get out there and learn by doing, the better off you'll be.

How did they acquire their knowledge or what knowledge did they need to acquire?

He gained his knowledge from "BiggerPockets University" and he had to learn how to work with a partner after years of working as a lone ranger.

How much money did it take to get started? It took him roughly $55,000 of his own money to purchase and rehab a $400,000 property that he sold 24 months later for $560,000.

How much time does it take now? He puts in about 20 hours a week on his real estate endeavors.

Could they do this strategy from anywhere in the world? That's the goal, but not right now when they are in the acquisition phase.
Episode Highlights:
Schedule a video chat with Neil Henderson at

roadtofamilyfreedom.com/selfstoragecall

Neil Henderson introduces

Mario Brown

Neil and Mario discuss the Best Ever Conference in Colorado this past February and the way the world changed at the beginning of March 2020.

Mario talks about how he discovered the power of real estate investing.

What is "forced appreciation"? What's the difference between forced and natural appreciation?

What is Net Operating Income?  

How are residential home sales valued versus how are commercial properties valued?  

Lessons learned from his start in wholesaling and house flipping that he now applies to multifamily

What size multi-family communities are they typically purchasing?

What is his job in their partnership?

Is there anything he would do differently after purchasing the eight-unit apartment?

What were the numbers for that eight-unit deal?

Any massive failures in those early days he could have avoided?

What led him to shift gears from residential real estate to commercial real estate?

What is the elevator pitch for Affordable Upstate?

Where is his investor pool coming from?

Every investor you bring on is a customer service relationship you will be dealing with for at least the life of the deal.

What is a RUBS program? Ratio Utility Billing System.

The power of small savings that boost the net operating income that gets supercharged when divided by the Cap rate.

What skill did he need to learn to successfully execute multifamily investing?

What does a day in the life of a mid-sized multi-family investor look like?

Could he do this strategy from anywhere in the world?

Mario Brown talks about being a new dad and proposing to his wife
Books and Resources Mentioned: