How To Leave A Podcast Rating and Review In iTunes
Here's a super quick tutorial on how to leave a podcast rating and review in iTunes from your phone or iPad.
You can click here to be taken straight to our podcast page on iTunes.
1. Launch Apple's Podcast app on your mobile device. If you have trouble locating it, use the search function on your phone. It looks like this: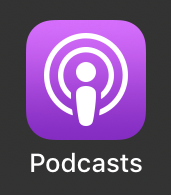 If you don't already have the podcast player app installed, you can find it in your app store. Click here if you're on an Apple device.
NOTE: If you're on a non-Apple device, you can leave a rating and review on your favorite podcast player such as Pocket Casts, BeyondPod, Podcast Addict, Doggcatcher, PlayerFM, CastBox, Stitcher or Google Play.
2. Tap the Search tab in the lower right hand corner.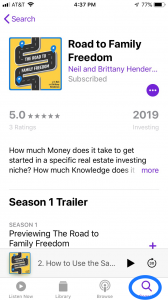 3. Enter the name of the podcast you want to rate or review – The Road to Family Freedom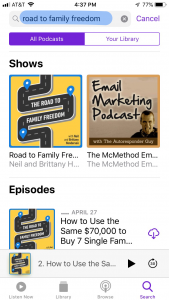 4. Tap the blue Search key at the bottom right once you're typed in the name.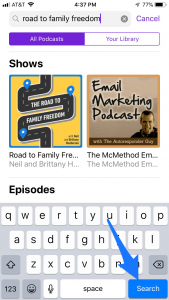 5. Tap the album art for the podcast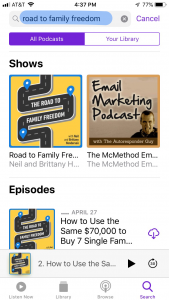 6. Scroll until you see Write a Review and tap the text that says 'Write a Review'.
NOTE: If you are not signed into iTunes, you will be asked to sign in. If you are already signed in to iTunes, it is likely that you will skip this step.
7. Write us an honest review and mark the number of stars you think we deserve.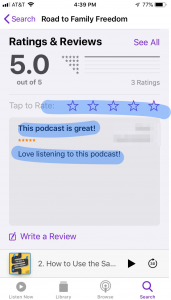 Thank you so very much for taking the time to do this! It makes a huge difference to the visibility of our show and helps us get better guests.
~ Neil and Brittany