Jumping Right into Mid-Sized Multifamily pt. 2 with Jimmy Johner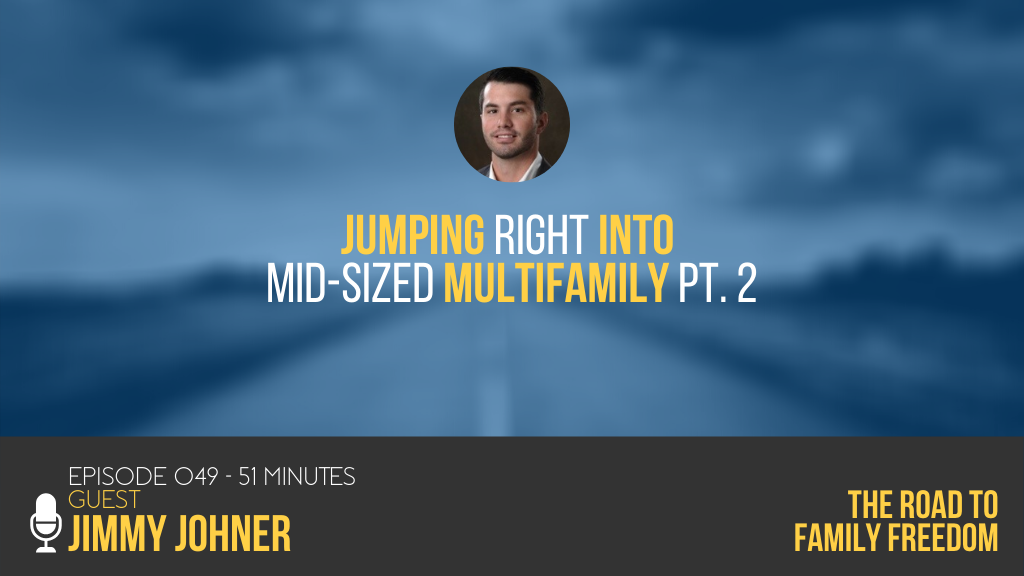 Jimmy Johner – the co-founder of Crystal Coast Capital, and mid-sized multifamily investor, talks to Neil Henderson, the hosts of The Road to Family Freedom podcast. This is part two of the interview with the founders of Crystal Coast Capital, his life-long friend and partner, Alan Hill, can be heard on episode 47 of The Road to Family Freedom. Jimmy talks about discovering the pitfalls of investing in duplexes, and his decision to jump right into to larger properties.
Post-Interview Analysis 
Key Lessons Learned: You can read every book on real estate investing that's ever been written, but you really aren't going to learn until you start doing it. The education you get from doing just one deal, will often outpace every other book you've read or YouTube video you've ever watched. If you're fearful of executing your first deal, find someone with experience and deal flow, and invest with them.

How did they acquire their knowledge or what knowledge did they need to acquire? He had to learn to take emotion out of the transaction. This is a business, and it's primarily a people business. If you let your emotions rule your decision making process, you'll flame out in a hurry. Find a way to remove emotions from the transactions of real estate, from buying/selling a property, to dealing with tenants.

How much money did it take to get started?  He and his partner, Alan Hill, each had to bring about $2,500 to the deal initially, but they did end up having to bring another $20,000 into the deal after they had acquired it.

How much time does it take now? Like many real estate investors, the amount of time he spends working on his real estate endeavors will be largely dependent on what phase of the process he is in. In acquisition mode, the time commitment is going to be a lot more, but once a property is stabilized and operating the way they want, it's really about managing the property manager. He said he spends an average of 10 to 20 hours a week on real estate.

Could they do this strategy from anywhere in the world? Yes! His goal is to spend about 6 months out of the year on the island of Maui.
Episode Highlights:
Schedule a video chat with Neil Henderson at

roadtofamilyfreedom.com/selfstoragecall

Neil Henderson introduces

Jimmy Johner, a boating enthusiast.

Jimmy talks about how he discovered real estate after reading Rich Dad, Poor Dad by Robert Kiyosaki about ten years ago and had been itching to be an entrepreneur ever since.

How he developed a duplex from the ground up and discovered that the work involved wasn't worth the amount of money. There is almost the same amount of risk dealing with 2 doors, as there is with dealing with 18 doors.

His journey to buying that first 18 unit apartment complex started with a phone call to a commercial broker he knows, on a whim. He didn't have the money to afford the down payment for a property that size, but he figured it out.

The challenges of finding and dealing with a property management company that will manage a mid-sized multi-family property.

Bringing in an investor to handle the down payment on the 18-unit.

Breaking down the numbers on the 18-unit.

How much money did they have to bring to the table to acquire the property?

What the value of the property was at purchase, versus what it is valued at just six months later.

The power of forced appreciation on commercial real estate assets.

The effect on value of increasing the Net Operating Income when combined with a Cap Rate.

What is Agency Debt?

Biggest lessons learned from acquiring that first 18 unit apartment building.

The Three Immutable Laws of Real Estate investing.

The importance of surrounding yourself with positivity.

Providing a clean, safe place for tenants to live but removing emotion from the interaction.

How much money did Jimmy and Alan need to bring to the deal?

The most frustrating moment of buying the 48-unit apartment building.

A lot of times, the real work begins once the deal is under contract.

How did they find the 48-unit deal?

The importance of telling everyone what you do and what you are looking for.

What did Jimmy need to learn to be successful as a mid-sized multi-family investor?

What does a day in the life look like for Jimmy with his real estate endeavors? How much time does he spend on it?

Is this a business he could run from anywhere in the world?

Neil and Jimmy talk about their favorite Hawaiian island.
Books and Resources Mentioned: