How to Invest Without Banks Using Lease Purchases with Chris Prefontaine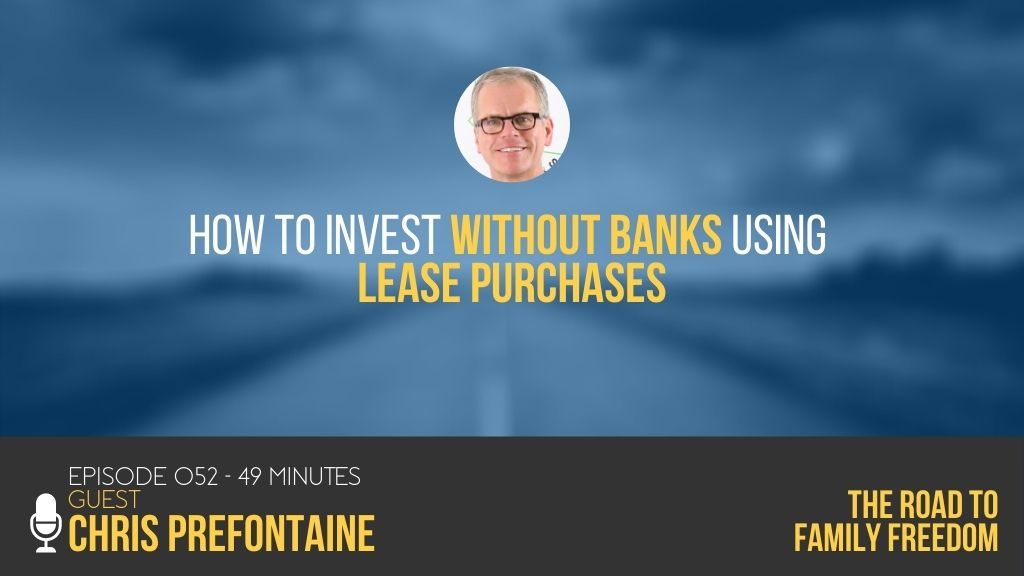 Chris Prefontaine – 3-time best-selling author and CEO of Smart Real Estate Coach talks to Neil and Brittany Henderson, hosts of The Road to Family Freedom podcast. Chris talks about how the 2008 real estate crash shaped his real estate investing strategy so that he now buys and sells investment properties with no banks. He now uses, and teaches others to use, a strategy called Lease Purchase, to control an asset, and then either hold it as a long term rental, or sell it using another lease purchase agreement. 
Post-Interview Analysis 
Key Lessons Learned: Manage your expectations on your first few deals. So many people want or expect to hit a home run with their first deal, but what they should be trying to do is just get in a deal and learn.

How did they acquire their knowledge or what knowledge did they need to acquire? Mindset is such an important aspect of the real estate investing business. Getting over your limiting beliefs around how much money you can make, and whether you can successfully negotiate a sale with a seller. 

How much money did it take to get started? It varies greatly, but the biggest cost is typically going to be marketing and closing costs to set up the Lease Purchase agreement. On average, probably about $4,000 to $10,000.
How much time does it take now? About 20 hours a week for minimal results.
Could they do this strategy from anywhere in the world? Maybe, but you would definitely need a partner of some sort to act as boots on the ground.
Episode Highlights:
Schedule a free video chat with Neil Henderson at

roadtofamilyfreedom.com/selfstoragecall

Neil Henderson introduces

Chris Prefontaine

[02:55] Chris talks about how the 2008 real estate crash shaped his future strategy. 
[04:30] How the COVID-19 pandemic and related economic crisis compares to the 2008 financial crisis.
[07:09] How does a Lease Purchase work in real estate investing?
[10:06] Chris Prefontaine walks us through a recent example of an investor using a lease-purchase to acquire an investment property.
[15:07] The Law of the First Deal in real estate investing.
[16:22] How do they structure partnerships with their student investors?
[22:24] How to find sellers who are open to a lease-purchase.
[24:07] What sorts of systems have they set up to keep their deal funnel full?
[25:51] How to use virtual assistants to help you contact motivated sellers.
[27:25] How Chris got himself educated on using the lease-purchase strategy.
[29:54] What are the costs associated with using the lease-purchase strategy to acquire investment property?
[31:18] What does the Smart Real Estate Coach mentorship look like for a student?
[34:34] Are investors investing out of state or just in their immediate area?
[36:43] Are lease purchases the kind of investment strategy that someone could execute long distance? From anywhere in the world?
[38:03] What are Chris Prefontaine's predictions for the real estate market over the next 12 months?
Books and Resources Mentioned:
Follow Us:
Other Stuff:
If you enjoy the podcast, would you please consider leaving a short review on Apple Podcasts/iTunes? It takes less than 60 seconds, and it really makes a difference in helping to convince hard-to-get guests.

For show notes and past guests, please visit

roadtofamilyfreedom.com/episodes/

Discover the tools and services we use, visit

roadtofamilyfreedom.com/resources/