House Hack Your Way to a Life Near the Beach with Joe Prillaman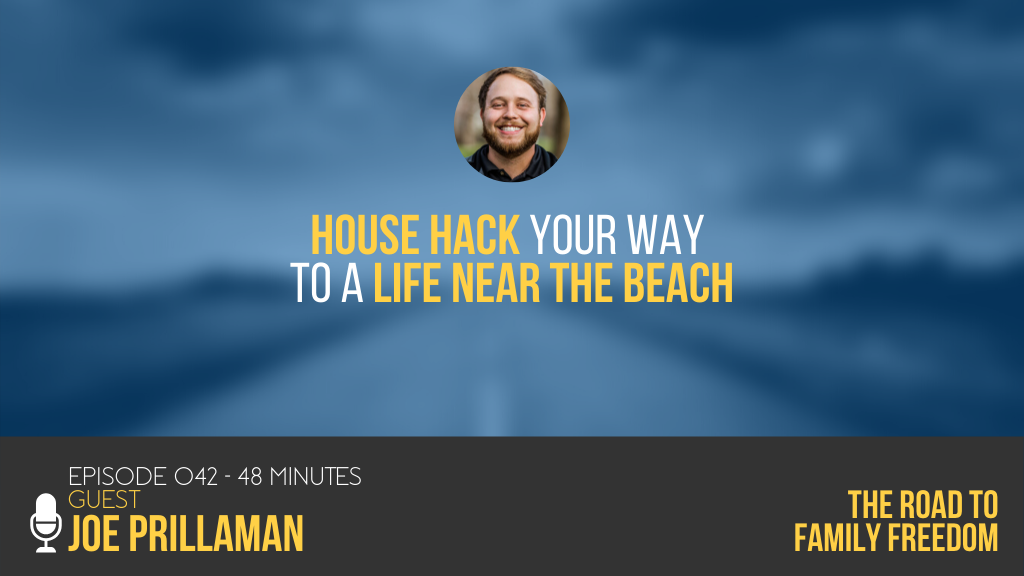 Joe Prillaman – the Founder and 'Average Joe' of Anchored Investing, talks to Neil Henderson and Brittany Henderson, the hosts of The Road to Family Freedom podcast. Joe Prillaman has been investing since 2018, where he got started with a BRRR of a single-family home in Fayetteville, North Carolina. He currently owns five properties in Fayetteville, North Carolina and is living near the beach on the Carolina coast by way of a house hacking a duplex as a short-term rental.
Post-Interview Analysis 
Key Lessons Learned: Stay consistent. Airbnb is a business, not passive investing. 

How did they acquire their knowledge or what knowledge did they need to acquire? Do something every day and connect with mentors.    

How much money did it take to get started? The purchase price on Joe's first property was $43,000 and about a $17,000 rehab, all in for about $60,000 of private money and it appraised after for about $80,000. He did delayed financing which allowed him to pull most of his original capital out in about 10 weeks. 

How much time does it take now? He spends a lot of time on this. It is a full-time job for

Joe Prillaman and his wife. 

Could they do this strategy from anywhere in the world? If he had a system set up, then he could be away for several months. 
Episode Highlights:
Schedule a video chat with Neil Henderson to talk about self-storage investing at

roadtofamilyfreedom.com/selfstoragecall

Neil Henderson introduces

Joe Prillaman.

What was the 'a-ha moment' that got him interested in real estate?

 

What were the numbers like on the first BRRRR he bought?

  

Joe Prillaman explains what delayed financing is. 

How quickly was he able to move into his next properties? 

Where did the money come from for his first purchase?  

What led Joe to short-term rentals? 

Did he use debt financing? 

How does short-term rental expenses compare to long-term?  

What job would he offload to someone regarding Airbnb?

What has been the highlight and the worst scenario of short-term rentals?  

Consistency was the biggest mindset skill Joe Prillaman

had to learn.

 

Do the work it takes to be successful in this business.   

Does he feel he could leave the country for a few months and have his business run properly? 

Is there anything he would do differently?

What advice does he have for anyone with a full-time job and a family to get into real estate? 

How is COVID-19 impacting his business? 

Real estate is so much fun for Joe, even during the hard times. 

Have a backup plan, no matter what. 
Books and Resources Mentioned: