Getting Started Raising Private Capital with Jake Marmulstein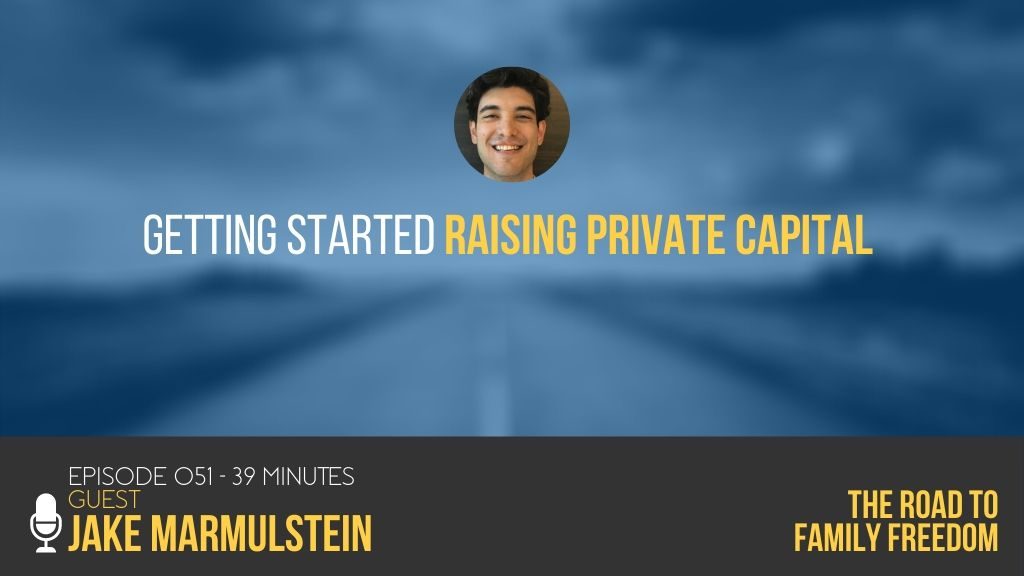 Jake Marmelstein – founder of Groundbreaker.co talks to Neil Henderson , host of The Road to Family Freedom podcast. Jake founded Groundbreaker after working for an institutional real estate investment firm focused on distressed hotels. He found that the process of raising money and managing the data related to investor communications was cumbersome and inefficient, so he set out to provide a better solution. Groundbreaker, which is headquartered in Chicago, offers modern investment management to professional real estate deal sponsors and their investors.
Post-Interview Analysis 
Key Lessons Learned: 

If you are looking to fund deals with other people's money, start with friends and family. Your credibility and relationship with an investor is key when taking other people's money. If you're working with friends and family, that's going to be a lot easier to establish than with a total stranger that you meet on the internet. 

Keep your investment structure simple. A lot of new investors will do a lot of different things to try to bring in money, so they'll have 10 different investors on the same deal with 10 different investment structures. That's just a recipe for disaster. So keep it simple. You may lose investors, and that's ok. You'd rather have a happy investor than one who is upset about the other investor's arrangements.
Episode Highlights:
Schedule a video chat with Neil Henderson at

roadtofamilyfreedom.com/selfstoragecall

Neil Henderson introduces

Jake Marmelstein

Jake talks about the origins of the name Groundbreaker for software company, as well as the origins of the company itself. 

Jake talks about his real estate journey.

Jake and Neil explain the difference between a REIT and a syndication

What mistakes made as a new syndicator looking for investors?

How is being a syndicator a customer service job?

Jake discusses what challenges led to the creation of Groundbreaker

How does Groundbreaker help a syndicator and an investor?

Jake talks about how he currently invests.

What asset classes are working well right now?
Books and Resources Mentioned: