How to Build a Portfolio of 52 Single Family Rentals with Chris from StealthyRich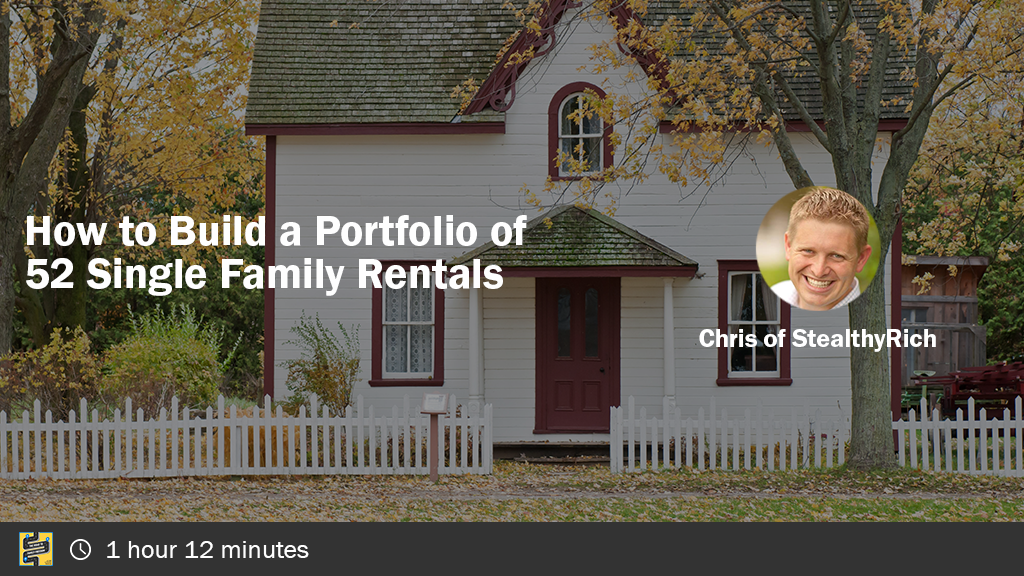 Chris from Stealthy Rich – Real Estate Investor talks to Neil Henderson and Brittany Henderson, the hosts of The Road to Family Freedom podcast. Chris has built a portfolio of 52 rental properties so far since 2013 with his partner, which has made them financially independent.

Post-Interview Analysis 
Key Lessons Learned: 

The rent-to-price ratio for evaluating deals and needing to complement your partners' skills in a partnership to have different talents that are useful.

How did they acquire their knowledge or what knowledge did they need to acquire?

Trial and error and gaining experience are how he learned how to evaluate rehab costs.

How much money did it take to get started?

His first property with his partnership cost $25,000, and he came with $6,000. He built business relationships with hard money investors.

How much time does it take now?

He spends about 3 hours a week for repairs and dealing with tenants. Maybe 3-10 hours a week total.

Could they do this strategy from anywhere in the world?

Right now they can't do it from anywhere due to the hands-on property management component.
What you'll learn about in this episode
What was Chris' ground-breaking big idea moment in real estate? 

How did he learn about real estate? 

What helped Chris get over the fear of the first deal? 

What move did Chris make after buying his first house?

Chris talks about getting his 52 properties with portfolio lenders.  

What areas is Chris investing in?

What are the challenges of having partners? 

How can you find a partner if you are just starting out? 

Is he still buying in this current market? 

What does a typical deal look like to Chris? 

Does he use direct letters directly to owners?  

Does he only buy cash?

How does he calculate the costs associated with properties? 

Does he do his own property managing?  

Never tell a tenant that you own the property?  

Does he have important systems he uses?  

Does he use separate bank accounts for each property? 

What is good to know regarding tenant screenings?   

How does having a family impact his work?
Help Us Out!
Help us reach new listeners on iTunes by leaving us a rating and review! It takes just 30 seconds and instructions can be found here. Thank you so much! We really appreciate it!
Recommended Books
Connect with Guest:
*FTC Disclosure: This post may contain affiliate links. If you make a purchase after clicking on the links, Road to Family Freedom will get a small commission. We are dedicated to finding the coolest products for families looking to building financial freedom through real estate and we never recommend anything that we don't love.