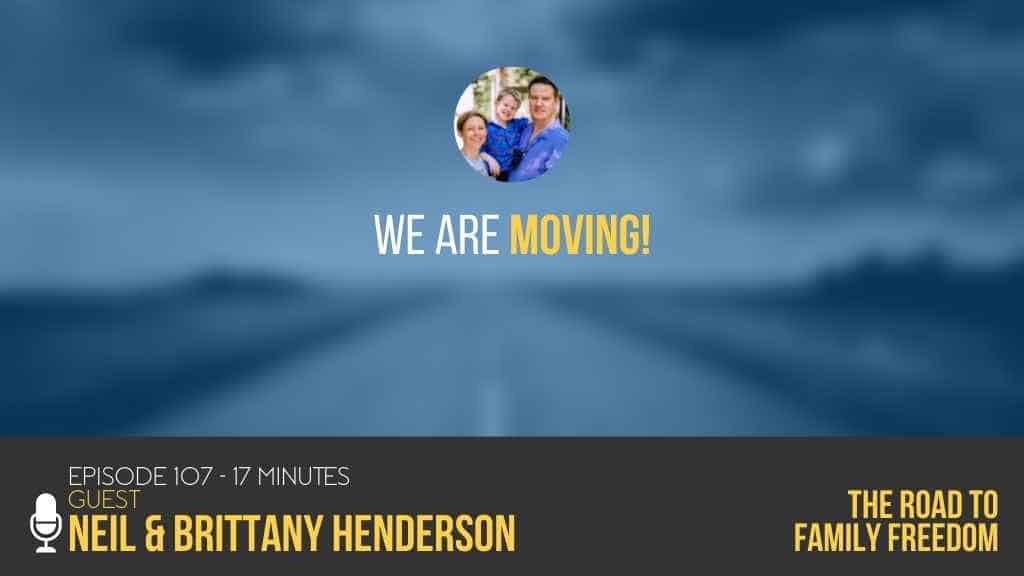 In this episode, Neil & Brittany discuss their upcoming move to North Carolina to pursue self-storage full time and live in a house hack across the street from the beach.
In This Episode We Cover:
We bought a house across the street from the beach with the intention of doing a house hack "someday maybe" – We will go into more detail on the house in a later episode.

What led us to decide to make the move now?

First, we call this podcast The Road to Family Freedom. Our goal is financial and location independence. We aren't there yet. But we have achieved a level of independence with our investments that allow us to take this leap, which is a risk, to try an experiment in working for ourselves…while living at the beach.

Several things conspired to lead us to this decision:

The death of my father in March of 2020. A best friend worked alongside him for 18 years. I realized that so much of my joy of going to work every day came from the experience of getting to be with my dad on a daily basis. Making up for lost time from when he was in the Air Force. I found I missed being able to walk down the hall and tell him something cool I'd just read, or how much fun it was to whine to him about the challenges of being a father, or just getting to go to lunch with him nearly every day. Suddenly going to work every day became a sad reminder of what was no longer there.

COVID. Like many people, the pandemic has made us do a lot of soul searching about what's important in life. As we prepared for my father's long-delayed memorial, I was putting together a slideshow of his life. I kept coming back to these pictures of us from a time when we lived near the ocean. My mom and dad both describe those days in Florida as some of the happiest times of their life. Their kids were young, the work was easy, they were surrounded by other families, many of whom became lifelong friends, we lived near the water. I've always had a dream of living near the water, and I'd like to do it while our son is still young.

We love house hacking, and we have a lot of experience house hacking with a short-term rental. Right as COVID hit in March of 2020, the short-term rental regulations in Las Vegas finally caught up with us after 6 years. We got shut down. That, combined with concerns over what COVID was going to do to the Las Vegas housing market, caused us to sell our house that we had owned since 2013. We ended up with a healthy chunk of cash from the equity we had accrued. So, we bought a house across the street from the beach with the intention of house hacking it eventually way down the road. Obviously, things changed.

My work, since 2003, has been indirectly in support of the war effort in Iraq, Afghanistan, and the Global War on Terror. When the war in Afghanistan came to an end, it felt like the end of a chapter for me.

So we sat down, did the math, and discovered we could financially take this risk. We aren't financially free. We don't have the income to sit on the beach all day drinking Pina Coladas. I prefer margaritas or Moscow Mules. But we've got savings and income streams to give us some time to work towards our next chapter.
Follow Us:
Other Stuff:
If you enjoy the podcast, would you please consider leaving a short review on Apple Podcasts/iTunes? It takes less than 60 seconds, and it really makes a difference in helping to convince hard-to-get guests.

For show notes and past guests, please visit

roadtofamilyfreedom.com/episodes/

Discover the tools and services we use, visit

roadtofamilyfreedom.com/resources/