Using the BRRRR Method to Scale to 35 Short-Term Rental Units with Shane & Rachel Sigsbee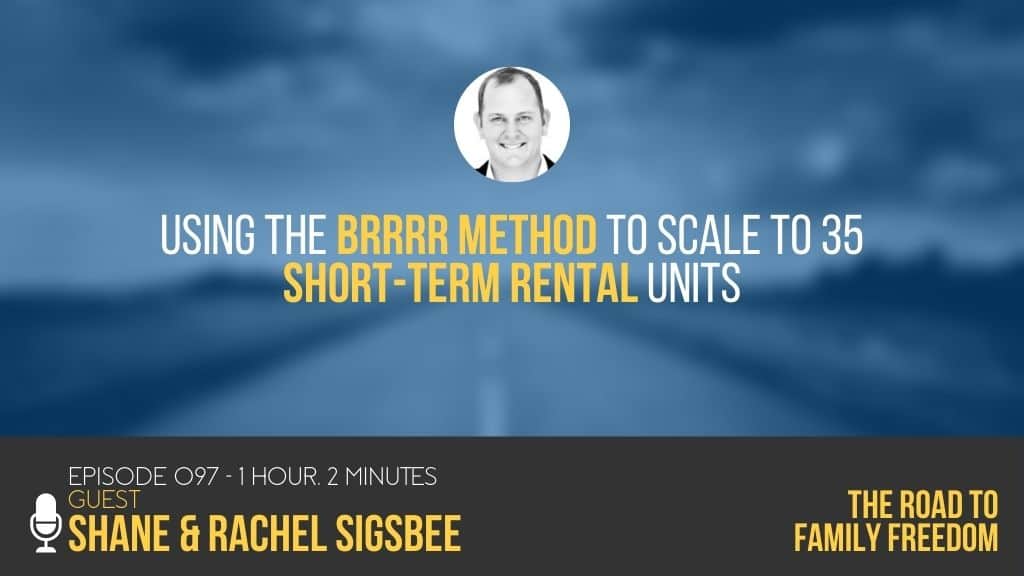 Shane Sigsbee – Short Term Rental Investor and CEO or Sigsbee Homes talks to Neil Henderson and Brittany Henderson, the hosts of The Road to Family Freedom podcast. Shane graduated from Notre Dame in 2007 with a degree in finance. He became a derivatives trader right out of school but lost his job in the financial crisis in 2009. He then left to pursue a career in gambling, starting the venture Imawhale Staking in 2010, which he still runs to this day. In 2017 he began investing in real estate in southern Alabama, focusing on the BRRRR method using short-term rentals. He's currently sitting on 35 doors with a goal of reaching 100 doors.
In this episode, we talk to Shane and Rachael about beginning their journey to real estate investing in 2017, how they scaled their portfolio from 1 to 35 doors, why they have converted most of their properties to short-term rentals, and tips and tricks on rehabbing and furnishing a short-term rental.
What You'll Learn in This Episode
Books and Resources Mentioned
Follow Us:
Other Stuff:
Transcript
Neil Henderson:graduated from Notre Dame in:Brittany Henderson:y to real estate investing in:Unknown:
I'm Brittany and I
Brittany Henderson:
knew and this is the road to family freedom.
Neil Henderson:
Before we get to this week's show, we'd like to make you aware of something we are self storage investors. We buy existing self storage facilities and vacant buildings that can be converted to self storage in the Sunbelt. We buy them with cash and some with loans. And we use private lenders who become Equity Partners in our deals, these Equity Partners share in the cash flow in the profits when we sell when we find a deal that we're considering. We call the Equity Partners and offer them to share the ownership secured by the property. So if you've ever driven by a self storage facility and thought of wondering who owns those things, and you have any interest in learning more about the storage business, we'd love to chat with you head on over to road to family freedom comm slash storage. That's road to family freedom.com slash s t o r a g can set up a time to check We look forward to speaking with you.
Brittany Henderson:
Alright, enough of us. Let's hit the road to family freedom.
Neil Henderson:
Shane and Rachel six be welcome to the road to family freedom.
Rachel Sigsbee:
Thank you. Thanks for having us.
Neil Henderson:
It's nice to see you again. Shane. This is our second time recording. We had a technical fault that caused our first interview to go poof. So I'm glad to get you back and bonuses we get to have Rachel and Brittany on the show this time so
Shane Sigsbee:
absolutely. I got done with that interview. And I told Rachel I went gave her a high five and said best podcast.
Neil Henderson:
Yeah, we got something to live up to. Yeah.
Brittany Henderson:
Once Neil figured out that like it was gone. He was like depressed for half the day. Really sad. Like there's nothing you could do. It sucks.
Neil Henderson:
So before we dig into your real estate endeavors, I have to hear how you went from an unemployed finance guy to professional gambler during the Great Recession.
Shane Sigsbee:Yeah, so graduated in:Neil Henderson:
who don't understand because I now do understand that we've already read about this. But can you explain to people what backing backing a poker player involves?
Shane Sigsbee:ou know, we split the profits:Neil Henderson:
it's almost in a way I the way I sort of compare it is almost like somebody who's not a hard money lender, but someone who's a JV lender on with a house flipper.
Shane Sigsbee:
Yeah, exactly, yeah, same exact,
Neil Henderson:
we obviously want to find people who are talented and not knuckleheads are going to lose your capital.
Shane Sigsbee:
And I don't have 100% success rate on that.
Neil Henderson:
So how did you convince your wife that, hey, you know, I just lost my job, let's let's, you know, let's just take off for a year, and I'm going to go just gamble for a living for a year.
Rachel Sigsbee:
Yeah, it took some convincing for sure.
Shane Sigsbee:
You're young too. I mean, I think when you're 24, it's a lot easier convincing than if we were where we are today in life with kids. And so
Rachel Sigsbee:
we were actually just dating at the time. And I was a freelance editor for a company back in Birmingham, Alabama. And they had, it was a global corporation that I worked for. And so we were I was able to go around the world to visit their different offices while he was playing, like in the same cities, he was playing poker, unfortunately. And so when we set up like what I was going to be doing on the road, and what he was going to be doing on road, it made a lot of sense to do it that way. So it kind of like all the cards. Yeah, literally, all the cars fell into place. And we were able to go in and do this really amazing trip. And it was for about 18 months. And at first I was just like, nervous because you know, I'm not super independent financially. And, yeah, but he made it work. And I just trusted him to be able to make the money and make their own decisions.
Neil Henderson:
So I would say your risk tolerance is a little higher than the average person. Definitely.
Rachel Sigsbee:
But that was for sure. on the same page,
Neil Henderson:okay. And in:Shane Sigsbee:personal house down there, in:Rachel Sigsbee:
right. And that family has rental properties, as always have rental properties in my hometown. So I think you're able just to kind of ask some questions about how it works, when he first got interested in it. And if they don't do it on a large scale by any means. It's just pretty small structured. So Shane kind of took that idea and ran with it, because Green Bay is a really good opportunity when it comes to the prices of homes and their rental market as well.
Brittany Henderson:
Can you tell us a little bit about that first, the first property that you bought there?
Shane Sigsbee:
Yeah. So it was one of the ones that I drove by, and the guy had a you know, for sale by owner sign in his front yard? How we wanted it? Yeah,
Rachel Sigsbee:
yeah. One of the original Green Bay homes. It's probably built in the 40s 50s. Yeah,
Shane Sigsbee:truction is a three one about:Neil Henderson:
well, what you did there that I love, which is you, you basically left the guy with a number. Because a lot of them will sit there and you know, you get a lot of tire kickers are out there, you know, trying to get people to bite on, on whatever price they're looking for. And once they sort of get to the point where they realize that they're not going to get that price, that you know, a lot of times it is going to go off on off of rapport, somebody who they like, and who got closest to the price they were looking for. Mm hmm. Is that kind of what you found? because now you've scaled to what how many doors are you at right now?
Shane Sigsbee:
Yes, 35 doors now we have 31, fully rehabbed and we have four that were in the process of rehab and are now
Neil Henderson:
Alright, so and you have if you done pretty much all of them kind of using the burn method.
Shane Sigsbee:
Yeah, we've we have four or five deals that we've left in cash that I've actually been thinking about it here lately, I think I'm gonna complete the birth process on them. But you know, then we've got actually another now that I'm thinking about, we've got another four or five that we've done owner financing on so I guess probably about 25 or 27. We've done the burn method on and then the other eight we've either left in cash or on owner financing with your now you're getting probably pretty good at negotiating with potential sellers.
Neil Henderson:
What would you say? How do you approach that? You know, when you're you know, you've got somebody who are you marketing directly? You're going off to the MLS? First of all, that's my first question.
Shane Sigsbee:
Oh, all MLS. We also are looking at the auction websites, we have a guy that goes to the courthouse, and so will bid on stuff at the courthouse. I still look at Facebook and Craigslist. It hasn't been very fruitful for me, but I still look at it probably once a week. But I I'd say 75% of our deals are from MLS 15% from a wholesaler, and 10% are at auction.
Neil Henderson:
Gotcha. Once you make contact with the seller, how's that negotiation? Starting? at a high level, I'm not expecting you to give us a master course in negotiation here. But at a high level, how does that conversation go?
Shane Sigsbee:
Well, I think like the owner finance deals are really where the negotiation, there's like an art to it. In with the owner finance deals, I really tried to negotiate terms more than price, I find sellers get fixated on the price, where like, you can really take advantage of really good terms, specifically interest rate and how long they'll carry the note for. So I tried to get super low interest rates, and then I turned it all into a present value function. For example, like let's say you're negotiating on a $600,000 house, and you're able to negotiate, I've never been able to do this, but it's a fictitious example, you know, that you're able to negotiate, you know, principle only, and you can get the owner to carry the note for 30 years, you know, I've been like your present values, like 50% off, you know, your present value of that house at like current interest rates is like a $300,000 present value, like compared to if you had gone to the owner and been like, hey, offer you 300,000 I know, you're asking 600,000 they're gonna tell you to get lost, you know. So I like specifically with owner financing, I'm pretty aggressive about the terms and then also like making it look to them that like, Look, I'm willing to pay your full asking price. But here's what I need in return on a traditional deal where I'm buying cash, I tried to get pretty aggressive with my offers, because I also know that I'm the only cash buyer, you know, I can close in seven days. I know, praise appraisal, no inspection contingencies, nothing like that. So I know that like, yeah, they may be getting full price offers, but the offers that they're getting are contingent on financing and contingent on inspections and everything else. Whereas like, I know, I can get aggressive on my offer, and they're going to be tempted to take my offer, even if it's less than other people's.
Neil Henderson:
So you're typically you know, if you're going if you're going to try and go low on price, you're going to basically offer them cash, quick, close, no inspection, no appraisal, things like that. They're stuck on price, then you're going to come at them with terms.
Shane Sigsbee:
Yeah, yeah, we're actively looking for properties that need extensive rehab to like, we're not we're not buying turnkey properties
Rachel Sigsbee:
now, especially for the price that we're looking at. Those don't exist anywhere. I don't think so.
Shane Sigsbee:
Yeah. So a lot of the properties we're looking at, they wouldn't qualify for financing anyways. Gotcha. Nice because it really limits you know, the buyer pool that's, you know, that's looking at that property.
Brittany Henderson:
So, you're doing this long distance, you do have family there, but how have you put together a team to have on the ground there?
Shane Sigsbee:
Do you travel there regularly? So one of the really nice things is Rachel's dad's a contractor, licensed contractor. So he's able to pull the permits for us and he's able to do most of the stuff for the properties. We have another family member who is the cousin of my brother in law who's also a contractor and can do basically everything that my father in law can't. And then my father in law, he does all the plumbing, he does
Rachel Sigsbee:
a lot of the design work. So, for example, we had a property on Dauphin Island, our first property, when we went through the rehab, we had to rehab it as an island home and not just the standard rental, like we do in Green Bay. And so he was really key when it came to making the actual this the design decisions, like putting in the shiplap and doing certain things that, you know, just kind of creates a different experience for guests. And so we're working, we're actually working on another project with him right now. And there's so many things that has to be done just even get it to a vacation rental versus a regular rental. We can get to but yeah, he's he's really great when it comes that he and I working together with the design on that. And so he does, yeah, kind of those two things. Yeah. And then Shannon,
Shane Sigsbee:
the other guy, he's more like he's doing all the sheetrock and the framing and the floors and the painting and stuff. But yeah, the thing that Shannon's really good as she's really good at putting together a crew, you know, so like he's put together seven, eight and crew that, you know, I didn't have anything to do with hiring. So it's kind of like we're managing like the two top level guys. And then they're like, responsible for their guys below them. But I don't deal with their guys, I just deal with, you know, the two main effectively GCS gotcha.
Brittany Henderson:
So that with your like rehab for finding and acquiring properties, you said you know you're doing MLS mostly. So are you like, I'm in contact with the sellers, mostly from a distance me right now, probably mostly,
Shane Sigsbee:
we used to main relatives down there. So unless it's an owner finance deal, we generally will take everything through the realtors. And the reason why I like doing that we could go direct to the salaries or go direct to their agents, but I like using our relatives because they also are finding us off market deals. So it's like, you know, it's kind of like we scratch their back, they scratch ours. So I like going that route with owner financing. I like to go direct to the seller, and just kind of like cut out the realtors. Because generally they're they're not using a realtor on their end anyways. And it helps us with negotiation if we come to them without a realtor. But unlike the MLS deals that aren't owner financing, we're going in with our own two relatives.
Rachel Sigsbee:
And a lot of times we since we don't live there, we didn't answer your question. We do travel. Every few months, we'll go down there summer towns where they are for two months straight. So a lot of the properties that we do buy happen in those two months. And then the ones that happen when we're not there will either just in the realtor or just by silencing sometimes just because it's a good deal. And we see the value of the land. And that's basically what we take into consideration.
Shane Sigsbee:
Yeah, we bought a house last week that was sight unseen. We paid 22,000 for it. And it's like one of those deals where like, I mean, how bad could it be? Right? What can we find that wouldn't make it a good deal?
Neil Henderson:
Yeah. A sinkhole underneath it? Oh, no.
Brittany Henderson:
Don't curse them. Sorry. Sorry.
Neil Henderson:
Take it back. So I just want to be really quick. So we understand because this is part of one of the things that we really focus on that first property you bought, you bought it for the purchase price was 38. Five, and then how much rehab did you have to put into it? Do you recall
Shane Sigsbee:
ended up in at all and for 50. So he spent 11? Five on the rehab.
Neil Henderson:
That's actually that's not bad. And then do you recall what it appraised for after that?
Shane Sigsbee:
Yeah, it appraised for 90,000 because they gave me 75% on that. So they gave me like 67 five minus closing cost? I think I got like 66 back out of it. Yeah, no,
Neil Henderson:
it's the perfect burger. Yeah.
Shane Sigsbee:
Yeah. rents rate 75 a month. My monthly note on it is like 323 a month. Obviously. We've got some reserves for repairs and maintenance and capex and whatnot. But again, house Yeah, it's been great. It's been a great house.
Brittany Henderson:
So that house is a more of a long term rental.
Shane Sigsbee:
It is Yep. Thanks. So
Brittany Henderson:
you did you start with mostly long term rentals. And then
Shane Sigsbee:
yeah, kind of long term rentals, we actually got into their VMAs because we own this eight unit apartment complex. in this town Green Bay, which is where we we buy most of our properties, which is where Rachel's from and we were having trouble collecting rent, just specifically in this eight unit apartment complex, not with our single families. And so my idea was, I was like, man, I was like, you know, let's try putting a couple of these on Airbnb, you know, I read about it, it'd be cheap to furnish it little 800 square foot apartment. I said, let's put two on Airbnb. And let's just compare, you know, like, we'll be able to compare apples to apples because it's the same exact units you know, we'll know exactly like how Airbnb does versus the long term do. And even though grande Bay has no tourism about it or anything, it's incredible what our occupancy rates have been at that property. And so we were net on net after paying utilities and all the extra costs that you incur cleaning fees, everything with airbnbs. We were net on that making about 40% more on those two units that we're using as Airbnb Compared to our long terms, so ever since then we've really been proactive about going the Airbnb route with other properties. And then we've also expanded into some of the beach towns where just Airbnb is the only thing that makes sense. You would never rent it out long term. And I think right now like, we're all Airbnb, like, we're trying to convert our long terms and airbnbs. And the properties we're looking to buy, we're only looking at Airbnb vrbo properties. Yeah. And
Rachel Sigsbee:
I think why that they do well, in Green Bay, which is a non vacation town is because their Green Bay is kind of in a sweet spot. There's no hotels anywhere near there for probably 20 miles either way. So you know, people come into the bees coming through the coast wanting to get to the beach without paying a price, we have that access for them, as well as we have shipyards down there. So Chevron oil refinery, and also the shipyard and so like they those two big corporations bring in a ton of work, right? part time workers is looking to save anywhere from like two weeks to, you know, six months. And again, there's no hotels around the town, that that is and is not as desirable as Green Bay. And so they come a little bit more easy to find something that they can have a family and so yeah, that's kind of a diamond in the rough, I would say when it comes to have an Airbnb rental in a very small town that literally offers that's, you know, a pass through town to bigger, the bigger city of mobiel.
Brittany Henderson:
I think that's something that sometimes people when they when they think about short term investment, they really concentrate on those vacation markets. And, and it really doesn't have to be that, you know, we have two properties that Fayetteville, North Carolina that we've talked about making short term rentals because there's a base there. And you know, so people come and visit or they'll have other, you know, transient sort of visitors for the base that needs to be there for only a little bit of time but can't stay on the bass or don't want to for whatever reason. So it doesn't have to be like fun vacation it can brat can be I think
Shane Sigsbee:
it does are more fun to renovate. And to decorate, in my opinion, because there's so much more that goes into it. The ones that we use that we have in Green Bay, us if we had a team down there, one of the people that's very key when it comes to decorating and installing the homes of furnishing them, we have an assistant who's actually one of our contractors, daughters. So it's really neat, they can work together to get a property finished and she can do the install the furniture. So it's something that I can't do. Because we do have so many properties returning, we're currently trying out our four properties into your babies all at one time. And that's into your rehab, ending maintenance on them. And then moving into the furnishing stage. Well, since I don't live there, and it's very hard to for one person to do at the same time, we hired her to kind of oversee that process, because she does have that kind of background and when it comes to construction and that kind of thing. So yeah, having somebody to assist with that is pretty key when you don't live in that area, because you don't want to be the one landing and going straight to you know, target and casca. And like like, it's literally like takes two weeks to get the whole thing done. So it's definitely a way it's something that we have learned to do a little bit more efficiently haven't helped.
Neil Henderson:
You've got boots on the ground first acquisition, you've got boots on the ground as far as construction and maintenance. And you've got boots on the ground as far as furnishing, who's doing the management.
Shane Sigsbee:
So for the long term properties, we use a local manager that we've used since day one that we've been really happy with. And then for the short term rentals, we interviewed some of the super hosts down there. So basically we went onto Airbnb and just figured out three super hosts in the area and I went sat down at a coffee with those three got a really good feeling from one lady. And we've been using her as our I guess co host they call it but she already had super host status for all the Airbnb ease and then the the girl that is helping us with the furnishing, or also now that we've grown to I think we have 18 Airbnb is now now that we're kind of reaching that like critical point where it's becoming a little bit too much just for one person to handle. She's also helping out with the you know, the communicating with guests scheduling the cleanings and everything that goes on with that.
Neil Henderson:
So you had been dealing with the communication with the guests.
Shane Sigsbee:
No, no, this lady Karen was doing it all but not right away. Yeah, for right from the very first one. But it gets to a point where one person can't handle so many airbnbs which were I kind of had that point figured out to be about 20 is where you get to the point where one person can't handle it. And so we've just recently brought on our assistant Beth to help her out just Hey, like if somebody comes in late at night, and she's not around a message a guest I mean, it's a 24 seven thing you don't know when it gets, you know, some of these guys, they're not checking in till 2am you know, and they always have the same questions. You know, like, what's the Wi Fi password? It's like it's in your guidebook. It's in your checking instructions, you know, like, but nevertheless you have to answer it. And that's something
Rachel Sigsbee:
that you know, clearly we can't do because we are on different different part of the country and even you Even having that many, like you said, for one person and especially like as owners, there's so many other things that we have to do in our real estate business that you really need one person that that's their sole job and that that is what they are good at. And Karen and I think that will be really good.
Shane Sigsbee:
Yeah, this this is Karen or had Airbnb manager. This is what she does for a living like she doesn't sound like this is a side job for anything. This is what she does, because
Rachel Sigsbee:
that's the most important thing in Airbnb is the relationship you have with the host, because there are they go wrong every hour of the day when it comes with Airbnb. So we need to have some just like a hotel, you got to have somebody on call all the time to make sure that those questions are answered, and guests are as comfortable as possible. Otherwise, you will get start getting those negative reviews. And that's definitely not what we want. Yeah, I
Brittany Henderson:
can imagine if you had somebody who came in just like, sort of late ish in the evening, that's three hours ahead. You know, like, your timing can be a little weird. And
Neil Henderson:
have you ever used a web service called smarter b&b?
Shane Sigsbee:
No, tell me about it.
Neil Henderson:
So this is magical. Help your hosts? Yeah.
Unknown:
Smart.
Neil Henderson:
Yeah, smarter. b&b is a service where you can basically it automates a lot of the basic communication. Like it automates, you know, when they book it, it sends them automatically sends them an email and says, Hey, thanks for booking, you know, such and such on dolphin Island, you're checking dates, or this and this blah, blah, blah, you know, we'll send you check instruction and checking instructions closer to your date, two days for they check in it sends them a reminder, hey, you know, we're looking forward to hosting you at such and such property. Here are the check in instructions, you know, blah, blah, blah. And then the day after they check in since then another communication saying, hey, just checking in making sure everything's okay. Let us know if you need anything. day before checkout. Hey, just reminder, your checkouts tomorrow here the checkout procedures. Let us know if you have any questions day after they leave. Hey, thanks for you know, thanks for staying with us. We loved having you. Please let us know if there was any any sort of issue. Here's a reminder to rate us, blah, blah, blah, it also you can set up autoresponders it starts to learn like if somebody goes, Hey, how far are you? If they're always asking, Hey, how far are you from the beach? You can have it automate, it will it will say it will realize, hey, they're asking how far from beach and it will automatically send a response that says, hey, we're two blocks from the beach. This is how you get there, blah, blah, blah. How far are you if you start to learn one of the frequently asked questions, for sure. I start to populate its autoresponder with answers to those questions. It doesn't completely replace all communication, but it replaces that repetitive stuff that happens. every guest
Shane Sigsbee:
yeah replaces 80% of the questions correct? Yeah,
Brittany Henderson:
yeah, so makes everything a little bit more smooth than than if for some reason. Like, you know, you can't answer right away for whatever like something has happened and you can't answer right away that there's it's probably been answered it gives you a little bit more of like a safety net. We just barely got into using it before we sold the house shut down. I mean, we we shut it down before we sold the house because COVID
Neil Henderson:
Yes, a smarter b&b i think.io or something. But if you've got if you search smarter, b&b. And if you have trouble finding it, reach out to me, I'll send it to you.
Shane Sigsbee:
Okay, awesome. Well check it out.
Neil Henderson:
So let's talk about furnishing. rentals and designing.
Brittany Henderson:
I have one experience. We usually do it for
Neil Henderson:
Yeah, so are you, you know, a lot of our friends that are in this space, you know, will will use wayfair. And they haven't very ever really, you know, they know what they want. You know, they know what bed they're going to get. They know what bed set they're getting. It's very repeatable. And they can just do that. Is that what you're doing? Are you trying with each property to make it a little bit unique? You know,
Rachel Sigsbee:
it depends on where we're talking about. If we're talking about dolphin Island, everyone's unique and dolphin Island, just to give you a lot of context. So we live in South mo county and 40 minutes away from us is this beautiful island called dolphin Island. And it's 40 miles long, two miles wide. They have a section that's just beach, they have a section that's tree. And it's a very diverse Island when it comes to what it looks like. So you can go from being only on the beach in two minutes. And now you're in like a pond community. And so when we get into the design of every property on dolphin Island, they all look different to me because of where they're located. They're not located in the same area and so and again, they may be two streets over but it's just such a such a different landscape every every street you hit and so I you know if it were up to like Shane, or like a bigger company who's coming there and just doing like bam bam, bam With Airbnb, like, you know, just kind of turning them over super quick, I don't think that that would be the approach. But that's something that I enjoy. And that is one of my passions is to do design. And so when I approach a property for the first time, I really did take into consideration like where we are, what are the surroundings? are on the water we not? And then I really get inspiration from the yard and from Yeah, if we're if we're near the water or like, is it or not. And then when I go into the space, every space is different. So is it Morgan is going to be postal style is it going to be tropical styles are going to be farmhouse style, because they say I mean, you really can do a plethora of things down there. And so when it comes to buying the furnishings for that, so that kind of speaks for the decor, right, you can just pick whatever decor that goes along with that theme. As far as the actual furniture goes, it is always different because of the space. So not one living room is the same. So you can't have just one set of couch that works for every single property. So we do repeat certain, like if we have a bunk bed that we like, there's one bunk bed on my chair that we love, it's a full over full with the trendle. And it ranges anywhere. And that cell ranges anywhere from like $500 $10,000 $1,000 ones we had about one time, so I had to be on rush. And so not ideal, but we like that one style, I will go on my fair, how about the bids and know that I would use it before it's good quality b we know it can get here within the week. So there are certain things that we repeat when it comes to that because bedding is our bedroom furniture is very difficult to buy a lot. We're a
Shane Sigsbee:
big fan of bunk beds, we put Yeah, we've got bunk beds, and pretty much every property could love them and get you a lot of beds.
Rachel Sigsbee:
It's tricky though, because some bunk beds are cheaply made. And you cannot have cheap furniture in Airbnb, especially one that turns over every week, all day, every day, over the course of the year. So we have definitely gotten, we've had issues with beds breaking in the past, just because you buy a cheap bed, you put it in you don't have to do and you're just trying to save money on it. And now you're double, you know, you could have just bought one nice bed and yeah, so I'm trying to replace that way. And I'm like, do I buy the same one? Or do I get a nicer one? So yeah, I would say I go to wayfair for a lot of sa target is my leading place to get all kind of Warcraft because they do have that beachy style they have, you know, the ridin and the dude in the fabrics, everything that is what you want to stay in an air b&b on Baffin Island. But to me, the best place to go for furniture is wayfair. And it's been a trial and error process to figure out what works and what doesn't work. We know what that does work. Because we've had really good success with that the actual bed is just it's just a different story when it comes to buying a land. So there's a furniture store in Nashville that I like to go to called barrows, a family owned company. Another thing that we like to do is put a lot of like local, locally sourced furniture and decor in our properties. And they have, it's probably like two times the cost at least to get really nice wood furniture in the property. So if we're doing a, an inexpensive Airbnb, like our four Plex on Baffin Island, they ran out, like the lowest of all of our properties, I'm probably gonna put away a fair bid that, you know, probably is only gonna last few years in there. But we're working on a new project right now that's a little bit more high end, I want to put in a nice solid wood that I will get sourced from from mobiel. So yeah, when it comes to that is definitely a case by case basis on how the decor goes and how we furnish it. So it's easier. We have properties in the Airbnb that we're doing and grant Bay that are furnishing now that we're going to have the wayfarer bids in there. So because that's our lower end.
Brittany Henderson:
Yeah. Our standard.
Neil Henderson:
Yeah. Well, here's a second question is What about mattress and bedding?
Rachel Sigsbee:
The mattress we use from another local, a local company, we're friends with the owner.
Shane Sigsbee:
Yeah, they take really good care of us and we call them at 3pm on a Tuesday. He's got that he's got mattresses delivered at 9am on Wednesday. I've never really researched the prices but it seems fair. I mean,
Rachel Sigsbee:
the thing is, there's there's certain costs that you're just gonna pay every time mattresses are one of them. You're not gonna you're not gonna find a cheap mattress you really don't want a cheap mattress. Most guests complained about mattress and best more than anything.
Shane Sigsbee:
Yeah, he delivers it all to like it's we may be paying a little bit beyond the convenience of being able to call them last second and not having to think I don't even call him I just texting the address and telling them put it on our account. So but again, the big thing that was weeks of me going out into our automobile, trying to find mattresses for a deal, it was a waste of time, you're not going to find it, you know, so those things like you learned early on that you do need to have a plan in place to have those repetitive things that just call up and ask for money and what do you do target for bedding, everything we do is target there I tested out sheets from Amazon and from wayfair. They're pretty much the same. So we would normally just buy a boat from either those websites being like the color scheme that I'm doing. And then bedding is mostly hauled from from Target a lot from wayfair today They don't like they haven't Tommy Bahama land. And we do a lot in our own properties. So we will splurge a little bit on those types of things. But yeah, I would say target is for sure, like,
Brittany Henderson:
not first place to go. Because those types of things, they were really good, like variety of styles and things that look nice, but aren't like a ridiculous amount of money, they definitely know their market. So I could see how that would be a great resource. Do you tend to try to keep all of the bedding in one house the same, so it's easy to easy for the cleaner to just turn it over? Because if you get started getting multiple, you know, multiple color sheets, it's
Neil Henderson:
like, Alright, which sheets go on a double bed? Which sheets go on the king? What's going on the bank bed?
Shane Sigsbee:
That's a really good question. You do have to think about the cleaners when you are decorating, which we learned the hard way as well, because she colors are all the same on all the different sizes. So all of my twin bunk beds have the same color, I tried to do a different color for the king different color for the pleats. So every, every size bed has the same color, same shape. And I bought two of each because if there is this same day turned around and one of our properties and we have issues with getting everything washed and turned over in the same day, we do have backups for that as far as like she can take the dirty ones out and leave the clean leave the clean ones that we left in the closet. And so yeah, it definitely was a logistical issue in the beginning as far as as far as that goes. So something that you ever think
Brittany Henderson:
about? Yeah, yeah, we had to do that. with ours, I think I had three sets of everything, because we didn't have washer dryer in the unit. So they had to come into our house. And a lot of times, it just it was such a small, you know, just a room and a bathroom, basically, like stand alone. And so I would finish the laundry, like they would get it, they stick it in there. But then I'm having to do the drying cycle and all that kind of stuff. So it was easy. Like we had so many extra linens, which was kind of a pain, but also save just
Shane Sigsbee:
right. Yeah,
Brittany Henderson:
it was it was good. So it's definitely one of those things that you don't want to cheap out on.
Shane Sigsbee:
Down. There's something like there's some things that you can, you know, save on, but there's some things that you absolutely cannot save on. And that's kind of hard in the beginning when every single detail that you put into that the rental cuts into your margins, right. So, I mean, you kind of have to like take it with a grain of salt when I say oh, I need you know, this much for a bit and then Shane's thinking, Oh, he benefited half of that. But I'm like, sorry, that's that's kind of
Brittany Henderson:
Yeah, yeah, well, that's probably so that's where you want to spend a lot of your money because people are that's what they're renting. Typically forced to sleep there a lot. It's not to do things there. Where do you find that you can not go quite as nice is there spots in the houses that you feel like are a little bit less important?
Shane Sigsbee:
Yeah, I would say kitchen for sure. And I wouldn't say like you can't really we had an issue a few weeks ago you can't really go super cheap on kitchens. Kitchen is by far my longest list on my furnishing list because literally you know 40 different things that you have to find some things don't hold up well to Tom or to the salt air so we had a lot of rust issues in on our Allen properties from the silverware and from like some of our baking pans I'm like well I have wrestled that so it's not an issue but Airbnb people they they want to come in they want to cook and they want to have a nice kick completely today but a rusted pan
Rachel Sigsbee:
but i mean it's it's true like there's some things that and I that was one of our first installs and I got all that from Walmart I got literally the cheapest of the cheap and now I have our assistant go back at least from Target if not from Bed Bath and Beyond and get like a higher rentals have the opposite brand. So I know that it's gonna stay and so like there's kitchen overall I guess I would say you we do shop from Walmart a lot when it comes to dishes ups, that kind of thing. You just have to be very careful when you are in those areas and you're trying to say there's just yeah, again trial and error situation but as far as the decor goes there I mean the savings come in when you are a DIY er I think you can source all these like thrift store finds goodwill things to put into your Airbnb, which I think is a really great skill. I don't have that skill. Unfortunately.
Shane Sigsbee:
The problem is if you try thrift shop in goodwill, everything like it just it starts to look like a hodgepodge mess of stuff. He does it all up and like the thing is, is that your gross revenue from Airbnb is so good and it's so high in people when they're deciding on which property to book they're looking at how you decorated the place. So like having the place decorated where all matches and it all lines up and everything and they can tell that like you spent time decorating it and you just throw together a bunch of goodwill stuff. It pays itself back like instantly. Yeah, so just, you don't really try to like cut corners on stuff. It is what it is. spend a lot of money decorating our places, but our occupancy rates crush all of our competence. All of our reviews just rave about those things. The bed was comfortable, you know, it's so nice, really nice. And that's the things that, you know, you have to have that standard for every level of riddles, you can't just put, you know, all of your eggs in one basket and like a higher luxury rental, you have to have, yeah, we still do it in our settings.
Rachel Sigsbee:
Because people, if you, if you run a business like we do your reviews matter, and you don't want to have any room for a negative review.
Brittany Henderson:
We actually so our property was initially just a guest thing, essentially, like a guest house for my parents and my mother in law actually took me we went to consignment stores. And so we did sort of do like a thrifting thing, but we did it in a very nice way with like, you know, and so yeah, you can't I definitely when I go to airbnbs, when it's got like, a lot of weird, you know, like tchotchke stuff, or things are just, it wears me out. And I get angry. Also at kitchens, when I'm like, this is clearly from your kitchen, and it's not good enough for yours. And I put it in there and I can't cook an egg without burning it. You know, like, yeah, and so and like, some people don't care about that stuff. But if you want the people who do and you know, you can get that on to a review, you know, it's always nice and so that's you know, when hopefully have our our property that we're trying to find that's kind of a place where I will have to find that I have to be careful because I like the kitchen a lot but but I know that having good basics in there is going to be worth while
Shane Sigsbee:
for sure. Yeah, something that needs to last for a long time. And I follow these di wires on Instagram and they make it look so easy in their homes are beautiful, upgraded and I it's just such a different skill than like the normal everyday person has. And so I do think that's something that Yeah, he definitely you can save so much doing that. But you do have to be aware of how that ends and it's a
Brittany Henderson:
time suck but like you guys have so many properties and you're not there if you've only got one or two and that's something that's important to you or or interesting to you then then doing some of those things to make it a little bit more special or you know, trying to make it be a little bit cheaper but not in like a cheap way can be nice but yeah, you've got got 18 airbnbs like yeah, that's not worth your time. You can probably do is have any kind of like small thing that you do for all them like some people do, like you know, baskets or something like that.
Shane Sigsbee:
You're welcome basket st Joe and we try to spend about 10% of the first night's rent on the welcome baskets. So obviously you know for a $75 a night place you know you're doing something really simple just maybe like a six pack of you know bottled waters or something like that. But we've got a house on the island that we just finished that's $1,000 night place and we're doing you know a bottle of champagne, a six pack of boss waters a six pack Capella green nose and then some local chocolates chocolates from like a local bakery type place so we do a welcome basket for every place just in varying degrees of of how nice it is. And I think people really enjoy that for when you're checking in and want to see the hospitality side of your Airbnb because they chose to stay in a home none of their tail. So you lose a lot of that personal touch when you do that. And so I feel like with the welcome baskets that's kind of the main thing because you you off the bat you want to make sure you're getting the right yeah, all that stuff like eventually makes its way into a review. But everything at the end of the day is all about the reviews.
Rachel Sigsbee:
We just had our first guest check in for the big house on Baffin Island and we were kind of scrambling last minute to get a welcome message together because we want it to be nice and we had our system pick one out from a local wine and cheese shop and you know we spent quite a bit more than we that we should have it was more than the 10% and we got there they checked in he ended up being a ship out of Atlanta and was featured on QVC from reporting from our
Shane Sigsbee:
if you could see the welcome basket at QVC show
Rachel Sigsbee:
on that welcome basket he definitely appreciate it had champagne in and everything. Never know who's gonna check in you never know what they're gonna say. You know if that's something that they are interested in, so thank goodness we we did a nice
Neil Henderson:
we interviewed another short term rental operator named Michael Hamilton back on episode 15. Way Long, long ago. And one of the things that I think he did really, really well and he's out at the Outer Banks kill devil hills, North Carolina. And his whole thing is he really tried to develop a brand and He even went out so and what I love what you guys mentioned there as he went out and found some local, local suppliers and in his case, I think he went so far as to like, rebrand them under his brand. But I think it's a really, you want it to be unique. You know, you want it to be you know, people are going to dolphin Island, Alabama. They're not staying at the Marriott in Orlando. Right. Yeah. Right. Yeah, you know. And so I think if you can differentiate yourself and make it an experience and make people feel like they're a local and that's one of the things that's so wonderful about short term rentals that you can do, you can create repeat customers. And so you can start building that clientele of people, you know, hey, every summer, we're going to go to that, that same short term rental on dolphin Island, you know, yes, keep building, building that base and building that base and, and then you're off and running. Do you have what you consider a standard budget per room?
Shane Sigsbee:
Well, so our standard house is a three, two. And that's cost us about 15,000 to furnish. And that's just our standard run of the mill Three, two that has an ARV of let's say 125,000. You know, if we have a two one I'm trying to get in around 10,000. In our two ones are kind of more at around the $100,000 ARV range, we just furnished our high end property, that is a five 640 500 square feet. And again, that's going to be an average nightly rate of about 800 bucks a night year round, we spent 52 furnishing that one. But again, we went super high end on that to kind of like match, you know, the property that we're going for. That's a $1.3 million ARV. So I mean, just like our normal run of the mill $125,000 property, we're trying to get it in under 15,000, we do a pretty good job of it. I always tell Rachel 12, and she turns it into 15. A job.
Rachel Sigsbee:
I mean, he controls every single city that we spend, basically. But again, when we first got into this, it looked a little different than it does now. But it is it is what it is we do have that budget that we it kind of set itself, I would say I don't think we set the budget to begin with the things get an idea of what we're missing. Right. And so it just depends on again, like reshot in the body. But yeah, he knows, he knows every single step that I have spent on every property, which is very important when you go to the next property. And it is based on bedroom size, I think you can buy a variation of all of the furnishings, and it's still going to come out to be about that same price. Yeah. And then and then in my pro forma,
Shane Sigsbee:
when I'm analyzing a property, I depreciate that original furniture purchase over a five year schedule. So I depreciate that over 60 months. So like, for example, if it's 15 grand, I put $250 a month in a furniture depreciation schedule and my pro forma,
Neil Henderson:
gotcha. So for for our listeners who don't understand what you just said, Can you put that into English?
Shane Sigsbee:
Yeah, like when I'm calculating like net cash flow, like I count the furniture that we buy on the front end, I calculate that as like a $250 monthly expense. And then the other thing that that enables is, it also enables, like, if you're going to hold the property for 20 years, it gives you room to replace the furniture over a time as well. So the original amount, you know, gets get counted as $250 a month. But also when that five year runs out, you're already accounting for like, Hey, we're probably going to spend about $250 a month replacing the original furniture that we bought. The
Neil Henderson:
IRS is basically saying you can depreciate you're basically going to recalculate recapture a lot of this money in a accelerated timeframe. Correct. Okay.
Shane Sigsbee:
Yeah, yeah, I mean, it's for taxes, but it's also just for me analyzing cash flow as well. You know, like when I'm analyzing cash flow for a long term rental, obviously, there's no furniture expense. So to be able to compare apples to apples, when I'm comparing cash flow, you have to put something in there for furniture.
Rachel Sigsbee:
And I think it takes away that from the emotional aspect of getting attached to a property because when we first did our first view, I was like, Oh, I don't want this couch to be ruined. I don't want you know, something to happen to this furniture, this is my stuff. It's not your stuff. It can be replaced, we have a budget for replacing things so as long as you don't put like a family heirloom into an Airbnb rental, or things that are of value to you, then those are just numbers and Shane said so yeah, we scotchgard you know, all of our rugs and all of our couches and everything else but inevitably like you're gonna have to replace this stuff. But again, like the revenue from these Airbnb is just absolutely destroys the revenue for long term rentals.
Shane Sigsbee:
You have plenty of room to be replacing furniture.
Neil Henderson:
What kind of amenities Do you think give you the biggest return on investment?
Rachel Sigsbee:
That's a great question.
Shane Sigsbee:
I think location matters. And I think that's like the most like, top of my brain. Answer. The problem of vocation is like you pay for it in the cost of the property. You know, so like, yeah, like if you're closer to the beach, you're gonna be able to try to a higher nightly rate, but the closer you are to the beach, the more expensive the property costs. So I think if you take that out of the equation, I think just going nice on your rehab, you know, like, if you buy a property that has a lot of deferred maintenance, and you're trying to do your rehab cheap, and you know, then you listed on Airbnb, people aren't going to be drawn to that property. And where you're going to see it is not only your nightly rate, but it's your occupancy rate, right, you know, occupancy rates in South Alabama average about 60%, we're hitting about 70, we had 71%, on our occupancy last year, and like you're talking about earlier with the recurring customers, people coming back, I see our occupancy going up, you know, given that we're so new at this, like, I think our occupancy is gonna go up, not down. And the thing is, is like if you're able to hit 72%, or whatever, now occupancy compared to like 50%, on a non rehabbed property, you throw those into a calculator, like you're paying for your rehab in a year, you know, like, it's so worth it to spend nice, like, we bought this one for plugs out of foreclosure on the island. And we did shiplap on every single wall, it was like, your dad told us, it was like 30,000, linear feet of shiplap, or something wasn't
Rachel Sigsbee:
happy about
Shane Sigsbee:
that. We spent, like, we spent like 50 grand on shiplap in this entire property, every single wall of every single unit. But that's what people talk about in our views. And that's why our occupancy rate is so high for this property. You know, like we talked to other Airbnb, homeowners on dolphin island that haven't rented their properties. And we like, they'll tell us like, Oh, we have the three, two, it does, you know, 21,000 a year in gross revenue, and like, we have a little tiny to one, that's nowhere near the beach since doing 32 grand a year. You know, and it's because of how we do our rehabs. I think the other thing is pictures, you know, like, we recently looked at a property and immediately looked at a property to buy and immediately I went on and like looked at our competitors near their for their Airbnb s. And like they've got all these like dark photos, and their properties are not rehabbed and stuff. And I'm telling Rachel and like, we're gonna crush these people. So like, it's all about, like, the pictures that you take, you know, like, make your place look like a place that people want to stay at. Like, don't be taking a picture with no flash on your phone, you know, like with the lights off at 7pm. At night?
Brittany Henderson:
Do you have someone come in and do that for you guys?
Shane Sigsbee:
Rachel is a photographer. So
Rachel Sigsbee:
we talked about this all the time that we are lucky to have like him on the phone and set me on the design side. Because I do the photos, I do the writing for the Airbnb website, and our website, and that the marketing and the styling, those are the two things that sell your property. I know the rehab is on the backend side is very important as well, but the finishes, and how you promote your property, you have one on one chance to grab that attention of the guests
Shane Sigsbee:
they're looking at,
Rachel Sigsbee:
they're not looking at what's in your cabinets, and what type of you know, waters Royce kitchen appliances you have, they're looking at, oh, what is this? How does this space or you feel. And so if you can capture that with your furnishings, and your photos and the description of your property, that's what sales is. And then once they get in, you know, obviously, you want to maintain that type of that standard with having a nice place. So, you know, there's kind of two sides to it. But I think the most important thing is the marketing and how your place looks up front.
Neil Henderson:
What I find I'm even myself as a consumer, when I'm looking at an Airbnb, the photos is the first thing you look at, you're not you don't have the description, you know, you know, and even our experience when we had, you know, we would have all these explanations about what it had in the description. And we would still constantly get people asking, Do you guys have this? Do you guys have this? Do you guys have this. And finally, what I started doing is taking just taking pictures of it.
Rachel Sigsbee:
That's true, right? Open the cabinet.
Neil Henderson:
And so they could see it. And then those questions went down a little bit because people just half the time, they're just looking through through the pictures. And you know, you are it's especially in a crowded market, you know, and a lot of these, especially if you're in a vacation rental market, you're competing against a lot of other places and you don't want to compete on price. You know, that's a rough road to ruin. And the other thing that you need to keep in your mind is that when people are coming to stay with you, this may be the only vacation they get that year. Right, right. And so if you make it bad, then they're going to resent it and they're going to let people know
Rachel Sigsbee:
they will let people know that people love to share their opinion which we are glad our business is based on reviews. So this is something that you definitely have to invest in.
Shane Sigsbee:
Sometimes you get these reviews like like you get like a three star review and the review starts out like everything was perfect in the property. It was beautifully decorated and then the last sentence is like but it rained our entire yeah that's a comment under him you know because the nice thing about when they give a review like that is you have like the last you know last reply you know like you always like comment to like they're like retweet, you know like to their view or whatever like I'm really sorry, the weather was bad, you know, like
Brittany Henderson:
they were giving a review on the trip not on the Airbnb. Yeah, that's, that's, that's like on Amazon when like, I'll be like, why does this have like these one star reviews and essentially that, like, people just don't look at what they're actually buying and they've gotten the wrong thing like
Neil Henderson:
it is one of the drawbacks of the I don't know what you'd call it the the rating the the rating economy.
Shane Sigsbee:
Yeah.
Neil Henderson:
Yeah. Sometimes you just get people who are just miserable. And they're never nothing's ever right. And
Brittany Henderson:
they want to tell someone that something went bad and the only place they can do it is on your Airbnb review. Yeah.
Neil Henderson:
Okay, that was Shane and Rachel six v. We had, we had some technical difficulties at the end this interview with Shane has been sort of cursed. It's the second time we've recorded it. And both times they've been really, really great interviews. And the first time my audio got completely corrupted, we had to re record this interview. And then right here at the end, we lost power, right, as we're sort of wrapping up and saying goodbye. But we didn't lose this one we did. That was this one, though. So and it was still a really great interview. Did you have a key lesson learned from this interview? Yeah, I
Brittany Henderson:
think something that stuck out to me that Rachel said when she was talking about furnishing the rentals, you know, listings and, and, you know, taking good pictures and that kind of thing, as she she said that people when when they look through those, they're really asking themselves, how does this make me feel? And so, you know, they're not necessarily they might put in the parameters of like three bedroom or whatever, you know, that kind of things initially for Airbnb to filter out. But once they have those pieces, they're really looking to see, you know, what that rental feels like for them. And so, you know, we talked about how important it was to furnish? Well, you know, without within guidelines, depending on the price of the rent per night, that kind of thing, but how nice of a rental it is, and such, but really creating a space that does make people go ooh, that would make me feel good is a really important part of having a successful vacation rental.
Neil Henderson:
Well, and Shane even talked about, you know, when you're looking at rehabbing that you want to rehab to a level that makes it look nice, you know, you're not going to rehab, like it's going to be a long term rental, you want to rehab with it looking desirable in mind, and the return on investment will more than make up for it. You know, he talked, he talked about being able to return the price of a rehab in one season. And so your your ROI on that is very, is very important and very powerful. And a big thing to keep in mind when you're when you're trying to rehab potential short term rental and furnish it.
Brittany Henderson:
Alright, so how did Shane specifically educate himself in order to get this started
Neil Henderson:
was sort of a broken record. BiggerPockets. You know, he he said he had probably listened to every BiggerPockets episode. There is he also spent a lot of time messing around with the bigger pockets, rental property calculator tool, which I highly recommend if someone you know, that's a question I frequently asked someone when they're saying, Well, you know, you know, I still have a deal yet, you know, I'll ask them, well, how many deals? Are you how many deals you're looking at? Well, you know, none. You need to be looking at deals, you need to be looking at Zillow, and just plug just plug properties into the rental property calculator. And and mess around with it and figure out what you know what a good number looks like, because every property, this is one of one of my favorite, and I can't make this exact quote, but every property has its right price. That will make it profitable. And that's sort of what you need to learn to get a feel for.
Brittany Henderson:
Makes perfect.
Neil Henderson:
Yes. Money. Their first property was a purchase it for $38,500. And it took them about $11,500 to rehab it. So they were all in for about $50,000. It appraised for I think he said $97,000.90 $90,000 that's a really, really great burn. They're a little harder to find out that there. It's hard to find them that good nowadays, but it is still possible if you find the right property.
Brittany Henderson:
It's so time is where we really got cut off. And depending on what our editor does, I have no idea how much you'll get of that. But essentially it's a full time job was what I was sort of Hearing if this is a business for them they spend, or maybe not a full time job but they spend a lot of time on it is an active investing strategy is not a semi passive. It's it's something that you do have to manage.
Neil Henderson:
No, we and we've, we've interviewed enough short term rental operators, even the ones that have really systematized it well, they all say it's, it's a job. It's a very rewarding job. And you can make a lot of money doing it, but it's very much a job. Yeah.
Brittany Henderson:
Location, very location independent. Obviously, they are, their rentals are in Alabama, they live here in Las Vegas, and they do a family there. So that's like, made it easier for them. But theoretically, the, you know, if you have the right market and the people in place, you can, you can have vacation rentals, no matter where you live. And if you have the systems in place, you can go on trips and things, you just have to have that management and so if you're not doing the management, you're gonna have to pay for the management.
Neil Henderson:
And they mentioned they now have an assistant who is helping to deal with a lot of the guest communication and stuff like that. And we of course, we hopefully they will, things will improve a little bit, they end up signing up for smarter b&b, which we recommend. Okay, once again, that was Shane and Rachel 60. And we certainly appreciate their time, we'll have links in the show notes for how to reach out to them. We're doing this all again next week.
Unknown:
Let's hit the road by
Neil Henderson:
before you go. If you like the show, we'd be delighted if you'd head over to pod chaser and leave us an honest review. And do let us know why you liked the show how long you've been listening, and in particular what you find really useful or entertaining, and let us know if there's anything you think we should change. Also, if you have specific questions about real estate investing, especially self storage or short term rentals, shoot us an email at info at growth and family freedom.com we'll be happy to answer your question on the show. We might even turn it into an entire episode. Thanks for listening. We're doing this all again next week. Until then, safe travels on your road to financial freedom.