Staying on the Right Side of Short-Term Rental Laws with Erin Spradlin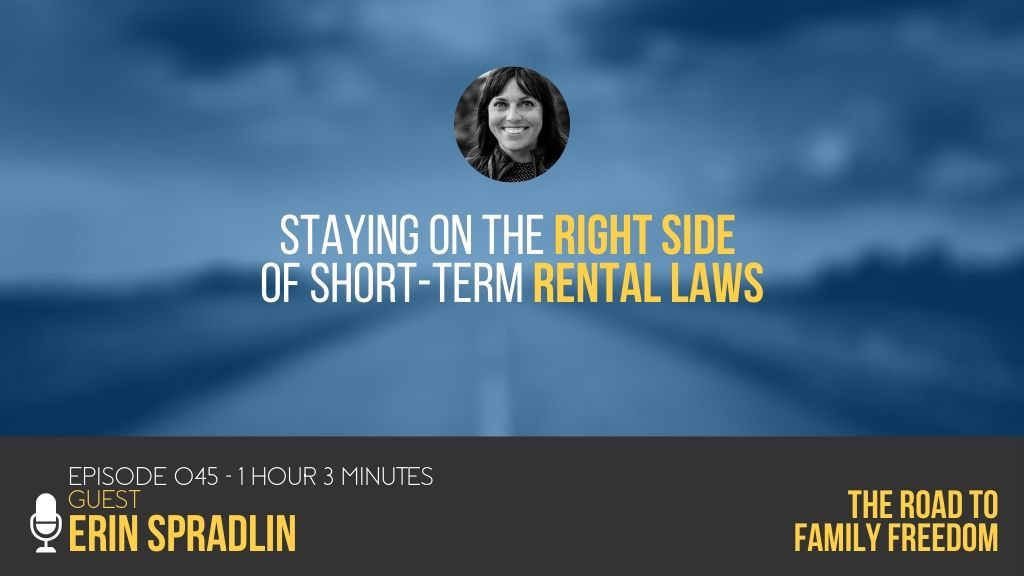 Erin Spradlin – the co-owner of Erin and James Real Estate, founder of Denver Women Invest that is a monthly investing group for women, short-term rental investor, and specialist in helping homebuyers purchase short-term rentals in several Colorado markets, with a special emphasis on using that strategy in using house-hacking, talks to Neil Henderson and Brittany Henderson, the hosts of The Road to Family Freedom podcast. Erin Spradlin talks about medium-term rentals, the short-term rental market in Denver, working with property management companies, and her group Denver Women Invest.
Post-Interview Analysis 
Key Lessons Learned:

Women typically control many of the household buying decisions. But there is a disconnect because they don't always make the same investments. Carve out a niche. Manage your expectations when it comes to property managers.

How did they acquire their knowledge or what knowledge did they need to acquire?

Gain knowledge of the local laws. Don't do things illegally.

How much money did it take to get started?

They put about $32,000 down that they borrowed from a heloc.

How much time does it take now?

The real estate side is a full-time job for her.

Could they do this strategy from anywhere in the world?

Not really, because it is a hands-on full-time job.
Episode Highlights:
Interested in investing in self-storage? Schedule a video chat with Neil Henderson at

roadtofamilyfreedom.com/selfstoragecall

Neil Henderson introduces

Erin Spradlin.

What was the 'a-ha moment' that got her interested in real estate?

 

What were the costs that they paid for their first property?

   

Were they telling the landlord about their rentals?   

They used their HELOC for their down payment and to furnish their first property.   

Do they use a property management company?   

How does she define a medium-term rental? 

What tips does she have for finding property management for a short-term rental?   

Erin talks about the local standards for short-term rental laws in Denver.    

Can you rent out individual rooms in Denver?  

Does she have success in doing medium-term rentals with efficiency apartments? 

What is her process for sizing up properties and how does she find them?  

How did her partnership agreements unfold?  

You have to prove to lenders that you have been highly leveraged for the last two years. 

What have been the biggest frustrations and highlights for Erin being a host and short-term rental owner? 

How did she go about getting educated when she first started with short-term rentals?  

Erin Spradlin talks about her Denver Women Invest group. 

What is she doing differently to handle changes caused by the COVID-19 pandemic? 

Neil Henderson and Brittany Henderson talk about how Las Vegas has been impacted by COVID-19.
Books and Resources Mentioned: