Starting Bigger than You Think You Can with Commercial Real Estate with Danny Randazzo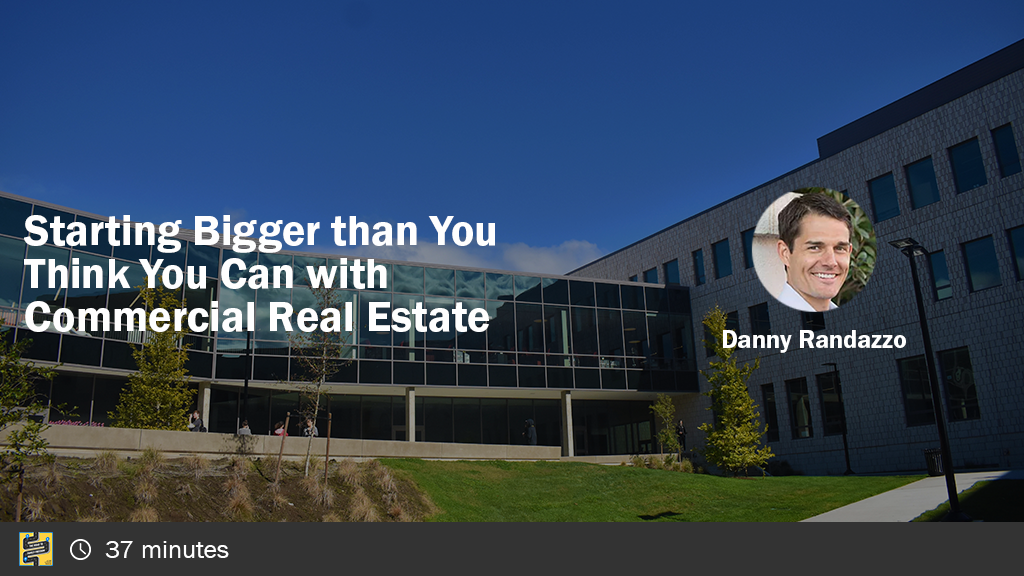 Danny Randazzo is building financial freedom for his family with a mix of commercial office space, short term rentals and large multi family syndications. He has been financially savvy from a young age and became fascinated with the idea of investing in real estate. Danny Randazzo and his wife sold everything they owned in the summer of 2016 and relocated to Charleston, South Carolina to build a real estate portfolio. Their first purchase was 2 commercial buildings for $1,000,000. Danny has continued to invest in a variety of commercial, residential, and small multifamily properties through his company Randazzo Capital. Currently Randazzo Capital controls over $8,000,000 in commercial and residential real estate.
How much money did he get started with?
A commercial property generally requires 30% down and so Danny probably started with around $300,000.
How long did it take for him to educate himself?
Danny was learning through his entire life. If you distilled down the core of what he learned you could probably get there in a year or two.
How much time does it take him now?
Managing his real estate investments is a 2nd full time job. He spends mornings, evenings and weekends working on his real estate investments. He is probably spending around 20 hours a week but with systems and outsourcing it could be less.
Could he do this from anywhere in the world?
Danny thinks it could be location dependent for about 3 months but with systems and outsourcing in place it would be able to be longer.
What you'll learn about in this episode
Getting started by buying his first rental house
Considering the benefits of commercial real estate
Working out what properties they would need to create their goal income
Skipping the traditional route of incrementally investing in real estate
The advantages of commercial properties over family homes
Getting the funds to invest in commercial property
Their journey to being able to invest in a $1 million dollar property
How his financial savviness started in middle school
Buying his first home in California
Selling his California properties and relocating to Charleston, South Carolina
Skills he recommends learning
How he works with other investors on properties
Systems he uses to prioritize his time
How they are looking to expand to other markets beyond their local area
When they visit potential properties and how they use property managers
That finding opportunities is the biggest challenge out there and networking is key
What he would do if he had to go back and start again
Advice for people wanting to get into investing
Go bigger than you think you can go
Subscribe to The Road to Family Freedom
Help Us Out!
Help us reach new listeners on iTunes by leaving us a rating and review! It takes just 30 seconds and instructions can be found here. Thank you so much! We really appreciate it!
Links from the show
Books Mentioned in the Show
Tweetable Topics:
I could buy 5 commercial properties that generate the same income as 1,000 single family homes and I've got 5 properties to manage and oversee. The contracts have a couple more zeros and the decimal is in a different spot but it is very much the same as owning one single family rental.
Looking at the Forbes 500 List…a majority of those 500 wealthiest people in America either made their wealth through real estate or use real estate to protect and maintain it. It's a proven path, it's repeatable and you don't have to be a rocket scientist to figure it out.
Connect with Danny:
*FTC Disclosure: This post may contain affiliate links. If you make a purchase after clicking on the links, Road to Family Freedom will get a small commission. We are dedicated to finding the coolest products for families looking to building financial freedom through real estate and we never recommend anything that we don't love.