Short-Term Profits Lead to Long-Term Wealth with Avery Carl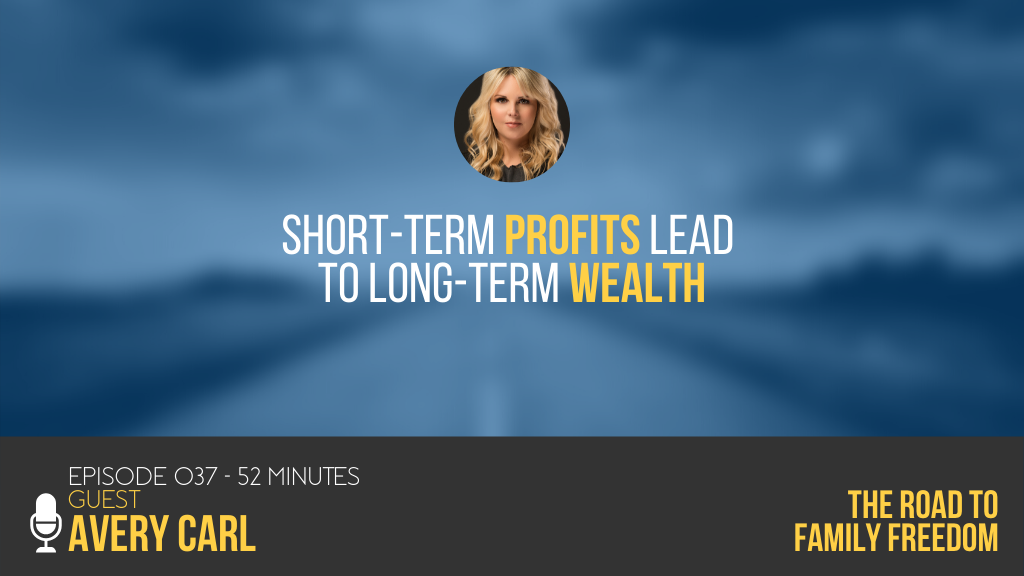 Avery Carl – Affiliate Broker at eXp Realty and is a top 1% agent and vacation rental expert. Avery Carl talks about getting her start in real estate with one short-term rental, expanded that into five, and has now used the cash flow from those rentals to construct a portfolio of 18 long-term rental units.
Post-Interview Analysis 
Key Lessons Learned:

You can get creative with how you finance real estate. Don't let your limiting beliefs about vacation rentals stop you.

How did they acquire their knowledge or what knowledge did they need to acquire?

She learned a lot from actually doing it on her own.

How much money did it take to get started?

She spent $175,000 on her first property and put 10% down, and she spent about $3000 to rehab for a total of about $21,000 all-in.

How much time does it take now?

She only spends about a few text messages a day answering questions.

Could they do this strategy from anywhere in the world?

You can do it from anywhere if you have boots on the ground and systems in place.
Episode Highlights:
Schedule a video chat with Neil Henderson at

roadtofamilyfreedom.com/connect

Neil introduces Avery Carl.  

Avery Carl shares what her 'a-ha' moment was in getting started in real estate. 

What did she purchase her first property for and how much money did she have to pay all in? 

When and where was this property purchased?   

Did she use a HELOC on the first or the second property?    

Does she have any advice for using a HELOC? 

Has she helped any other clients navigate HELOCs?  

What would a fixer-upper property go for in that area now?  

Does she have any tips for furnishing a short-term rental?  

Are there any furnishings that she believes you must-have for a short-term rental? 

How does she navigate maintenance with hot tubs and pools? 

What type of insurance is she using?  

Has she ever had a bed bug issue?  

How does she help cleaners not mix up which linens to which beds? 

Does she have a method for what her expense ratio is going to be on a property?  

What expenses often get overlooked?  

What are some of the other key team members for short-term rentals? 

Are there tools that she uses to leverage her time and for revenue management? 

How did she structure her partnerships? 

What are some big lessons that she had to learn in this market?  

How does she roll her cash flow from short-term rentals into long-term rentals? 

Is she buying properties right off the MLS that are ready to go?  

What is Avery Carl's goals and are there loans on the properties?  

Stay away from syndicators that want you to take a course before you invest with them. 

How is she able to help potential investors succeed? 

What type of time investment is Avery typically making?  
Books and Resources Mentioned: