Scaling from House Hacking to Apartments with Julie Lam and Annie Dickerson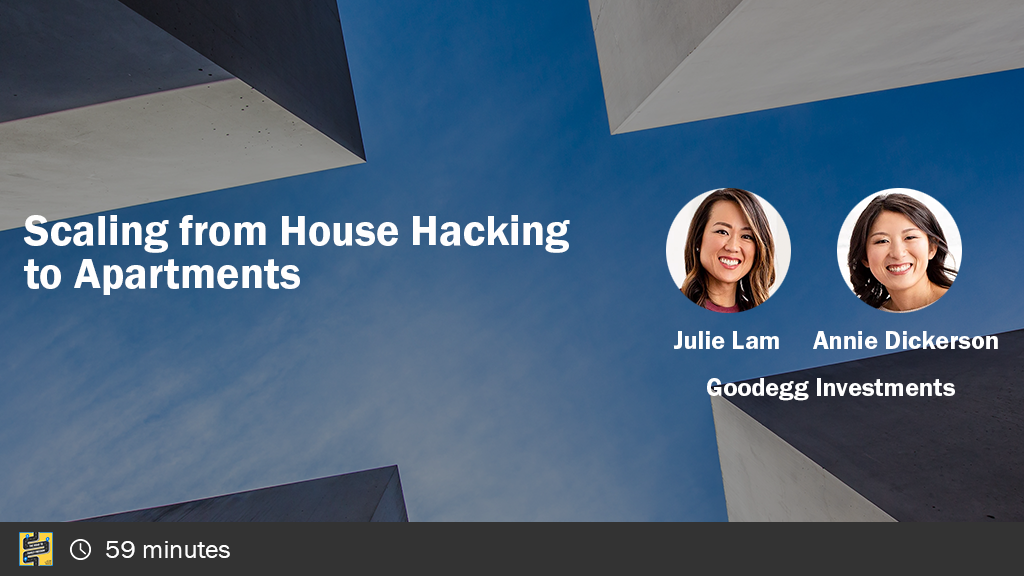 Julie Lam and Annie Dickerson of Goodegg Investments have co-syndicated 3000+ multifamily units and 1500+ self storage units, worth over $300,000,000. They focus on preserving and growing investor capital by identifying investment opportunities that are acquired and managed by experienced partners that have a proven track record of success. Through this process, investors leverage their knowledge, expertise and relationships within the multifamily apartment and self storage space.
What you'll learn about in this episode
Julie and Anne's journey to real estate
Real estate syndication and passive investing
Things to know about being a landlord
The purpose of GoodEgg Investments: connecting investors & syndicators
Learning real estate investing with education and networking
How to finance your first investment
The difference between active and passive investing
The story behind GoodEgg Investments and how they build successful deals
Systems that helps automate a business
Finding the right people for your team
Most important skill to have as a syndicator
Tips and strategies from Julie and Annie
AND Many more!
Subscribe to The Road to Family Freedom
Help Us Out!
Help us reach new listeners on iTunes by leaving us a rating and review! It takes just 30 seconds and instructions can be found here. Thank you so much! We really appreciate it!
Links from the show
Tweetable Topics:
It turns out, everybody loves the cashflow aspect of real estate investing but very few people love the landlording aspect. Annie Dickerson of @goodegginvests
Connect with [Guest]:
*FTC Disclosure: This post may contain affiliate links. If you make a purchase after clicking on the links, Road to Family Freedom will get a small commission. We are dedicated to finding the coolest products for families looking to building financial freedom through real estate and we never recommend anything that we don't love.