J Martin on Building a Location Independent Lifestyle with Short-Term Rentals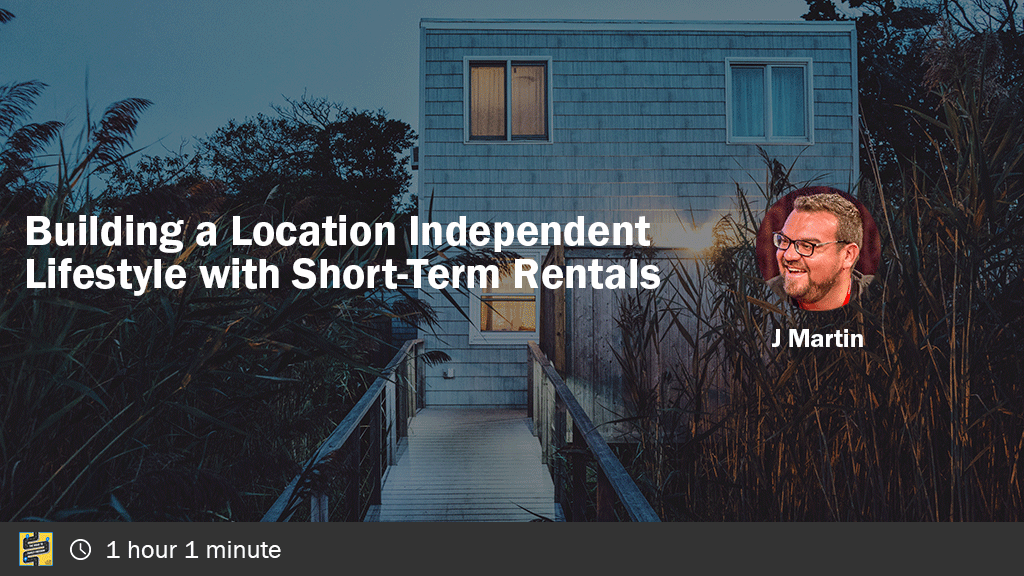 J Martin – Founder and Host of SF Bay Summit Real Estate Networking and Founder/Owner/Operator of JTM Real Estate Group, talks to Neil Henderson and Brittany Henderson, the hosts of The Road to Family Freedom podcast. J Martin talks about building a location-independent lifestyle, primarily using a portfolio of short-term rentals. J also discusses how he is able to travel year-round and operate his business, why he doesn't use HOAs, how he manages communication, and how he funds his ventures.
Post-Interview Analysis
Key Lessons Learned: Systems are the things that make businesses successful. Ask yourself how you would run your business if you were out of the area.

How did they acquire their knowledge or what knowledge did they need to acquire? He used BiggerPockets.com, networking, books, and meetups.

How much money did it take to get started? $12,500 is what it took J Martin to get started. Subleasing requires a deposit and for furnishing, he spends about $7,000 for a one-bedroom, including the fee for people to do it.

How much time does it take now? He spends 3-4 hours a week.

Could they do this strategy from anywhere in the world? Yes, he can and he does.
What you'll learn about in this episode
J Martin talks about traveling 100% of the year.

What was J Martin's a-ha moment about getting into real estate?

What was the first piece of real estate that J Martin bought?

What were the numbers involved in J Martin's first real estate venture?

When did he get involved in short-term rentals?

If you believe you can, you are right. If you believe you can't, you are right.

J talks about giving up a portion of his cash flow to pay back a loan to his partner.

How many units is he subletting?

Over ⅓ of hotel and AirBNB stays are over 30 days.

J Martin stays away from HOAs.

What are the typical sizes of his real estate purchases?

How does J Martin go about furnishing?

What does it cost on average per room?

How does he manage the communication?

Look carefully at your lease terms.

How did J Martin find his VAs?

What are some places J Martin has enjoyed traveling to?

Are there any places J Martin would not go back to?

How much time is he required to spend on this?

When he was getting started with short-term rentals, what are the things he had to learn that made him successful?
Help Us Out!
Help us reach new listeners on iTunes by leaving us a rating and review! It takes just 30 seconds and instructions can be found here. Thank you so much! We really appreciate it!
Recommended Books
Resources Mentioned
Connect with Guest:
*FTC Disclosure: This post may contain affiliate links. If you make a purchase after clicking on the links, Road to Family Freedom will get a small commission. We are dedicated to finding the coolest products for families looking to building financial freedom through real estate and we never recommend anything that we don't love.