How to Use the Same $70,000 to Buy 7 Single Family Rentals Long Distance with Alex Felice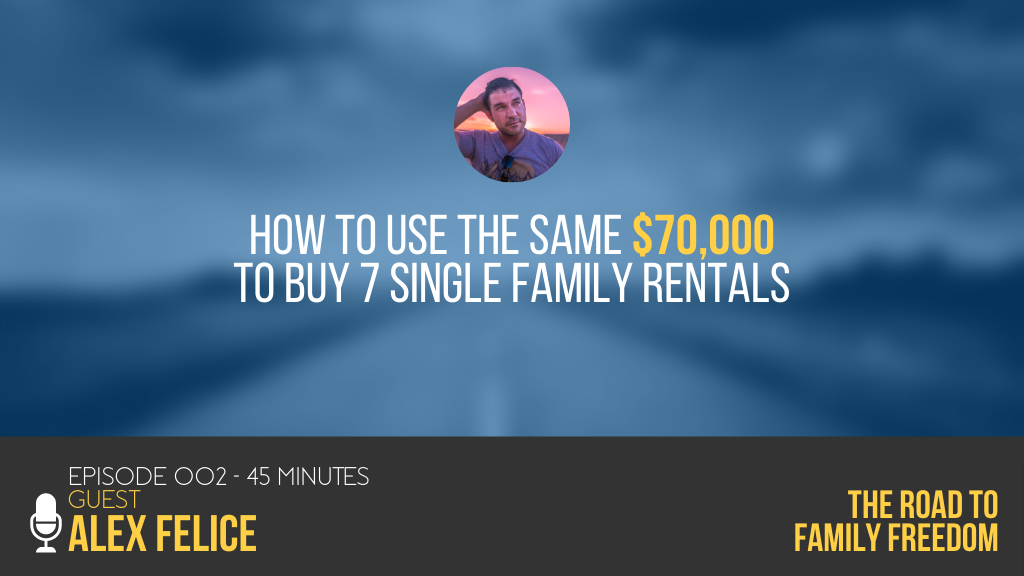 Alex Felice is an Army veteran who admits he woke up one day and realized he was broke because he was making bad choices with his money.
He made a commitment to educating himself about managing his money and real estate investing, and 18 months later, he bought a foreclosure that launched his investing career.
He specializes in executing the BRRRR (Buy, Rehab, Rent, Refinance, Repeat) method from long distance. In a few short years, he has built a strong portfolio of single family rentals.
What's his destination?
His original goal was 10 single family homes paid off by retirement. He discovered he could do it a lot faster, got about 70% of the way there in two years which opened his eyes to bigger possibilities.
How much money did he get started with?
Got started with $3,000 that he used for a 3.5% downpayment to buy a foreclosure using an FHA loan.
How long did it take for him to educate himself?
How much time does it take him now?
His property manager allows him the option to not spend much time on this, but he chooses to spend a lot of time on it because he's still in acquisition mode.
Could he do this from anywhere in the world?
If all he wanted to was maintain his portfolio, he could do it with one email and one phone call per month. But that's a testament to his property manager.
What you'll learn about in this episode
Make sure you have the long term bank financing lined up BEFORE you buy a property you're planning to BRRRR.
People forget that there is a Return on Investment, but there is also a Return on Equity.
Education is the most important thing you can do to get started in this business. The education ramp up is high.
Took him about 8 months to buy his first house hack. It took two years to buy his first rental property, but he then bought 7 properties in the next two years.
Finances deals now using cash to purchase the property, rehabs the property, gets long term financing on the property once it's rented out using delayed financing which allows him to pull the original capital out and do it all over again.
He writes down his processes, follows them and encourages his team members to follow them. "This is the process that seems to work. Let's write it down, let's get it on paper. Create the system out of thin air and get everybody to believe in it."
Subscribe to The Road to Family Freedom
Help Us Out!
Help us reach new listeners on iTunes by leaving us a rating and review! It takes just 30 seconds and instructions can be found here. Thank you so much! We really appreciate it!
Links from the show
Books Mentioned in the Show
Tweetable Topics:
Spend your time trying to find good people and then implement good systems, and man, it turns into easy mode. To the point where your life gets so easy that you start looking for new challenges. @brokeisachoice
Find great people. Make them fall in love with you, and make them drag you along for the ride. @brokeisachoice
Being close to your real estate investment property gives you a false sense of security. Instead, be far away, and learn the real skill which is managing people. @brokeisachoice
You're underestimating what's possible. @brokeisachoice
Connect with Alex:
*FTC Disclosure: This post contains affiliate links. If you make a purchase after clicking on the links, Road to Family Freedom will get a small commission. We are dedicated to finding the coolest products for families looking to building financial freedom through real estate and we never recommend anything that we don't love.