How to Retire Early and Build a Business Around Travel with Lee Huffman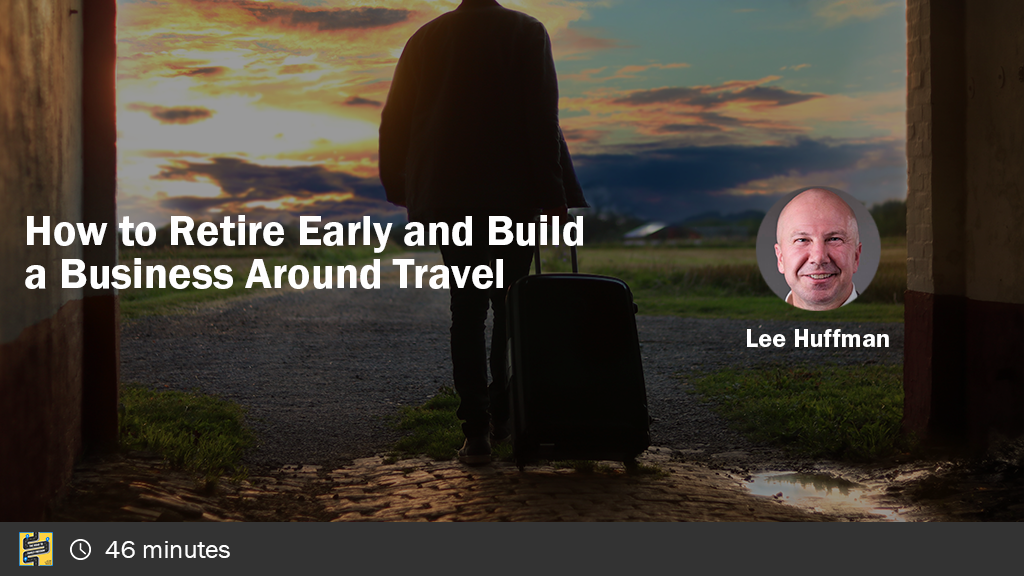 Lee Huffman – Former banker, writer who writes about early retirement, credit cards, and travel, and host of the We Travel There podcast, talks to Neil Henderson and Brittany Henderson, the hosts of The Road to Family Freedom podcast. Lee Huffman shares information about buying his first homes, delayed financing, how he built his real estate team, what we should know about interest rates, and his websites WeTravelThere.com and BaldThoughts.com.
Three Key Take Aways from this Episode
Lee has a total of 9 single family homes in his portfolio now.
As your equity goes up, your actual return-on-equity goes down.
Spending 8-10% of profit on property managers is money well spent to free up time.
What you'll learn about in this episode
Lee shares how he got into real estate investing.
What inspired his investments in single family homes in North Carolina?
Where is real estate taking Lee now?
What is Lee's overall goal in real estate?
Is return-on-equity a calculation that Lee takes into account?
How did he go about educating himself when he started in real estate investing?
How does the "delayed financing" program work?
How much time does Lee spend each week working on real estate?
Are there any systems that help Lee automate his business more?
What types of team members does he have?
How did he go about building his team?
How long would he feel comfortable stepping away from his business?
What should investors know about interest rates?
Is there anything that Lee would do differently in his real estate career?
Your credit has to be good to invest.
Lee talks about WeTravelThere.com, BaldThoughts.com and his book.
Subscribe to The Road to Family Freedom
Help Us Out!
Help us reach new listeners on iTunes by leaving us a rating and review! It takes just 30 seconds and instructions can be found here. Thank you so much! We really appreciate it!
Links from the show
Tweetable Topics:
Connect with Lee:
*FTC Disclosure: This post may contain affiliate links. If you make a purchase after clicking on the links, Road to Family Freedom will get a small commission. We are dedicated to finding the coolest products for families looking to building financial freedom through real estate and we never recommend anything that we don't love.
Transcript
Lee Huffman:
You have to have the patience to find the right deal. And in some ways, it really sucks just sitting there on the sidelines. And oh, it's been six months or a year or something like that since we bought a property. But if the numbers don't work, the numbers don't work. And you have to have that patience and say, Okay, we're only buying houses if they fit these criteria. I'm Neil. And I'm Brittany,
Neil Henderson:
we are a family on a journey towards financial and location independence. Each week, we interview successful real estate entrepreneurs about their chosen investment strategy, and rated based on how much money it took to get started, how long it took to educate themselves, how passive it is, and whether or not they could do it from anywhere in the world.
Brittany Henderson:
Welcome to the road to family freedom. If you like our show, the easiest way for you to give back is to leave us a rating and review on iTunes, head on over to road to family freedom comm slash review for links and instructions on how to do that we would be so grateful. All right, and that's out of us. Let's hit the road to family freedom.
Neil Henderson:
Our guest this week is a former banker who now writes about early retirement credit cards and traveled. He's also the host of the inspiring and endlessly entertaining, we travel their podcast. Well, welcome to the road family freedom. It's great to be here. We're glad to have you. So give us a quick story about how you got into real estate investing. Okay,
Lee Huffman:back in:Neil Henderson:
Okay, so you started buying single family homes in North Carolina? Yes. Did you have an intention at that time? Like, well, I'm going to become, you know, a real estate investor. And this is this is the path I'm on? Or was it sort of an accidental landlord? You? Oh, I'm
Lee Huffman:
not. I mean, I always like read about, you know, investing in real estate and talking about diversifying your portfolio. And, you know, for me for my retirement accounts, I actually invest pretty aggressive as far as stocks on all my accounts. Because I look at my real estate as my base of my bond portfolio. Yeah, that's going to be driving all the income. So that allows me to be more aggressive in my my stock portfolio, my IRAs and 401k.
Neil Henderson:
And did you go in with any sort of criteria that you're looking for, as far as minimum cash flow ROI that you were looking for on those single family homes and you bought them?
Lee Huffman:
At first? No, I was like, Oh, that's cool. Hey, but Pacey and pays for itself. And I've been thinking about, oh, there's repairs, and there's turnover and there's vacancy. You know, I was a total newbie, when I first started out, like everybody else, right? I didn't know anything. And back in Oh, six, there weren't websites like yours and bigger pockets, and all the other ones out there that I could really kind of turn to for that advice to figure things out. So I just kind of like, oh, okay, as long as it pays for itself. It's fine. And that was fine. That was fine for me. Because, again, literally, my car payment was more expensive than the mortgage, on the property. So okay, whatever. It's like a rounding error.
Brittany Henderson:
So we're is real estate taking you now? I don't know, how much do you still just have the two properties? or?
Lee Huffman:I was buying the third one in:Neil Henderson:
certain nine, nine total single family homes you portfolio now, correct? Yeah, gotcha. Okay.
Brittany Henderson:
And now that you you're doing this, What's your goal, your like, big goal.
Lee Huffman:and then take that equity and:Neil Henderson:
Gotcha. And do you ever sit down and do calculations? Like what's your what your return on equity is on the properties? That's something a lot of people don't consider when they're like, well, I've got the cash flowing, and my ROI is this. And then when when they sit there and they go, I've got 50% equity, and it's like, well, what's your return on equity now, because as you as the equity goes up, you're actually return on equity starts to go down eventually gets to the point where it's like, you might be better served moving equity somewhere else. Is that a calculation that you take into account?
Lee Huffman:
I haven't got into that yet. I mean, it's something that I share, especially with my finance background, and it's almost embarrassing to say that I haven't. But, you know, it's one of the things that this program is so advantageous the way we use it, that I want to max out the program first. And then at that point, start looking at other variables. As far as I think those type of calculations would be more based on when we're calling the herd. Yep, at that point, Okay, this one may cash flow, the better, but the return on equity is not as good as this other one. So let's sell this one instead of that one, and essentially going to be at some point, you're going to kind of stack rank everybody, based on some of the variables like your ROI, your cash flow, your ROE, all those different variables, and say, okay, which is which other ones were going to sell? You started No, six.
Neil Henderson:
And as you said, there, you know, there wasn't really bigger pockets wasn't really around, although it may have just been starting up. How did you go about getting yourself educated on real estate investing, when you first started off,
Lee Huffman:
back then it you know, it's like magic seems like Kiplinger's and you just different books. And even today, I still read the paper, actually, I kind of have a stack of papers I'm a little bit behind on but I still read the newspaper, I'm probably the last one of my generation to actually do that. But I just, I was read constantly and talking to people, and just always kind of picking somebody's brain. And then at that point, also, it's, unfortunately, lot of people don't do this, you learn something from somebody. And all you do is apply to that same scenario. But unfortunately, the world is very diverse. And so what you need to do is say, okay, the lesson I learned from this situation, how can I apply that lesson to all these other situations that I'm involved in? Because although this person had this happened to him, I'm never gonna be able to replicate that exact same scenario. So how can I apply that lesson to all the other different areas of my life?
Neil Henderson:
Yeah, I know, we talked about financing, we see you first financed those first couple of deals with the sale of your primary residence in California, correct.
Lee Huffman:
And that and that, and then I just, I had 15 year loans on them, basically put a big down payment on them, and then put them in a 15 year loans. Because at that point, I was like, Oh, I want to be able to accelerate the payoff. And I want to be able to pay these off on and a quick basis. But that decision actually kind of hose me down the line. Because, you know, when you're looking at that income ratio, and minimum debt service, those type of things, even though I was making good money at the bank, back in LA, once you start getting your primary mortgage, your car payment, student loan payments, any of those other type of things, any sort of credit card, minimum payments that are required, your debt service can kind of skyrocket, right? Especially if you're doing a 15 year loan versus a 30 year loan. And so that decision actually made it tougher to get loans four or five, six down the road. And now that was a problem. So essentially, what I've done over the last few years is I was listening to this podcast, and I think of the name of it off top of my head. But his name is Joshua sheets, and he had this episode, it was how to basically pay off your debt in like 10 years last and basically be financially free. And so that was probably about three years ago. And I started really kind of thinking about it maybe three, four years ago, and I really started thinking about it pretty heavily and ago, okay, how can I do things, you know, I make good money, you know, I'm pretty frugal by nature, these properties are cash flowing and paying for themselves. If I can accelerate the pay off of some of these debts, like you, especially those ones with a 15 year mortgage with a huge principal payments, I can kind of clear that off the books. And so that way, now, I can focus on these other properties that are much better on the cash flow side. And much better as far as when the underwriter is looking at my debt service. And so that's basically what I did I, I have three properties that are solely in my name, and now six that are with a partner. And so my goal is to basically path all the debt that's solely mine. And then let the let the cash flow of the six that we've done so far, let those kind of service the debt on those and that way, it's still my dad, because the loans are my name, but it's just like, just had like that mental break between, okay, these are my properties, everything's paid off. That's just solely mine. And then the other ones, that's where the dead set. So I want
Neil Henderson:
you to you briefly mentioned the delayed financing program. And I want I understand it, but I want you to clarify it for some of our listeners that maybe don't understand what you're talking about.
Lee Huffman:
Yeah, so it's, it's an awesome program. Essentially, if you, if you buy a rental property normally, either you, you can get a maximum of 70 to 75% loan to value. So if you buy $100,000 house, the maximum loan you can get is either between 70 to 75,000. And so you know, if you're buying something just traditionally, right that's on the MLS, you got to come in with a 25, you know, $30,000 down payment. So with delays financing, what you can do actually back up, and then say you buy something distressed, and you fix it up, and then you want to refinance it, traditional lenders say, Well, thanks, buddy will land on the bat the value that you bought it at, or you can wait a year, and then we'll then we'll do an appraisal. And, you know, if you're if you're in a hot market where you there's a lot of deals, you don't want to wait a year because you could be missing out on three or four or five deals along that path. And so with delayed financing, it's kind of like a special carve out and send a Fannie and Freddie product, where what you can do is you can buy it, rehab it, get a tenant in place, and then refinance it all within six months, as long as you do that, within six months, you can use the lesser of the appraised value 70% of the appraised value, or whatever is on the HUD. So on the HUD, essentially, what you're doing is you're buying it, and then you're including your rehab costs, and some of the other ancillary costs on your head. And then that way, you're kind of loading it up. And then that way, whatever the lesser of those two numbers are, that's essentially the maximum loan value you can do.
Neil Henderson:
And so it allows you to you're taking in whatever money you're taking in to buy it, rehab it, you're able to take almost all that money back out within six months.
Lee Huffman:
Yeah, essentially, yeah. So if you say you buy a property, it's 50,000. And you put $20,000 into it, right. And so you pay all that you write a checks, basically, for $70,000. For HUD, the obviously there's some other costs, but you know, we'll just focus on these two factors. And then now it appraises for 100. Essentially, you can get almost 100% of your dollars back. Because you're getting a loan for essentially $70,000 versus the appraised value of 100.
Neil Henderson:
And you mentioned that some of those early properties you financed actually using a HELOC. Is that correct?
Lee Huffman:f deals, and you keep leaving:Brittany Henderson:
How much time do you spend each week on working on the real estate,
Lee Huffman:
all depends, when we're not working on a project, it's really just the a couple hours, were just kind of like maybe searching the MLS or talking to realtors trying to you know, wholesalers trying to find deals. It's either me and my partner's probably a couple hours. But when we're actually actively rehabbing a project, like right now, you know, with a lot more conversations happening with with their, with their contractor or with property manager, making sure the project is getting along. You know, I used to live in California. Now I'm in Nashville, we're closer, but still not in the same neighborhood as a properties in North Carolina. And so you're still doing the out of state, you know, still relying on pitchers. At least I'm close enough, where if I said you know what, I'm gonna come check on on everything that's going on, because I'm not quite sure we're making fast enough progress. It's, for me, it's an eight hour drive, I can leave in the morning be there by the afternoon. So at least like at least I'm a little bit better as far as proximity. But we have a pretty good team now or we're not worried about, you know, all those things. And so essentially, it just conversations, what's going on? What have you done this week, you know, How much longer do we have to go. And it's still pretty, it's still pretty minimal, even during these times. And then once and then we're sorry, once the project is done, then you basically turn to your focus on to the financing side, and we have a pretty down pat, as far as Okay, here's all the different documents I need. We keep all the statements downloaded, we keep everything ready. So that way, we just give them everything. And it basically, when you're going through the finance process, it's like a game of tennis, you can't keep on a hit the ball back into the other side of court, because you have your rate lock for a certain period of time. And if you don't get the loan done, then all of a sudden, I gotta pay extra for extending the rate and everything like that you just added costs are unnecessary. So anytime somebody asks you for a document, you want to be able to have that document back to them, as soon as possible that way, again, there, you don't want them waiting on you. You want all the documents to them right away that way they can keep working and get your loan done as soon as possible. So are there any you know, you're having to invest? Somewhat long distance? Are there any systems that you have developed to help you sort of automate your business at all? Really, it's, it's having a good team. That's number one. And then when we when we did the flips, we have a little more of a process in place where we kind of use some online source where essentially, we had them fill out every week, kind of okay, here's the progress. Here's what we did this week. Here's what we plan to do next week, how much of the of the budget that we spent so far? You know, the estimated date of completion was this initially, where do we stand on that day to completion? Now, are we ahead of time? Are we behind time, so we basically had a form that the NFL every week, and then send us some pictures as far as the work that was completed? And that was really the main process that we had.
Brittany Henderson:
You mentioned your team, what sort of people have you hired, if any? Or is this mostly just like your partner and your wife?
Lee Huffman:
Well, the team would be more of my partner, my wife, my wife, who basically just kind of along for the ride, you know, she she just said, Okay, here, do this, do this, and she'll do it for me, but she's not involved in like the day to day so to speak, but and my my partner he does, he's a real estate agent. So he does a lot of the searching for the MLS for for other properties, but I'm not the numbers guy. So I do, you know, the accounting and, and the tracking of people, those type of things. But as far as our what I'm saying our team, it's more of our property manager, contractors, real estate agents, new mortgage brokers, insurance agents, all those people that that kind of fill the holes that have expertise that we don't have.
Brittany Henderson:
So you have a property manager that that helps you run the properties once you're renting them out.
Lee Huffman:
Oh, absolutely. Like to me, yeah, you're spending your eight to 10% of your revenue you're having to that, but having them take care of everything, especially long distance is key to me, and it's money well spent. That way, they handle all the problem, I'm not getting phone calls the middle of the night, I like to sleep, you know. And so I don't want to I don't want to be taking calls at 2am and then trying to figure out, okay, who am I going to call and who am I going to get to do the replace that toilet or whatever, I don't want to deal with the garbage, you know, I got other things I gotta do. And even if I'm paying them a little bit, I can take the money, the time and create other money by either focusing on my other business, or I can take that time and talk to other investors, talk to other people as far as finding additional deals. And so that's, that's better spent your time of mine than it is dealing with day to day aspects of the properties.
Neil Henderson:
Now, how did you? How did you go about building
Lee Huffman:
that team? Okay, it's really, it's recommendations, like my brother was married to a woman who her family was building homes. And that second house that we bought, actually, her, her father built that house. And so from him, you know, his book really connected in that area. And so I started kind of reaching out to some of his connections to find like, kind of interview people to see if, if there was a connection between us. And for a while, you know, some of the people worked out well, and, you know, you gotta even if you have a good team, you got to always be finding that plan B, you gotta always have that, because a few years ago, we had a great property manager, she was always attentive, we became good friends even. And then all of a sudden, a screw came loose. And she decided to leave the country and take our security deposits with her. And painful lesson. But luckily, that we're supposed to be getting that money back from the department real estate, they're there, finish their investigation, everything and just get some money back. But it was a very scary moment when you know, seven $8,000 just disappeared. Yeah. And so we had no idea what was going to happen. And so you got to always have somebody else where it's like, okay, yes, I like who I'm working with. And if something happens, because it eventually will, they got to figure out where you're going to go next.
Neil Henderson:
So you invest long distance you said you visit, you know, you really only visit the properties. If there's maybe you know, some going on, you can send a two hour drive away. How long would you feel comfortable, completely stepping away and letting letting your system work for you?
Lee Huffman:
Like if you wanted to, you know, lead, you're traveling, you love to travel? How long would you feel comfortable saying, You know what? I'm going to work, we're going to take the family on a on a world tour. Now, how long would you feel comfortable doing that? Well, one, the wonderful thing about the technology today is you can be kind of contacted anywhere, you know, it's very rare that you can be connected somehow through email or Wi Fi, to take a Skype call or anything like that. So you don't have to do that. But as long as we're not working on any additional projects, and then needing to do the financing and things that nature, then it pretty much can just handle itself. I would say, even now, my property manager has authority, if it's up to a certain dollar figure, he just takes care of it. Right? And then lets us know that okay, hey, I had someone come out and fix the toilet, or, you know, we replaced X or Y. It's okay, that's just normal course of business. And, and that's what a property manager should should be doing. As far as I'm concerned, I like to be a little more hands on than some other people, I at least want to know like, okay, just send me a message, let me know that this happened. You have the authority to to make those repairs, I just want to know that they happen. So that way, when I get the rent check the next the next month when the positive happen. I know question why the money short?
Brittany Henderson:
What do you feel like is the most critical, critical skill that a new investor that's looking to work in your niche, the kind of burn method? In that vein, what do you feel like is the most important skill for someone new,
Lee Huffman:ou know, like you've left you:Brittany Henderson:
Yeah, I mean, that discipline to
Neil Henderson:
Yes.
Brittany Henderson:
The numbers.
Neil Henderson:t like, it's not like back in:Lee Huffman:
So it's that and, and interest rates are rising, you know, so, uh, deals that were awesome a couple years ago. Now you're like, it's kind of borderline as far as whether that's going to cash flow, we refined a property almost a year ago, and we refined the prior one a year prior to that, and the rate have gone up, you know, I think it was three quarters or even a full point. And so that property is not as cash flow positive as the previous one. And so you have to, even though interest rates are rising, I don't think a lot of the like the newbie investors are recognizing the effects of that. And so they're still buying properties with those lower interest rates in mind. And so when they go to refinance property, or when they go to try to sell that flip, they're going to have a moment. And it's going to be rough for them.
Neil Henderson:
Well, if you could hit a magic reset button and go back in time to the beginning of your investing, career, is there anything that you would do differently any systems that you put in place earlier, things like that? I just, I would
Lee Huffman:again, I figured that out in:Brittany Henderson:
sort of a rehash. But maybe we'll get even some more nuggets out of you. So if you were, you know, maybe presenting in front of a room full of of newer real estate investors, what are the top two or three strategies that you would recommend that people move forward with to be successful?
Lee Huffman:
strategies as far as buying rental properties? Or just real estate in general? Or what are what are two
Neil Henderson:
or three things that they could maybe implement in the next three months? Okay, yeah, long term strategy. You know, two things are, you know, we're Our primary audience, are people with families and full time jobs, you know, okay, I can be investing full time. Sure. And maybe they, you know, maybe they've got lack of time, they've got maybe fears and doubts about making a mistake and things like that. Okay, that's it. Sure. Sure.
Lee Huffman:
Yeah. So one of the number one things that we haven't touched on yet, is your credit has to be good. You know, none of these programs are going to work well, delayed financing, or other bank programs, if you don't have your credit, you know, in place. And over the next few months, there's ways to improve your credit, whether it's paying down debt, increasing your credit lines, to lower your utilization, putting things in place, so that way, you don't ever have late payments, there's a lot of things like that you need to do to make sure that your credit is good, because if you, if you if you have a lot of money, if your credit isn't good, you're not going to get alone. Most banks, they need your credit to be good, especially now we're kind of getting at the end of like the you know, economic cycle, we've had a lot of growth there, there's a lot of warning signs kind of floating around. And if you have some things like dings on your credit, specially recent things, you're going to be priced out of any type of loan that you're trying to do. So that's number one is making sure that your credit is good. That's a essentially probably one of the greatest assets people have, that they don't really think of as an asset is your credit, whether it's applying for a loan to be able to do delayed financing, buying your primary home and being able to save you half a point or full point on, you know, having a 740 or 760 FIFO versus a 660. You know, there's a lot of savings there. Or even like what I do a lot with the travel hacking, getting the best credit cards, that way you can you save money on your travel, so that way you can reinvest that money that you would have spent on travel into your into your business, whether it's buying more properties, or paying down your debt. So all these type of things, if you don't have your, your credit, game solid, a lot of these things are kind of a non starter for you. So that's number one. But to obviously want to educate yourself, whether it's listen to the podcast, I use this little radio all the time, and sometimes I I turn off the podcast and just kind of jam out a little bit on the radio. But for the most part, whether I'm driving the kids to school, used to be when I was commuting to work, or even now when I go for a run on the neighborhood, I'm always listening to podcasts to try to gain some sort of knowledge. You know, even if it's on a topics I've already kind of understood, understand, or it's something that I feel like I'm pretty high up on the knowledge level. Still, there's sometimes there's nuggets that somebody else does, you know, I hadn't thought about that. And so it's good to reinforce those lessons, or something maybe just forgot, because it's been a while since you've done that before. So always keep learning. But also don't let your learning get in the way of actual action. There's so many people that they are savant as far as the education but they're timid little mouse mice as far as actually making that first step and doing that first investment or putting in an offer on a deal. You have to find the right balance where you're educating yourself but actually taking that knowledge and actually doing something with it
Neil Henderson:
are real let's touch on the the travel hacking just a little bit because you have Lee has a fantastic podcast called we travel there. I've listened to a number of episodes and it is like a little bit. It's like a little travel guide from a local into various spots. I've listened to one for Austin and there's one for Arkansas there's a place in Bentonville, Arkansas, Bentonville, Arkansas. I was like I'd never heard of the space. Men bill. Yeah. So talk to us just a little bit about about your podcast, and travel hacking. Don't get into that, that will invite you back some other time for sharing details. But tell us a little bit about that.
Lee Huffman:
Yeah, so actually, I have two sites there's, we travel there calm, which is the the podcast. And so what I do is I interview local experts run the world to find out the best things to do in their city. And so essentially, my tagline is travel like a local. So instead of going to whatever city you want to go and, and going on Google and trying to find the best things to do or the best places to eat. I figured let's actually talk to a local and say, Okay, if somebody's coming here, one of the things that we really shouldn't miss out on or even if we want to do the touristy things, how can we save money on that or avoid the lines, and then one of the best ways to eat because, you know, I'm not much of a foodie, but I think I'm kind of turning into one a little bit after hearing all these really cool ideas of food from all these people I've talked to. So it's, it's really kind of been a fun adventure. Even for me even though I travel a lot. I'm learning about, like you said, cities like Bentonville, Arkansas that I've never thought about traveling to, or cities that I've traveled to several times like Austin, I'm learning about some cool restaurants or some cool things to do there that I hadn't known about before. Plus making meeting a lot of great people along the way. We have, again, big cities like Philly, small cities like Bentonville, there's another one coming off the top of my head, it's just an inside of Georgia. And it's all these cities that are just random. And there's international destinations, there's domestic locations. So it's really cool. And even if you don't want to travel, it's almost like you like you're living vicariously through these other people. And maybe it will inspire you to to travel to someplace new. And that's, that's really kind of the whole goal of the podcast. And then my other site is ball thoughts. And so that's
Unknown Speaker:
the ball head.
Lee Huffman:
And so what I do is on that side, it's more like a travel hacking, talking about credit cards and miles and points and, and how to use them to travel very inexpensively. Because again, if you're a family, you have a corporate job, all this, all these types of things. It can be expensive, you know, I have two kids, I have a wife. And if I had to buy four plane tickets, every time I want to travel someplace, you're plus paying for hotel and everything else, you're talking multiple thousands of dollars every time go on vacation. So by using the LM miles in hotel points, now you shaved off a significant portion of the cost. So you can either travel more, or you can have better travel experiences. Or you know, we're in a city. I normally wouldn't kind of splurge on this one meal. You know, we save so much. You know, Hey, baby, let's get let's get the flight tonight. You know, or whatever. Yeah,
Brittany Henderson:
yeah, that was kind of like with Hawaii. We when we went to Maui, we like Mama's fish houses like the big events. Yeah,
Neil Henderson:
yeah, we'll leave thank you so much for joining us. It's been great talking to you, those of you you how you have a you have like a book that you've written about travel hacking as well, having you are?
Lee Huffman:
Well, I'm working on a course it's going to be released here soon. It's a seven days to your dream vacation. And so essentially, it kind of walks people that are unfamiliar with how miles and points work kind of walks them through the process of kind of how to pick a destination, and then how to pick the right airline. And it's tell them how to get all the miles and points for those hotel and airlines. So that way you can travel for significantly less than than you normally would do.
Brittany Henderson:
Awesome. Well, hopefully by the time this this interview comes out on the podcast will, it'll be done and we can put a link in the show notes.
Neil Henderson:
And if people want to reach out to you, Lee, what would be the best way for them to find you?
Lee Huffman:
I'm most active. My bald thoughts on social media, whether it's Twitter, Instagram, Facebook, whatever, it's all the same handle everywhere. You can do that, or, you know, we travel there, again, the same handles and all the different social media channels. And, you know, I'm active all the time, got my phone with me, kind of 24 seven. And, you know, reach out to me there and I'll hit you back. All right. Well, great. It was great talking to you, Lee, thank you. Thank you so much. It's great to see
Neil Henderson:
you. Okay, well, that was Lee Hoffman, we thank him for his time. He's a single family home buy and hold investor and Wolf from travel hacker. Again, you can check him out at bald thoughts, or on his podcast we travel, they're both great places to go. I encourage you to check them out. So what? Let's start with the four values what how much knowledge Do you think Lee took to get started? This is a question better for me.
Unknown Speaker:
I don't know maybe? Well, I just it's hard because all of our guests really bring different sort of previous knowledge to the table. And I think being a banker probably set him up to understand some things better than your average. Joe just getting into it. And he and I know it seemed like he sort of just had learn about some things passively over time when he first got started. So he probably actually didn't have I mean, besides the sort of built in knowledge that his financial career afforded him, it didn't sound like he had a lot of knowledge. He just sort of jumped in.
Neil Henderson:
Yeah, I think he also. Yeah, I think it's a good point, you sort of jumped down he had kind of you sort of learn by doing a lot. And I think I would say I mean, if I had to nail down how much time he spent getting himself educated, I would say three to six months, just sort of seems like a fair
Brittany Henderson:
assessment. I think that's probably enough time for the for most people to be able to do the basics of buy and hold.
Neil Henderson:
Yeah. And then money wise, I would say, you know, he talked about when he first started out. He he had a pretty good chunk of change from the sale of his home in California that he rolled into, to his homes, homes in North Carolina. And it sounds like he bought them for about $120,000. So we're talking maybe 240? And sounds like you paid cash for them that you understood.
Brittany Henderson:
He said he has a mortgage on them too. Mortgage?
Neil Henderson:
Yeah, some money down? Did he put a lot but he said he put a lot of money down. So I'd say I mean, I would say good. A good. hundred thousand dollars is probably started.
Brittany Henderson:
Now it seems like less with the lane financing that I understand that right? Well, I'm still not sure that I get it.
Neil Henderson:
Yeah, well, I mean, it's okay, you're not certainly not the only one. I think now, he's able to use a little more creative financing. A lot of times what that delayed financing allows you to do is take that chunk of money and use it over and over again, you basically were able to, you know, use it to finance the purchase of a house and rehab it and then you're able to put a loan on it.
Brittany Henderson:
So kind of take it back out and take it back.
Neil Henderson:
Got it. And so as Alex and episode one talked about he you know, Alex is recycled that 70 same $70,000 now, almost six or seven times. So anyway, so I think hundred thousand dollars is probably a good, good number to say what he started off. So how much time does it take on the day to day to maintain his, what he's doing, I would say I mean, he had to there's two sort of phases to his businesses, the acquisition phase, which is when they're buying when they're buying rehabbing a place. And it takes a lot more time, it's obviously a lot more communication with the bank, you've got to be really, really on the ball with getting the banks the documents, because you've got only got a window of about six months to do the delay in finance.
Brittany Henderson:
So you got a good team too, as far as the Rita.
Neil Henderson:
And I would say he I got the impression we were talking about maybe 13 to 20 hours a week, probably during that. And then once it's up and running, it's more like, you know, if things are going to blow hours a week,
Brittany Henderson:
nothing too much. So yeah, that's nice. And then we've got that location.
Neil Henderson:
Do we nail him down on how long he would
Unknown Speaker:
not read? Ella? He kind of said, as long as he had Wi Fi? And it wasn't working on a project that kind of it? Definitely. Yeah, like as long as Yeah. So
Neil Henderson:
also also give give him the benefit of the downside. That's, you know,
Brittany Henderson:
that's probably true. If you've got a good property manager on the ground, you're not buying anymore, you're just going with what you have, as long as those people are doing what they need to do. Why would you need to come back? And if they have a question, and again, if you've got Wi Fi and cell phone service, good. Okay.
Unknown Speaker:
I'd say infinity. Yeah,
Brittany Henderson:
yeah. So, I mean, overall, I don't know that do we really do an overall sort of evaluation? Not all the time? Not really. But I would just say that this is probably one of the easier and summers respects.
Neil Henderson:
You know, it's it's, the way that leads got started is the way a lot of a lot of investors get started with one one single family home and they build it to a portfolio of you know, he's talking about he wants to get up to 10.
Brittany Henderson:
Total with with the partner,
Neil Henderson:
you know, it's a little bit of a, it's a somewhat slower method, but it's one of those methods where you can really kind of learn as you go and now I think it's, it's for somebody the heart, I think the hardest part is one, finding a market to do it in if you don't live in a market where it's going to make sense like in the market that we work in, or the market we live in. And then also it's just about building a team and finding a good team and keeping them on the ball. Cool. Well, thanks again for lead for sin bounties. Great talking to him is really great. And if you like this podcast, we would really appreciate it if you take just a few minutes and leave a review for us on iTunes. It's really simple to do just go to road to family freedom comm slash review for links and instructions. Thanks for listening. We're doing this all again next week. Until then, safe travels