How to Build Wealth from Rentals with Your Unique Value with Ashley Kehr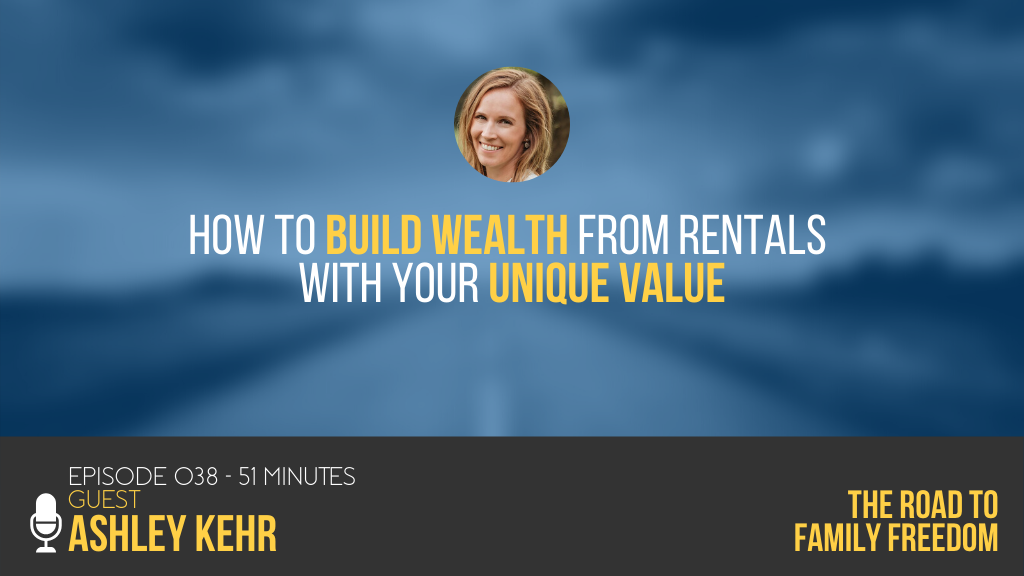 Ashley Kehr – is a full-time real estate investor, she runs the educational and entertaining Wealth From Rental Instagram account, and is the mom to three boys, talks to Neil Henderson, the host of The Road to Family Freedom podcast. Ashley Kehr talks about how she got involved in real estate investing, using a line of credit and refinancing, house hacking and travel hacking, setting up two property management companies, building a robust investment portfolio, and using her time wisely.
Post-Interview Analysis
Key Lessons Learned: Figure out what you have to bring to the table for real estate investment: time, money or experience.

How did they acquire their knowledge or what knowledge did they need to acquire? She built up her knowledge regarding customer service when it comes to managing tenants.

How much money did it take to get started? She brought her time and experience to the table with an investor that had money so she was able to come with zero money down.

How much time does it take now? Now that it is up and running she spends about 20-40-hours-a-week but she has since sent that work to a third-party manager.

Could they do this strategy from anywhere in the world? The answer is yes but not really because she is working on a project and she has to stay connected to her properties.
Episode Highlights:
Schedule a video chat with Neil Henderson at

roadtofamilyfreedom.com/connect

What was the 'a-ha' moment that got

Ashley Kehr interested in real estate investing?

How long after working as a property manager was it before Ashley bought her first property?

What were the numbers on Ashley's first real estate deal?

Work in the real estate industry before you dive all-in investing to make sure you enjoy it.

Ashley talks about the house hack for her 21-year-old sister's first house.

She explains how she has been using a line of credit and refinancing.

What does her portfolio look like currently?

Ashley explains setting up two property management companies.

How did she convince tenants to switch from paper checks to online payments?

What projects are next for Ashley Kehr?

It took five years for her to build her portfolio.

What has been the most frustrating part of being a residential real estate investor?

How did she get involved in traveling hacking and utilizing her business for it?

What does she believe is the most valuable skill to be successful in real estate investing?

Is there anything that Ashley Kehr would do differently?

What advice would she have for someone getting into property management?
Books and Resources Mentioned: