How to Build a Portfolio of 52 Single Family Rentals with Chris from StealthyRich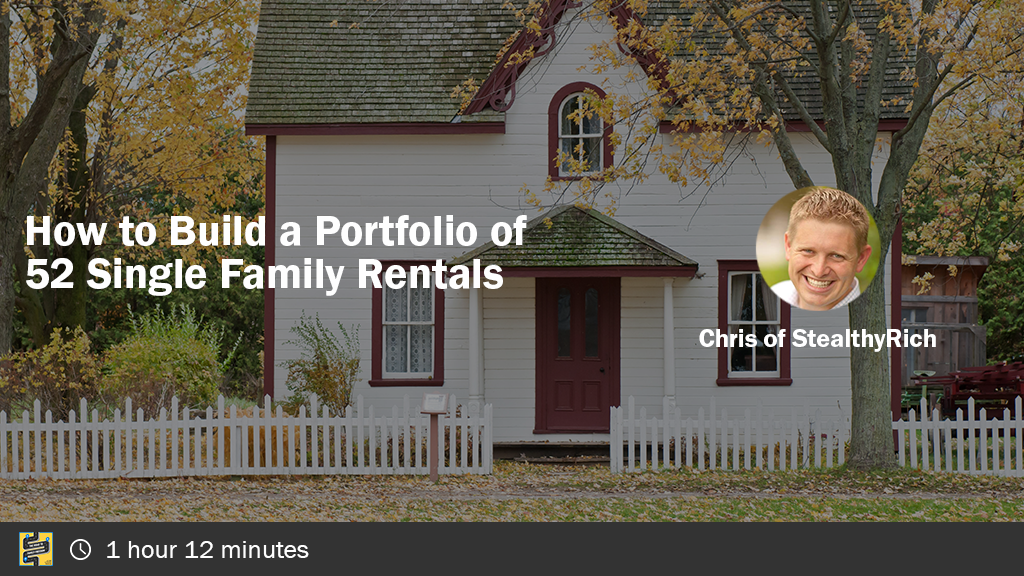 Chris from Stealthy Rich – Real Estate Investor talks to Neil Henderson and Brittany Henderson, the hosts of The Road to Family Freedom podcast. Chris has built a portfolio of 52 rental properties so far since 2013 with his partner, which has made them financially independent.
Read Full TranscriptGreetings, friends and families on Neil.
Brittany Henderson [0:07]
And I'm Brittany,
Neil Henderson [0:08]
you're listening to the road to family freedom podcast. Our guest today is one part of a two man partnership of family men who grew tired of working in corporate America and wanted something better. One day over lunch, they decided to do something about it. They purchased their first rental property in June of 2013. And have since built a portfolio of 52 rental properties that has made them financially independent in just six years. You can find detailed breakdowns of many of their deals at stealthy, rich, calm and stealthy rich on Instagram. Chris, welcome to the road to family freedom.
Chris (Stealth) [0:43]
Thank you. Thanks for having me. On your podcast.
Neil Henderson [0:46]
Thank you. It's good to have you. I'm sorry. Go ahead. Sorry.
Brittany Henderson [0:56]
Okay, off to a great start. Yeah. Can you recall an aha moment for you when it comes to real estate investing?
Chris (Stealth) [1:05]
Yes. Something interesting. In the beginning, I used to invest a lot in the stock market, I loved the stock market and the idea of making a return. And I quickly learned, though, that you didn't have at home investors, you didn't have the all the information, it seemed like all the action happened in the pre market trading or the after hours trading. And I did some options trading as well, which I found out to be really risky. And I got into real estate with with a partner. And I quickly learned that you know, you borrow money to then leverage your return. And that's normal in the real estate world, I would never borrow money to buy a stock, you know, I would never trade on margin. But to buy real estate and to trade or buy with with leverage was normal. And it was his aha moment to me saying that's how I'm going to get ahead in life, that's how would you build real wealth is by leveraging real estate to make a return. And then the the flip side to that of the icing on the cake is that you know, then you get tenants to then pay your note each month as it grows and appreciates. So that was my aha moment for me. And that's what I basically left index investing except for my retirement accounts, and put all my eggs into that real estate basket.
Brittany Henderson [2:21]
Where did you first hear about real estate investing? Or did you read a book? Or were you listening to podcasts?
Chris (Stealth) [2:28]
Yeah, it's a good question. I am I, you know, I went to a lunch one day with, with a group of friends. We're all, you know, working at nine to five corporate jobs. And I think I said something like, at the lunch, hey, you know, be great to get into real estate or start a side business or something. Because I, I couldn't see myself working at this job. I think I was 30. At the time, I couldn't see myself working at the job for 30 more years. And I liked my job, but it just seemed like a cubicle. Hell, right, or, you know, cubicle rock, right. And so I just it was it was very, it just seems so few titles to me. And so my partner for at the time was a friend who just moved to Houston. He said, Hey, man, I did some real estate when I was in college, back in, in in West Texas. And you know, we should start it again here in Houston. And I was like, Well, that sounds interesting, someone who knows something about this, and has some, some knowledge, I would love to piggyback to that and use my, my knowledge and my abilities to help grow that. And so we had three other guys at that lunch. Were also successful. businessman and so we started this partnership. And that's that's kind of how it started.
Brittany Henderson [3:39]
So you really, you kind of learned through their expertise.
Chris (Stealth) [3:45]
And so then once we did our first couple of deals, I definitely then I dove all in on the the original bigger pockets podcast. So those first 50 are just like liquid gold for me. And you know, some of the stuff was not about likeable, but much of it was and I learned, you know what to do or what to try. And then of course, my own mistakes were made. And I learned from those as well. But those podcasts and then of course, the pivotal book that we all many people say right was Rich Dad, Poor Dad, for me, when I read that book, that was the moment when I realized that I needed to not work for someone else, but work for myself, if I wanted to get ahead and you know, quote unquote, get out early, it just wouldn't happen. Even though I was making a very good salary, it just was not going to happen quickly. In the in the corporate world, working for somebody else, we need
Brittany Henderson [4:37]
to do a like clip of like, Rich Dad Poor Dad rich. There can't be very many of the podcasts that we put out so far that don't mention it, at least in passing as like a recommended book or something that really sparked the interest in in the sounds kind of funny.
Neil Henderson [5:01]
Well, and the funny thing really doesn't it doesn't have a whole lot of it doesn't have any how to
Chris (Stealth) [5:07]
explain the mindset shift. It was a mindset shift. For me.
Neil Henderson [5:13]
So you know, auto investors talk about the law of the first deal. And so many so many real estate investors really struggled to get over that hump. Would you say having those partners sort of in your corner was what helped you kind of get beyond that fear of that first deal?
Chris (Stealth) [5:33]
I think so. Right? And I can explain my first LPA actually had to first still just want to call them that. Right. So that, that but yes, the first deal was so vanilla for us, you know, I look back now at that deal. And, you know, I probably wouldn't buy that same deal today, of course, but back then, you know, as to 2013, we bought a house off the MLS off, you know, just retail retail listing, we paid I think $91,000 for it is a four bedroom, two bath house. You know, it was okay price, but it wasn't a screaming deal. It was on the MLS, we had to pay, you know, an agent on the other side to, you know, and paper that, you know, there was commission involved. And we you know, we did an inspection, we did a very normal transaction, and there was five of us. So we were all contributing. At this point, we had some very unique financing, we were using a Merrill Lynch product, which was interest only. But if it was it was Fannie Mae underwritten, so it was still, you know, felt like you're going to call it off up with all this stuff they were asking for. But but the Pro, that was interesting only. So the note on that first house was $92. And so that was very attracted to us. And it was very risk adverse. So we knew this house rented for 1200 and $25, we're only paying $92 a month for for the mortgage, Coursera taxes and insurance. But you know, there's a lot of room in there to mess up. But that alone required 30% down, which was a lot of cash. And so each each of us had to contribute about 6000 $6,000 that deal. And you know, split it five ways, it really wasn't that much, much to get back. But we had done the deal. And so that was the going through the motion and going through the process, maybe more comfortable for the next one. And so that one was really vanilla, but and having the risks with five ways also felt more comfortable, you know, the whole thing went south. Because I just had no idea what could go wrong at that point. So that was our first deal. Our second first deal, if you will, is one of my we broke off from those other guys. And just me and my partner, Dave, we bought a house for $49,000. Now this house had significant foundation issues. In fact, the owner had got a bid for about 60 grand to fix the foundation. And when you walk through that house, you know, you could kind of feel like you're on a hill Hill and you know, the doors didn't shut right. And there are cracks in the walls. And I was super nervous. Like, I think day, there's no way we can buy this house. And you know, like this is so risky. And he you know, assured me it's going to be okay. And sure enough, we found a guy who we still use today, seven years later, to fix that foundation for $5,000 with a lifetime warranty, right, so that was and it's just finding the right the right people. And so and the funny story on that one, you raised it, we had to end up raising it like eight or nine inches from the back. That's how much there were three by three foot hole throughout that house that he cut. And there were piles of dirt like in the living room. And I'm just like, what is what is going on. And in the in the process of raising the house, it raises so much off the back where the where the electric, the electric box was actually rip the electric block off the off the post, and it caused a big spark and you know, like a company got mad at us and whatever. But so all that and you know, so that's those are the kind of stories we dealt with at first, but all in all, so we paid 5000 get the foundation fix, then of course you to fix all the floors. And then we painted the whole thing and changed some light fixtures whole thing cost us I think 18 to $20,000 total. So now we're in this house 49 plus 18,000, which is you know, roughly 60 grand, or 700 grand, excuse me 70,000. And then we refinance it for $95,000. And so we got all of our money back out right away. And then we had a house, bringing in 1200 and $50 a month. And when I saw that, when I had that moment, I realized this is repeatable. And I need to do this 100 times. And that is exactly what started our care on the next 50.
Neil Henderson [9:45]
So it was bringing in 1200 and $50 a month net.
Chris (Stealth) [9:50]
Notice I'm sorry, that was that was a, that was the rent, excuse me, he has 1200 $50 rent, and we had you know gotten alone, you know, 80% of 90 $95,000, which was more than the money we had into it. So that's where that 70 something thousand dollars. And we only had about 69 into it. And so we basically got all of our money back out. And it cash flowed well, and we were making probably 250 $300 a month from cash flow. That's not including the the principal pay down that was going to each month. Right. So when I saw that, I mean, there's so many things to talk about here. And it's tax advantaged, there's so many, so many keys. But when I saw that, I was like, I have to get as many of these as I can. Because that is how we're going to exit the workforce. Quickly. Yeah.
Neil Henderson [10:41]
And how long did it take you to refinance that?
Chris (Stealth) [10:47]
How long we got to that one. So we bought that one, I would say it took us about a month, just because we were new and didn't know what we're doing to get it all fixed up, and, you know, fix the electrical box and find good painters, and, you know, you know, this is it was like the very beginning of our journey. So we were asking around for contractors and, and, you know, and, and people that could help us with that. And so once we got it, once we got it a stabilized and rented it probably took us another month. And just as a side note, that is the only property out of the 52 that we did a Fannie Mae loan on. So that was a 30 year note. Right. And so and that was actually in my my personal name. And that one, you know, that was the very first one we did. Everyone. After that we've found easier and more quicker ways to finance properties, which we can go into. Yeah, start to finish with about two months.
Neil Henderson [11:45]
Okay, so stabilized, and then we're able to reply right out right out of it or to take a seasoning period, correct?
Chris (Stealth) [11:51]
No, yeah. So that one, so that I'll say a secret on that one. So that one, my partner had bought the house to begin with, what can we buy with cash? Right? And so I mean, we shared the cash, but it was in hit the note was in his note that the title was in his name. And we asked our CPA was it what's the best way to do it? And he said, just sell it to your partner. And I was like, that sounds so shady. No, that's totally fine. And so he sold it to me. And that's what he sold it to me for $95,000. We couldn't obviously repeat that many times. But that that one time work. And that's how we were able to get past a seating requirements.
Neil Henderson [12:30]
Okay, gotcha. Interesting. I understand now because, you know, I know you can do, but typically, they'll require you to season it for six months to a year. You can do like delayed financing. Right, which we've talked with, like Lee Hoffman and Alex Felice. We've on previous episodes, we've talked about that. But that's not what you're doing here, you're basically able to just bypass all of that, and just, he was just able to correct you're able to go out and get along.
Chris (Stealth) [12:57]
And because we were in the same LLC, and it was a 5050 ownership, Neil see, for tax purposes, it just showed, as a Rifai, it didn't show as a as a transfer of ownership. So there were no, no taxes on that either, which is just crazy. But yeah, but so what we've done now, just to fast forward, because it kind of I think makes sense is that now what we do is we'll buy a house with cash or with short term money line, a line of credits that we have that better, you know, roughly 10% APR, and we could borrow that money, buy a house, stabilize it, you know, put 10 to 15,000 into a paint, carpet, appliances, whatever, AC and then we have local banks that will finance that poverty is not a resize the finances we never pay we never had a note on to begin with. And they will do an appraisal. And whatever it appraises that they will give us 80% of that. And that is always more than what we paid for the property because of the way we find our deals. And so that's how we've been able to leverage and grow quickly, without having to worry about having money stuck in these houses. And those are what we do. And the key to that is finding a small regional bank. And my and my my advice is find banks with the fewest branches. One branch, you know, the left branches of better. And these, these banks, at least in our area, are so happy to lend to people with with good balance sheets and, and good income. And so they will have no ceiling, because there is no reef eyes to the finance. And they'll find out that 80% of appraised value. And then, and then the underwriting on that is literally they walk across the hall to the other department in their bank. And it's costing, you know, probably $1,000 to close one of those loans. So very affordable. The only downside to those products is that typically it's a five year fixed rate. And then it just resets every five years because no bank will take on a 30 year risk of a fixed rate. Right there 20 year amateur ization. So after five years, you've already paid down a pretty good chunk of money. And we have actually just gone through our first reset period because it has probably enough for over five years. And it actually reset to a lower rate because we are lower than they were five years ago, which is hard to imagine. But so that is the risk, but we're willing to take that risk for the ease of getting these loans and the ability to to get them to a loan on trade.
Neil Henderson [15:27]
Gotcha. Okay, I want to unpack some things. Yeah,
Chris (Stealth) [15:30]
there's a lot of info right there. Let's do it.
Neil Henderson [15:32]
So the only out of the 52 properties, the only one that you've purchased on a Fannie Mae, Freddie Mae, Freddie Mac,
Chris (Stealth) [15:40]
first one, one? Well, at first real one. Gotcha. And all
Neil Henderson [15:45]
the other ones you've done with what's called a portfolio lender, correct?
Chris (Stealth) [15:49]
Correct. Correct. small
Neil Henderson [15:50]
banks. Okay. And so every and do all 52 of your property still have loans on him? Or have you paid him off?
Chris (Stealth) [15:58]
We have not let us stop that struggle. They all have they all have loans. We all we struggle with that every day. And wonder I do we pay off some do we do we not? We and so I would say we're sitting right now at about a 5057 to 62% LTV somewhere in there depending on your, on your appraisals, which to us feels very, very safe and very conservative. And so one of our goals, at least currently, as as these as these properties, start to have their notes paid down and the principal pay down is pretty aggressive, right? Because you've made it and several years into the loan, is we're just going to take that money right back out and start over again, not not not get a loan bigger than it was before, but just brings it back where it was. And then take that money out. It's tax free. And and start the note doesn't change is the same amount of money. And then just start that that process over again and take that money back out. And that's hard for a lot of people understand. But for us, if we if we paid off our houses today, I guarantee you tomorrow, I'd want all that money right back. And so that's it. And that's somewhat of an aggressive perspective. But that's how we have, you know, I don't, I don't have any personal debt. But at night, when I wake up when I go to sleep at night, this business that does not keep me up. And that's because I think we figured out we could have almost half of our portfolio empty, meaning no renters, and it would still carry itself from from the rent and the notes because of how we purchased these properties.
Neil Henderson [17:36]
Yeah. Well, you know, there's some, often there's an argument between investors, you know, especially return on equity, and a lot of correct of investors don't really factor that at all. They don't think about it, they're like, hey, I've got to pay a paid off property. What's great, your million dollar, your property that's worth a million dollars is, you know, earning you $30,000 a year. So you're making 3% on that million dollars,
Chris (Stealth) [18:04]
correct? Might as well invest in a savings account. Right. So
Neil Henderson [18:08]
and there's, they're like you said, you know, there is the trade off is? Okay, maybe they sleep better at night? You know,
Chris (Stealth) [18:15]
right. Right? So it's a personal decision. And we It is something like I said, we didn't we struggle with it every day, should we? Should we sell 10 of them and pay off? Another 10? I don't know. But for us, right now, we're still in the growth phase, at least in our brains. And so we want the best return with the most deployed capital as possible. So any of these houses, you know, we look at our net worth and like all that numbers high, a lot of its in trapped equity that we can't really touch unless we finance it out. And so for us, we want to get as much as that money out and make sense, right? As long as the prop property still cash flow, and use that money to buy more properties, or to to invest in higher returns rather than just being trapped in these houses. And so that's, like I said, we we talked about all the time. So it's definitely the forefront of our minds what we should do with that,
Brittany Henderson [19:05]
too. Like, what if we go through an economic downturn, if we go, you know, kind of a recession? Do you have protections against that? Doesn't still I, you know,
Chris (Stealth) [19:17]
I think that good question. Yeah. So in my experience, I live in Houston, which is a very stable economy from it from a real estate perspective, you know, so we didn't see what happened in Oh, eight or, or 12. And in Arizona, or in Vegas, right, where my sister lives in Vegas, and her whole street was empty, except for her house. Yeah, I mean, that's crazy to me, I just, and that has never happened, and she still couldn't. But it would take an event that we have never seen before. For something like that to happen in Houston, are our rents and our values have stayed pretty stable, they grow with inflation in the last couple years, they've gone up even more, because we're middle of the best bull market ever. But I just don't see that happening unless, and typically what happens in recessions in our experience, is that rents actually go up because people can't afford to buy houses, whether they get you know, they're underemployed or not employed. So they have to rent. And so the rental supply gets low, and the demand goes up, and rents go up in those cases. And it's the classic heads you went tells you in scenario in real estate. So that is, again, something we talked about all the time is we worry about that. But the numbers and the data support that we should be okay. The only real risk we have in our model, I think is, Well, two things is, you know, soaring interest rates, which we don't see that happening for a while. And then a really bad hurricane, right? So when Harvey hit, I didn't sleep for three days, because I was worried out of my mind for all of these properties. And luckily, the flood maps are extremely accurate. We had, we had zero loss. But I'll say that right now. Very, very good grateful for that. But a couple roof leaks, nothing, nothing major. But we had a couple properties where the next door neighbor house flooded. And so but that's again, because we don't buy, you know, in floodplains. And so that was something. I'm very grateful that we studied those maps and bought accordingly at the beginning. But yeah, systematic risk, for me, at least in my area, be a terrible hurricane. That's the only real risk I see.
Brittany Henderson [21:26]
And you're only investing in Houston at this point.
Chris (Stealth) [21:29]
Yeah. So you know, our RM, outlook is, we don't want to grow. I mean, we like to grow this thing, but we don't want to make it into another job. And so we understand this market super well, you can tell me an address and a street and our zip codes. And without looking at the house, I can tell you the house is worth, you know, it was in normal condition. And so we just we understand this market so well. And so we want to own as much of it as we can we own different parts of Houston, we have some that are more favorite than others. But yeah, we have not gone outside of the Houston area. And I don't think we will.
Neil Henderson [22:06]
So have you after Harvey? Have you seen? Did your insurance costs rise at all?
Chris (Stealth) [22:13]
Not really, because, you know, it's it's separate, at least in Texas, there's your flood your flood insurance is not is not provided by private companies provided by the US government. And we chose you because you could argue foolishly or not, we chose not to ensure any of our houses for floods, because we believe the maps and our hypothesis came true, thank goodness. And so that just does it solidify. So little fight our claim that we don't need flood insurance on these houses. We do see in certain counties where insurance rates do go up just based on I'm sure on claims and whatnot. And so that sometimes will influence what we buy and don't buy, but now we have not seen five it's a pretty flat in the last few years.
Neil Henderson [23:00]
Well, I mean, it's just the buying coastal markets these days or even markets, you know, in the Mississippi Valley, you know, sure. All right, run the risk of, you know, 100 year 100 year flood three years in a row. And having your all your cash flow eaten up by flood insurance. Yeah,
Chris (Stealth) [23:18]
you know, for sure. Right. And so I think what insurance rates have gone up for sure. But we don't have any, so it hasn't gone up. Gotcha.
Neil Henderson [23:29]
So, you started off as a partnership you started when you got started you you had five partners? Can you talk a little bit about sort of the the challenges that you face there and why you dropped down to?
Chris (Stealth) [23:44]
Sure, yeah, so it's me and four other people. So five total. And we it was more of a, you know, comfort thing we were just happen to be who was at that lunch and, and we all had money, a little bit of money to put into this first house, and we're interested in doing it. And quickly, we were able to learn who just not not who wasn't pulling their weight, but you actually wanted and was passionate about real estate. And it wasn't it wasn't a test, per se, it was more of just natural flow, what happened. And quickly, I learned that myself and Dave, were very passionate about it and realize that you know, and we had a similar outlook on on finances, and, and life and family structures and whatnot. And so it just made sense. And we just kind of partnered on our own after that. So we bought five houses, with those with the first five of us. And all through this interest only loans that we were talking about. And again, the problem with those that you had to have 30% down, so it took a huge hit every time you bought one. And so from a cash perspective, and so, when we bought that other first deal I was talking about first deal number two, if you will, with the foundation problems, we created a new LLC just for myself, and, and Dave, and it took a lot more work, right, it wasn't just looking at a house on realtor.com, or whatever and buying it, it was, you know, scheduling things and, and, and figuring out how much rent it for and there was a lot more steps involved, but the return was so much more. And it took less money. Overall, it was more time involved. And so we learned in this partnership was really going to work. And we had similar outlook on life, we have very different skills. And so we complemented our skill sets. And I just call it fate or fortune, it was it was it was super lucky. But that that partnership has just bloomed into this huge, huge thing now and so the two of us, you know, we talk all the time, we have a, you know, a group me or text going all the time, like their wives sometimes make fun of us that were, you know, to, to involve, just with business, right? We're always talking business, but it's something that I'd recommend to everybody is that to get a partner in which you're going to do this because always First of all, it's just more fun, right? It's not some somebody to talk to you about stuff to their ideas, bounce things off of. And there's, you can kind of absorb some of the risk as well. So everything like if I'm gone for a week, or you know, a month or whatever, your partner can take some of the load off, right. And so there's you can split the workload, as well as, as well as the profits. So I, that has been probably the number one thing is just having a partner who you can trust and someone who you can lean on, and they can lean on you. When when times get tough or when you know, you need to work through something together.
Neil Henderson [26:28]
Do you have any advice for someone who's starting out how they might find a partner?
Chris (Stealth) [26:34]
Yeah, good question. Right. So for me, it was I just started talking about it with people, because obviously, I didn't know anything about this when I started into 2013. You know, I just started reading a few books. You know, it seems so scary to me. And so foreign, as you know, what the house burns down wasn't Renner, you know, dies in the house, you know, whatever, you know, there's so many What if, and she had done some of that. And so I think either just talking our friends in your network, trying to find someone who also either wants to do it, or has done it. Or you can also go to your local meetups and find people where they have done some of these things. And and people have like, like minded interest, and and try to partner and you know, a lot of people ask me, Well, what I don't have any, I don't have any skill software, I think that's fine, at least at first. Do you have time, right? Do you have time and passion to learn? And if those are if you have those two skills, I'll teach you whatever you want to know, right? And I'm happy to do it. Because it's fun for me. And so we've helped a number of people try to get started. We haven't been that successful. I don't and I think because it takes a special breed of person to do this, at least on the side with a full time job and a family whatnot. But I you know, so it's just, it's just talking about it frequently, so that people know that you want to do this. And then and then trying to try to reach out in your network, find other people who want to do as well?
Neil Henderson [28:03]
Well, I think a key is and you said it there earlier, which is find somebody who complements your skills. You don't want to find somebody who's just like you, you know, somebody who has money, but not the will, you know, you want to find somebody you know, you can partner with somebody you want. We want to have complementary skills.
Chris (Stealth) [28:23]
Right? Right. And we've seen people as well as like, if someone just wants to be a money guy, that's great, right? Because that's, that's a skill that maybe you know, if you need money, and you have the time, then that might be a good partnership, right? Or vice versa, if you have money, and so and so the time is great. As long as you both have common that, you know, want to get the same thing done. That could work. But yes, you're right. They've got to be able to, to work together.
Neil Henderson [28:49]
So, you know, you started investing in 2013, which is probably you know, your timings good.
Chris (Stealth) [28:58]
Right now. really lucky. I I will admit that right, for sure.
Neil Henderson [29:04]
Are you still buying in today's market?
Chris (Stealth) [29:06]
Yes, we are. We're not buying as many we used to buy one or two a month, I'd say now we average one every other month, maybe one, maybe two a quarter. And that's just because it's our standards are higher, and there's less less deals today. And to be honest, we probably don't try as hard because we have we have, we have 60. And so we want more, but it's just this and there's so many people in this game now. And so that also, that also limits how many how many deals we can find. And that's fine, right? And so part of our structure now is just to hold some cash ready, so that when we do have a little blip in the market, in the in the economy, we can be ready to devise more. So that's that's our, our number one goal is to not buy something we're going to regret. I would say, you know, we've only May we bought one or two, and then we've sold them once once we realized that dogs, but um, that, you know, that's we are very conservative. I know that sounds like we're not we're actually very conservative what we buy. And that has helped us we as our deal flow has slowed down a bit. But we are still able to find a few deals here and there.
Neil Henderson [30:22]
Well, let's talk about sort of your deal criteria. What let's dig into the numbers. So people stand, you know, because there's, you know, a lot of lot of people are coming to us from probably bigger pockets. And, you know, the right 1% rule, the 2% rule? And yeah, and, you know, a lot of some of those those rules of thumb, you know, kind of more applies to maybe the market as it was not necessarily as it is. So what are you? What's a deal look like to you a typical deal?
Chris (Stealth) [30:55]
Yeah, so we we use the right rescue to the rescue ratio exclusively, when we when we look at these deals, right. So that's what a place would rent for per month, divided by the total value of the total price that we pay. So price plus rehab. And so for us, at least in Houston, we've got a little bit higher property taxes in some places, and we're just a little more we want better deals than most. For us the 1% rule was just a disaster, we were never going to do that. And so we shoot for I would say on average, 1.2 to 1.5%, which doesn't sound like a lot more, but it's significant once you add in time value of money and, and you know, month over month, and so I on average, you know, let's say we get a deal for I tell you, we just bought one, I think from 90,000. probably put 7000 into it. And that place will rent for 1300 50 a month. So do you the calculator was I grab one real quick? You know, it's probably a 1.1 point four. Yeah, that's a 1.4. And so we found that in June of this year, so just, you know, June the 2019. And so those deals are still out there to be had. And so those when we see that number, that, you know, we say we make our money when we buy, of course, then we have to finance it right? and manage it right. But if we don't buy it, right, it's hard to manage it right. And and finance it right in a way that will bring us long term wealth. And so we are shooting for I say 1.25 and hires in higher on that on that price to or price to purchase ratio? or rent to price ratio, I should say, yeah.
Neil Henderson [32:51]
So are you still using mostly like yellow letters directly marketing to owners?
Chris (Stealth) [32:57]
Yes, we are. So we spend about 1000, yellow letters a month, to certain zip codes. And we you know, we can we can tailor tailor that, that that list really well. So we know if their owner occupied, we know how long they owned it for. So we know hopefully they have some equity and they can sell it to us at a discount. We know as a size we know as a cooler, not we know the age of the house, and all that and obviously the location. And so we we specifically target certain certain neighborhoods and letters or areas. And then we also buy a fair amount of properties from wholesalers. We have our favorite wholesalers who know if they can't find someone to buy it, that will buy it in a pinch for a little bit less. Right. So they're getting near the end of their signing period. And they need to have a short sale. They know they can call us up and we'll buy it if it makes sense for us.
Brittany Henderson [33:52]
And the yellow letters are kind of like those letters you get in the mail. They're like I'm such and such person. Are you looking to sell your house? kind of thing?
Chris (Stealth) [34:01]
Yeah, you got right. So it's, you know, you can argue the kind of tacky but they work really well for us. And so it's just that it's a letter that it looks like it's handwritten, it's on yellow paper, and a normal envelopes looks like a letter your grandma would send you. And you know, just says we have a series of five or six that we send a little more aggressive as they go on. And so we'll mail this will mail to the same person five times over about a six month period. So about one a month. And you know, usually on the first letter, we don't get anything we get, we get a bunch of calls saying Hey, take me off your list, okay. But by the third or fourth letter, that's when we see our highest conversion where people so having in your letter for three months, tell me what this is all about. Right. And usually, it's someone who is either a accidental landlord, right, they had to move or you know, relocated for work, or they inherited the house because you know, their their uncle passed away or whatever. Or they are a landlord has had a tenant for 10 years and the tenant just moved out. And they don't want to have to fix it. And they don't want to have to spruce up the place and get a realtor or the Hey realtors or whatever. And they just want to be done with it. And so many of these people call and they have a problem or a pain point. And we're trying to help solve it. Right. So then we'll go visit them, do a quick walkthrough on the house, tell them hey, this is you need to fix these things to get it retail ready, right to sell on the MLS. So to replace the roof, renewed yard, paint everything, change the bathrooms, we add all that up. Okay, so if you wanted to get x, you need to fix why. So why don't you just sell to us for z, and we can close in a week or 10 days, cash and you can walk away from it. And that's very attractive to people if they have to significant equity, because they just want to be done with these places often. And they paid a significant amount of money last 1015 years ago, right? Because the market was down. And so everybody wins in those scenarios. And that's typically who we're finding is are our biggest customer. When we will they mail those letters.
Neil Henderson [36:05]
Now you only buying cash. Are you sometimes doing terms?
Chris (Stealth) [36:10]
When you say that one more time?
Neil Henderson [36:12]
Well, do you only buy cash? Or do you sometimes offer you know, do try and buy it on terms were like owner finance are
Chris (Stealth) [36:19]
all right now. Yeah, so we always buy with cash. So and when we say cash, but it might not be our cash, but it's money we write, we write them a check at closing. And because that's what's attracted, they want to close in two weeks or less. And they don't want us to deal with waiting, and they just want to be done. And then like I said at the beginning, we will then you know, get it rented, get it fixed. And then we'll take our money back out with a portfolio loan, say a month later, actually buy it.
Brittany Henderson [36:47]
How are you estimating the cost for the rehab?
Chris (Stealth) [36:51]
Good question. So all our houses are either three or four bedroom, two bath houses, we have a couple of duplexes that are two bedroom, one bath. So we know in our market exactly what things cost, you know exactly what it costs to replace a condenser unit, or an evaporator coil in the attic, or a furnace, or a roof. We know it takes 1800 dollars to paint a whole house for I know it's cheap, but that's what we've been able to negotiate. And so all of these things that basically we have in line items, we know, you know, it costs 1500 dollars to replace a tub and attempts around. And so we can go through these houses, and just in five minutes, and this is what we'll do, like on our Instagram stories, will walk through a house and just record everything is make a list and say okay, this house is going to be $13,000 right to fix. And we just add that in. And so that's and people say well, how come you don't do inspections per se, like when you buy a house, you know, it's not risky. In our experience, there's no problem that's not going to, it's going to cost more than $5,000. And, and rarely have we ever had a house has had more than one $5,000 surprise. And so for us, you know, we we just don't, we don't do that. So we will walk through the house, check the age of the AC, check the Asian water heater, look in the attic, you know, check the age of the roof. And that's about it. Everything else is we can smooth out in the numbers. So we know exactly how to price these houses based on that quick 15 minute walk through. And that comes just from experience. And because we buy the same exact house every time. We know it's the most liquid house that for us a three bedroom, two bath house 1400 to 1800 square feet, built from 1977 to 1990. That's our bread and butter.
Neil Henderson [38:37]
And when you were starting off, how did you how did you learn to estimate those rehab costs?
Chris (Stealth) [38:45]
Yeah, good question. So we the very first, let's say, well, let's say maybe is a so after the five houses with the Five Guys, we didn't want to manage them. Because it wasn't, it wasn't fair to everybody, because the other three guys weren't, weren't doing as much as you know, sweat equity. And so we hired a property manager, which are saying it was good in the end, because we realized we didn't need one. But it was you know, it was kind of a kind of a bad experience for us. And just just they were they were charging all kinds of fees that we weren't seeing, they were charging for the tenants and they would just flip places over even as tenants didn't want to pay a $25 rent increase, get a new tenant, which would then cost us a lot of money. And but what they did do is for one of our properties they offered to we have it, I mean, we paid for it, but they offered to offer all the contractors to rehab it is you know, we signed up with them for property management agreement. So we did, and then every day, my partner, Dave would go down there to that house, and get the information of those contractors. And we quickly, I wouldn't say Steve stole them, but we, we hired them as well for our other properties. And we still use a lot of those same guys today. And they, you know, for us, we were able to negotiate and then we also are part of a kind of a landlord Group here in Houston. And we we bounce ideas off each other, if you need a window guy, or a roofer or someone to do some network, right, they have someone in our group has done some of that. And so we can quickly figure out what is the going rate for that work and and price it accordingly with, with our contractors.
Neil Henderson [40:26]
So, you know, contractors are the bane can be the best friend or the bane of existence for investors. And, you know, one of the challenges is finding a good one. And, you know, you can't really go to a real estate forum and say, Hey, is anybody got a good contractor, because probably nobody's going to give you the right director, they're going to give you their second third, right. But that's a great ideas, you know, go to a property manager, because they want your business and they've probably got good contractors and you know, and then just, you know, go and get to know them separately, that's a great tip. I like that,
Chris (Stealth) [41:00]
right. And a lot of them have extra time, right. So a lot of our guys will, will will not big enough. Now, they may do a lot of work for us now. But the first day, we just do our work, you know, after they finished the other work, which was fine, because they just wanted more more work and more income. So it worked out really nicely. But I will say a lot of our guys, they're just so responsible. And they know that we give them constant work. And so we don't beat them up on price. I mean, they give us a good price, but we're not trying to we're not trying to cheat them out of a fair wage. And in return, they do a good job for us. And they know that there will be more work coming from us. So it's a good relationship that we have to get good work, good rates, and constant work. Well,
Neil Henderson [41:43]
that's such a great point is once you find a good contractor, you better keep them employed. Otherwise, he's going to go work for somebody. That's
Chris (Stealth) [41:49]
exactly, and not to beat them up on price. Right? Like they're constantly, you're constantly peddling on price, you're going to want to not work for you or do substandard work. And so we just try to keep them happy. And in return, they make our life easier because in the end, like I said, we don't want this to feel too much like a job.
Brittany Henderson [42:08]
Yeah, so you didn't enjoy your experience with a property manager Are you guys self managing 50 properties
Chris (Stealth) [42:16]
52 we are we are people think we're crazy. But for us. It's, it's we're probably near the end where we probably should hire somebody. But we split them between the two of us, right. And so we get calls from the tenants, and then we just text or not call them and say we've trained our tenants to Texas, Texas, if there's a problem, and then we text the appropriate contractor, they make the appointment, they fix the problem, they let us know what the problem is, they don't take pictures of it, we have an account at the local Home Depot Lowes that they can go buy stuff on, and we can approve the attacks. So it really is I never have to go to these properties. Unless we are changing tenants. So there's turnover. And then the other big tip I will give to listeners, at least the number one tip that Dave and I learned is that you never tell a tenant if you're self managing that you own the property. And so none of these tenants know that we own this, they think we're just strictly the property manager working for the for the owner. And that helps because gives them a letter of separation. You know, we are an advocate for the tenant helping them with, with the owner. And so you know, the tenants like I need to pay rent a little bit late this month, well, that's not gonna really going to work, what do you think in and checking in with a plan, I'll run that by the owner, right. And it just adds a layer there where they're not trying to take advantage of you. So there are too many stories where self managing owners get, you know, just aren't in the business of running a business. And so they get soft with their tenants. And before you know it, they're a month or two behind. And that's just, you can't run a business, you can't run a rental real estate business like that. And so that tip has helped us be firm, but not have to get personal with these with these tenants.
Neil Henderson [44:08]
Well, one things you need to keep in mind too, especially if you have multiple units is you if you do one thing for one tenant, you have to do it for everybody. Otherwise, you're going up against fair housing laws. Exactly. And you can use you can use that as a backup for why you can't Hey, listen, I gotta charge late fee, I'm sorry. You know, government regulation says if I don't charge you, then I also have to do it for every tenant. Yep, so I want to I want to circle back for just a second before we move on. When you are acquiring a property, are you guys going down yourselves and negotiating with the, with the owner and talking to them review gotten the point where your hire hired an acquisition manager.
Chris (Stealth) [44:59]
Now working they're nice one ourselves. And that's because, you know, it's probably a little bit of hubris, we just we just don't trust anybody to do it. And so where David is an expert negotiator, and so we just, that's just something and we enjoy it, we enjoy it so much. That's our favorite part. So to give it somebody else, it would just not only would have to pay them, but it'd be like giving up a piece of our our funds. So we have not done that yet. What I do think we will outsource at some point is probably the repair request, and some of the lease writing and maybe some of the rent collection, whether it's to a virtual assistant or to some young, budding novice investor who wants to learn the business, we that probably is something that's around the corner, just because no one likes getting calls. 8pm on a Sunday, they see that right. But we're not to that point yet. Really is because you know, as you're playing earlier, Brittany, the reason we don't have a property manager is kind, they're charging seven 8% a month of gross rents, which is 65 $68,000 a year for us. And really, like I got to this point, yeah, but we probably spend, on average, six hours a week between the two of us. So three hours each managing the houses. So it's, it's pretty efficient. And we do book books and other stuff outside of that. But I see working with tenants and working with contractors, it's, it's, it's not that much. So when I think about that, and I think about paying someone 70 grand, it hurts me, so I can't do it.
Brittany Henderson [46:38]
Um, you have so you've kind of got your system for the, you know, the texting with the tenants and things like that. Do you have any other systems that you've set up? You know, you haven't really outsourced anything, but there are there any other important systems that you use? Yeah.
Chris (Stealth) [46:55]
So you know, we're pretty basic. So we, we use, and we use one of the major banks, right, and we use them for rent collection. And so whether it's to sell, or tenants going to the branch directly and depositing money, you know, we don't get any checks in the mail. And we don't have to worry about things get lost in the mail. So everything is automatic, or, you know, comes in our account electronically. And we can reconcile it then into our books. So that's how we do rent collection. And the way our sets are for repairs and tenants is all through through texting, and we pay our contractors the same way all to sell. And, and very little I mean, so my biggest tool, to be honest, is my smartphone. And that thing, you know, if I lost that, I'd be in trouble. But that is, it's simple. But it's, it's worked so well for us. So we haven't had to, you know, invest in any cloud based or fancy rental software, or anything like that, we just have very intense and very customized Excel spreadsheets that we use, that worked for us perfectly. And so that's our biggest tool. So we can tell, and we track every expense that comes to the house, whether it's a utility, when when it's out of it, when there's no tenant in there, or repair, or contractor labor, or whatever we can we track that all back to each house. So we know exactly how each house is performing. And can tell what the rate of return is, you know, is a good month, a bad month, or bad six months what's going on here and figure out if it's a bad tenant, or what are we some some bad luck on a house, and then decide if we want to sell it, or what we need to do to back up to the level of performance that we expect. And so that all that those numbers, is what helps us know, it gives us the data to run this business efficiently and effectively.
Neil Henderson [48:49]
Um, do you? Do you have separate bank accounts for every property?
Chris (Stealth) [48:55]
Or do you know, the one to one and but what we do want to explain this, right? So anytime somebody buy something like say on the boy, or they obviously they put a job name on there, so we know which house it goes to. And then we don't have that many repair requests per se. I mean, it sounds like hundreds a week, you know, it's probably three. So on average three a week, and so we can easily assign those to the correct house. And so it it is manual, in a sense, but we have not needed to automate that to a system just yet other than just, you know, reconciling the bank account. And I think, you know, that's my partner's favorite thing to do. He loves doing that. Again, it's something he enjoys, which you might think it's kind of sick, but he likes it. So we'll keep doing it until he doesn't.
Brittany Henderson [49:51]
Yeah, that's important, I mean, part of real estate, when you're actively doing it, you don't want to be doing the parts that you hate you really especially it takes, it can take a lot of time. So the things that you want to outsource can outsource can be really important. But you know, if someone has the skill and the interest in doing it and the time and it's not putting undue stress on them or anything like that, it's probably can be worse doing it sometimes I guess.
Chris (Stealth) [50:22]
That's a good point to that is that, at the very beginning, especially in that very first house was talking about was the foundation as you as we painted some of those walls ourselves, that was just something we wanted to do, we thought we were going to save some money. And to this day, my partner still says I will never ever paint another wall, like I will always outsource that. Right. So that's something he hates to do. And so we pay for that. And it's great, right. And so as part of this whole movement is that we, we want to transform our time to be able to do stuff we love to do and it brings us joy. And so painting walls is not one of those things. So we pay somebody to do that, to your point.
Brittany Henderson [51:00]
And it sounds like you guys have some flexibility of time, even though you are still working within kind of a day job, right?
Neil Henderson [51:09]
How do you any tips on Tenant Screening?
Chris (Stealth) [51:12]
Yeah, so we use, we use the basic that is a system we use, it's called my smart move calm. I think it's backed by one of the major credit bureaus, Experian or somebody. And so we will send a normal application. When I say a normal, it's a standard Texas real estate commission application that asked for, you know, their name, and where they work, what their income is all self reported. And we look at that, and if we like the data, like if it looks good, then you know, they have enough income and the real history looks good, then we will send them and there's no fee to fill those applications. So those they can send those to us all day long. Send us some pictures of their their last two pay stubs or whatever and their bank account, then if it looks good, we will then send them a link to my smart move calm and that's where they will then go in and and put their personal information. So security address and stuff and we don't ever see any of that information. But it will then process their their background check, check their credit, check their eviction report and check their criminal history. And it will email us a report. And that cost I think $40 per person and we make every person was 18 or older living in the house, fill that out. And so once that is sent to us, hopefully it's a formality because they put everything honestly, on the first application, it should match what we're seeing in the in the screening report. And then we just verify that, you know, it looks good, we'll call prior tenants, we will, you know, verify their, their rental history. And then, you know, we say as long as you give us the first month's rent and a deposit wherever the deposit is, do you have the keys, even if it's a few days early, we will do sometimes we will we will find people who maybe have don't have the best credit, but as long as they have the income, we will you know pick them up. And that's that's been good for us because I've been able to find some people that maybe wouldn't qualify with a big property management company or a rental company. But they're still good tenants or they had some bad luck in the past whatever. But as long as they have the income, and then sometimes we'll also make them pay maybe a one and a half, or a two x deposit to kind of protect us if it if they're consistently having bad luck. But that that's how we do that. And then and then we just explained to them how they pay rent every month and and then stabilize the house and let it go. And so that's that's kind of accounting how we do that with my smart move calm has been very helpful for us to kind of screen those tenants and it's free to, to a landlord us make the prospective tenant pay the fee.
Neil Henderson [53:53]
We'll put that in the show notes. I have before we go on I have a funny Tenant Screening story. One of my best friends from a while ago is no longer with us, unfortunately, helped run a property management company with his father here in Las Vegas. And he had a soft spot for renting to strippers. And his father did not. And whenever they get a new a new tenant, you know, application, and his father would see it was a woman of you know, whatever age he is followed always asked, Is this a stripper? And it's fun summer good. No, no, no, it's not. It's not as well, nine months later, when another really she stopped paying. He would always like and they'd start the eviction process. His dad was like she was a stripper wasn't cheap.
Chris (Stealth) [54:45]
Well, we had one of those. And she was a great pair. She and she always, she always paid in cash at the bank, and sometimes the bank with charges a small fee, because it was my film, small bills. But that's what she was a great player. Yeah. Sorry.
Neil Henderson [55:04]
Look, listen, they've got the income, they can be great. But the problem is, right, people like that are typically not the most stable. And can
Chris (Stealth) [55:14]
you know, the people, it's the profession that is stable?
Neil Henderson [55:19]
So with that in mind, Brittany actually wants to talk about family.
Chris (Stealth) [55:24]
Yeah,
Brittany Henderson [55:26]
well, it's, it's actually interesting, because we, we tend to not really talk to a ton of people who actually have families, you have four kids, a wife, you know, you both have families, legends, we're talking to these investors. And you know, we're about families and how to do this with time, and they don't have that experience. And we just try and you know, afterwards, sort of aim it in that direction and take what they've told us and, you know, make it applicable for someone or kind of give them tips about how, how it could be opposed to them. Um, so I'm just interested in kind of talking about how this affects your life, with a family how you make it work. We've said before you have a little bit more of a flexible schedule, but I'm sure I mean, you still have a job. So you know, I don't want your attention. Yes, yes, I don't know.
Chris (Stealth) [56:22]
It's true. But so that's good point. So that's that, I think that is something that sets us apart from most of the stories you hear, both of our wives do not work outside the home. So we are single income producing families, and we have multiple children. And when we say that to most of our friends, they think we're crazy. You know, because I look I'm looking out my window right now. And on my street, every one of them is a dual income family. And so that's, you know, fairly unique, but for us, it is important for my wife to be home with the children. So that's, that's the whole reason we're here, in our opinion, is to raise these got four boys, Dre, these four boys to be productive members of society and, and to be kind. And, and, and my partner Dave, and same way he's got three kids and his wife is is is a full time, full time mother. And that is such a big job. And so, you know, at first, you know, I used to commute, you know, Downtown Houston every day worked for, for a big firm downtown. And it was like two extra hours. And I know, you know, some people even can be longer than that in places. But as soon as I stopped that job, and I was able to work from home, you're seeing that movie, limitless. But I take that drug where it gets super smart, right? It was like, it was like taking that drug for me it was had two hours extra in my day. And at first I didn't know what to do with it. It was it was insane. And my productivity just shot through the roof because I had extra time and I was working from home. And at least in my job, there's roles during the day because you know, it come up and put them out. And there's other projects I could work on. But now, with this side business, I always have something to work on. And so it is a pain to have it I have a note on my door. Like right now it's on the door, because it's Saturday, my kids at home, but it says dad is working Do Not Disturb. So there was a there was a
Brittany Henderson [58:20]
Sunday our child. He's not here today, but sometimes he will be and like, on a good day he'll like secretly creep in to ask me to like open a pack. He's five. Or be you know, tell me some other obscure things on a bad day. He's like, yelling from the living room.
Chris (Stealth) [58:42]
Right? I'll be on a conference call. And that will happen right away. Oh, my goodness. And so that was an adjustment first to say, hey, dad's always here now. But he can't play with me, or what he's always working. And I'm like, Well, no, I'm not always working, I'm at home, and I work a good part of the day, because it's too do. And you just in your mind think that I'm working all the time. You know, a lot of kids never see their dads because they go to, they go to work before they get up and they get home after dinner. Right. And so there was kind of a mindset shift, mindset shift for that. But we've made it through it. But for us it is we do spend a lot of time together as a family. And that's because that's important to us. And so that was another reason why I switched jobs, years back to work from home, because that was that was important to me. And, and so sometimes though, I do have to, you know, hey, you know, I got an emergency down to the house, I need to go to, you know, jump, you know, jump and leave the family, whatever activity we're working on, or doing or dinner and, and bail and my wife and very, very accepting of that she understands the long term goal in mind. And what we're trying to do here, so it's, you know, it's definitely a group effort, and she has picked up so much slack. where, you know, if I had to go work on some of these houses and do something with it with the rental business, or go see a house, a lot of times they'll be, they will call me up and say, hey, there's a deal, we got to go see this house now. Can you leave in 10 minutes, and you have to drop everything and go. But that's you know, that's at that point, it becomes a priority for us. But in the long term, we hope it will bring more freedom and more flexibility, even by taking this VC years to really double down on a full time job. And if you call it a side hustle button, another another endeavor do to make the future even better.
Neil Henderson [1:00:32]
It's very much the position we're in and I was kind of compared to trying to trying to make some cold putting the fire. Yeah, it takes work to get it in there to make it and to put it in a fire. But once and once it's in the fire, it burns the fire for a while it may not burn forever, but it's going to burn a lot longer than it took me to do the actual work.
Chris (Stealth) [1:00:56]
Yeah, exactly.
Neil Henderson [1:00:57]
You know, we're talking about well, passive income and all that it's like, well, it's never, it's rarely truly passive. But it's residual, it provides residual income, the income continues to come after you've put in the work to do it.
Chris (Stealth) [1:01:13]
Yeah, that's what I try to, you know, have that conversation with my wife, Muslim much. In the past, I tell her, you know, listen, if I quit my job today, my full time, you know, job as an income end, right. But if I build this, this business, essentially that I am the owner of and this is true with any business, and you can outsource the running or the management of that business. At some point, the income still comes in, right as long as it's running well. And that is that was a mind that we had to shift to is saying you're making an investment for our future. And it's much bigger than investing in the stock market is much bigger than, you know, putting saving money in a savings account, we are creating a sustainable business that provides income so that I don't have to work a nine to five. And that when we found when we made that switch, you know, then it doesn't hurt as much if I need to go take a few extra minutes to go finish something or, or you know, I don't miss I try not to miss soccer games or football games or piano recitals. I've never, I've never had to do that yet. And for something with real estate, so that again, it's because it's extremely flexible. And so that has made a nice but that if I ever have one of those problems will I'll probably choose the family thing over the real estate thing. Because that's that's how I'm wired. But yeah, that's, it's it's definitely building a business now that can run itself in the future. Even if
Neil Henderson [1:02:52]
we lost you there right there at the last second.
Chris (Stealth) [1:02:54]
You're still there? Yes, I'm here. Okay, we're.
Neil Henderson [1:03:00]
So I think we're, I think we can find a way to finish your thought there. Well, Chris, thank you so much for sharing with us today. You've got the blog at the stealthy, rich, calm. You're active on Instagram at the selfie rich. If any of our listeners want to reach out to you, what would be the best way for them to find you?
Chris (Stealth) [1:03:21]
Sure, you can DM me on Instagram at the selfie rich? Or there's a contact form on the selfie wish calm and our blog, love to hear from you. We answer every question we get. Because for us, this is exciting for us. We like talking about this stuff. My wife always makes fun of me. Because when I go to parties, I'm always in the corner with some guy talking about real estate not being very social. And so. So I love getting messages about what everything's talking about. So reach out to me, I'd be happy to answer any questions or just shoot the breeze if you'd like. Thank you. Awesome.
Brittany Henderson [1:03:54]
All right, we're going to stop the recording and then. All right, well, that was Chris with the stuff rich, what was your key lesson that you learned from this interview?
Neil Henderson [1:04:05]
Chris talked about evaluating deals, and he talked about their key metric is the rent to price ratio. And it's often talked about, that's like the 1% rule. Things like that. And they actually they target better than that they're looking for 1.25 to 1.5 or higher. And that's really kind of where you start. And that tells you, you know, if you're able to buy a property that's going to rent for $1,000, then let's say 1500 dollars, then you're trying to get all in on that property for about $1,000 or sorry, about 100,000 to, you know, maybe $120,000. And that will give you the correct ratio that you're looking for to make sure that property is going to, to properly cash flow. What about you?
Brittany Henderson [1:04:57]
I think one of the important things takeaway is that partnerships are really important that you you know, you need to be able to complement each other and sort of know your, your skill sets. So that, you know, it's not lopsided, it sounds like the the five person partnership was a little bit lopsided, you know, the two of them were really doing most of the, the actual, I think, sweat equity, as he said in the interview, and then the other three were more on the money side. And that wasn't really necessary for them to be successful. So, you know, they, they transitioned out of that and went down to the two people who were really a good fit together, and were able to complement the skills and be a successful partnership.
Neil Henderson [1:05:48]
How did you acquire his knowledge?
Brittany Henderson [1:05:51]
It sounds like a little bit of just trial and error, at first are sort of, you know, having some people who are already a little bit experienced in it. And then from there, sort of the normal, you know, read books, listen to podcasts. It doesn't sound like they didn't have any kind of like mentorship programs or anything like that.
Neil Henderson [1:06:10]
No his partner that he stills with now today, Dave sound like he had a little bit more experience. So what he did was partnered with him to, to sort of make up for his deficiencies and things like that. What would you can you can you maybe think of one of the key things that he needed to know, before getting started. I put you on the spot there.
Brittany Henderson [1:06:37]
I mean, he, I don't know that there was something they needed to know, they need to know that they were interested in it and sort of move forward. It sounds like they made a lot of sort of things that they wouldn't do. They made some choices they wouldn't make now so and and i would say really that from what I understood from the interview, and probably a little bit of talking to Chris prior that's not recorded is that they didn't really know a lot like David done a little bit. So a lot of it really I double down experience is where he got his most of his lessons. Plus, like our dog doing, yes, he learned by doing and then, you know, once he kind of got started, he listened to a podcast, read books, you know, that kind of thing, that free knowledge base, but it's not. I mean, they kind of got lucky, they already had the skills and some basic knowledge and to really do this successfully, which is awesome. You know, it's, it's really great when you fall into it. And they also started in 2013. So, you know, the timing he had, their timing
Neil Henderson [1:07:44]
was great, was a lucky.
Brittany Henderson [1:07:48]
Lucky component. But now, you know, luck is is definitely not not the running, you know, the driving force. They clearly know what they're doing and make choices based on sound financial decisions. And it sounds like Davis, it's kind of the financial gurus.
Neil Henderson [1:08:08]
Gotcha. Anyway, I would say if there was one thing that they really need to know was, and they had to, they had to learn how to evaluate rehab costs. And they and they did that by basically initially going to a property manager who had contractors and basically, and now they it's gotten to the point where they've done it so many times that they know the market. Yeah, I mean, they basically know what things are going to cost. They can go in, they can look at a place. And as he said, You know, so many people get so caught up in, you know, wanting to know exactly exactly what it's going to cost to rehab, you know, yeah. And he said any, they even skip the inspections. Because he says, you know, typically nothing's gonna cost more than $5,000 to fix.
Brittany Henderson [1:08:54]
Yeah, so you're just kind of paying to that and pay again, for that thing. If it comes up later. I don't know how much inspections cost, but still a saving spot. And it might be that something that they add at some other point that they do end up having an inspector later, when they do start to outsource things, you know, we talked about they sort of are doing a lot of the things right now for themselves. And and they will probably grow out of that when it becomes necessary, or they feel like they want to money. So how much did it take to get started?
Neil Henderson [1:09:35]
Well, I know that they that first property that they bought, they needed to bring $25,000 to the table. And but there were five partners who brought $5,000. And
Brittany Henderson [1:09:47]
he actually said 6000 in the interview winner. Yeah, so $6,000. But and he will I mean, as he said, like that was kind of their first year steel. What about that second one? Where did they bring that money from where they had the foundation issue? Do you remember? what they did? there? All right. Well, they hanging it's a podcast thing.
Neil Henderson [1:10:25]
Hopefully, the other two catches that people set out
Brittany Henderson [1:10:29]
to be an Easter egg at the end. Yeah.
Neil Henderson [1:10:30]
Well, they're they've gotten pretty good at they now they don't actually need a lot of money now because they're able to they have that built network with private investors or hard money lenders. So they able to basically acquire property for quote unquote, cash, which is generally other people's money, which they either which they typically borrow. So I, my understanding is that's how they acquired that second, second first property as well. Tom, how much time does he spend on his endeavors? Now?
Brittany Henderson [1:11:05]
We didn't really get specifics on total, I would guess probably on a really, really crazy, like week, he's probably like, 10 to 15 hours, like we're there maybe looking at a house and doing this and doing that. But he said about three hours for, you know, the typical, there's problems, you know, repair stuff, because so much of it is just outsourced. You know, they've got their texting system with the tenants.
Neil Henderson [1:11:35]
repair man.
Brittany Henderson [1:11:36]
Yeah, yeah. So that was about three hours. And they said, they're still like, the books and things like that. So I mean, I would guess, three to 10 hours, probably and for for him. Some of that is in between when he you know, drink while he's working. But in like when there's a low in time. So you know, he's able to sort of, it's not necessarily on top of the hours he's working, sort of within hours he's working, which is nice and not really, if you can make that work. If you can find a way to have that flexibility, that's one of the best and easiest ways to get into real estate. If you have time, like a time crunch, you know, that's something that we're kind of working towards is being able to have some of that more of that flexibility to where one or both of us can do more during the day. Yeah.
Neil Henderson [1:12:33]
could he do the strategy from anywhere in the world?
Brittany Henderson [1:12:37]
Right now, if his partner is in Houston? Yes. It sounds like, I don't feel like they could do it. If both of them left at the same time. No. It sounds in the future when they have other people doing these things for them. Yes, yeah.
Neil Henderson [1:12:56]
Yeah, I would, I would agree. I said right. Now they are. They're very active investors, they part of their unfair advantage that they have is they know that market really, really well. And their boots on the ground? And so I would say right now No, but in the future, if they wanted to build the systems and hire, hire the professionals to start taking over? Yeah,
Brittany Henderson [1:13:19]
well, even I mean, I would say like, they could be gone a lot more if they outsource more of the upkeep. And then they can just look for houses, you know, if someone else was doing the like managing the letters and the houses and all those, like smaller things, and then they were just going and looking at like one of them that was just going to look at the house. You know, you could theoretically live on the other side of country and do that occasionally. I mean, they said there, he said there's they're probably buying maybe one a month or you know, a couple of quarter. So, especially right now where they're a little bit slower, theoretically, they they could travel more if they outsource some of those smaller tasks or the maintenance tasks.
Neil Henderson [1:14:07]
All right, well, that was Chris from the stealthy, rich, calm. We certainly enjoyed speaking with him. Check him check out his blog. When you get a chance to check out his Instagram at the selfie rich let's hit the road.
Post-Interview Analysis
Key Lessons Learned: The rent-to-price ratio for evaluating deals and needing to complement your partners' skills in a partnership to have different talents that are useful.
How did they acquire their knowledge or what knowledge did they need to acquire? Trial and error and gaining experience are how he learned how to evaluate rehab costs.
How much money did it take to get started? His first property with his partnership cost $25,000, and he came with $6,000. He built business relationships with hard money investors.
How much time does it take now? He spends about 3 hours a week for repairs and dealing with tenants. Maybe 3-10 hours a week total.
Could they do this strategy from anywhere in the world? Right now they can't do it from anywhere due to the hands-on property management component.
What you'll learn about in this episode
What was Chris' ground-breaking big idea moment in real estate?
How did he learn about real estate?
What helped Chris get over the fear of the first deal?
What move did Chris make after buying his first house?
Chris talks about getting his 52 properties with portfolio lenders.
What areas is Chris investing in?
What are the challenges of having partners?
How can you find a partner if you are just starting out?
Is he still buying in this current market?
What does a typical deal look like to Chris?
Does he use direct letters directly to owners?
Does he only buy cash?
How does he calculate the costs associated with properties?
Does he do his own property managing?
Never tell a tenant that you own the property?
Does he have important systems he uses?
Does he use separate bank accounts for each property?
What is good to know regarding tenant screenings?
How does having a family impact his work?
Help Us Out!
Help us reach new listeners on iTunes by leaving us a rating and review! It takes just 30 seconds and instructions can be found here. Thank you so much! We really appreciate it!
Recommended Books
Connect with Guest:
*FTC Disclosure: This post may contain affiliate links. If you make a purchase after clicking on the links, Road to Family Freedom will get a small commission. We are dedicated to finding the coolest products for families looking to building financial freedom through real estate and we never recommend anything that we don't love.