Escape the Rat Race by Investing in Raw Land with Mark Podolsky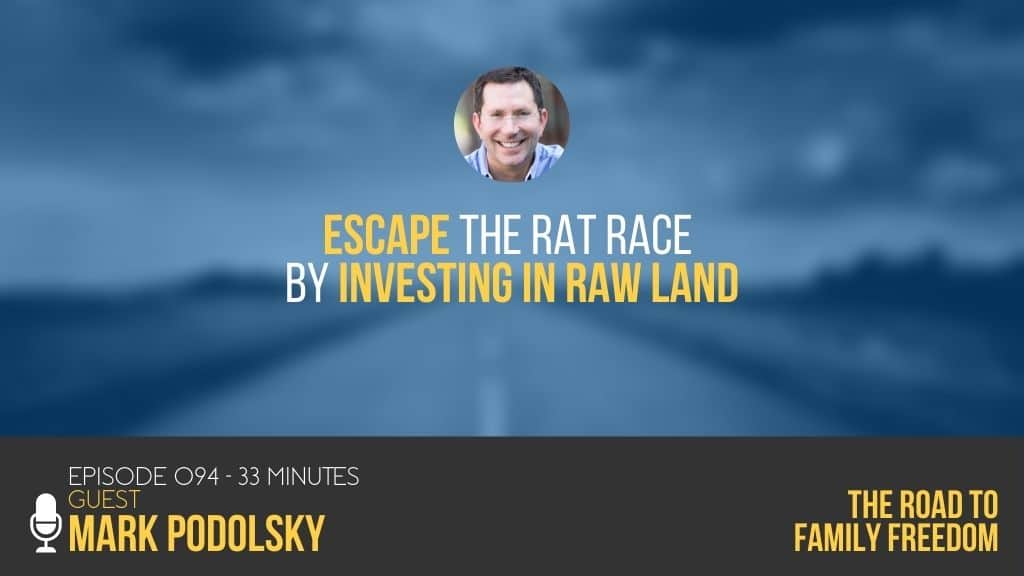 Mark Podolsky – aka The Land Geek, talks to Neil Henderson and Brittany Henderson, the hosts of The Road to Family Freedom podcast. Armed with only $3,000, Mark bought his first few parcels of raw land in 2001. Today Mark is the author of Dirt Rich, the ultimate guide to helping you build a passive income, and owner of successful and investing company Frontier Properties.
Prior to his land investing success, Mark felt trapped in a high-stress, corporate job. Escaping the rat race changed Mark's life in so many positive ways that he decided to teach, coach, and mentor others to help them achieve their financial goals.
In this episode, we talk to Mark about how he first got into raw land investing, the dead-simple way he seeks out raw land to buy, the extraordinary systems he sets up to automate 95% of his business, and the ways he designs his week to maximize productivity and happiness.
Books and Resources Mentioned
Follow Us:
Other Stuff:
If you enjoy the podcast, would you please consider leaving a short review on Apple Podcasts/iTunes? It takes less than 60 seconds, and it really makes a difference in helping to convince hard-to-get guests.

For show notes and past guests, please visit

roadtofamilyfreedom.com/episodes/

Discover the tools and services we use, visit

roadtofamilyfreedom.com/resources/