Retiring at 30 Using Short Term Rentals with Zeona McIntyre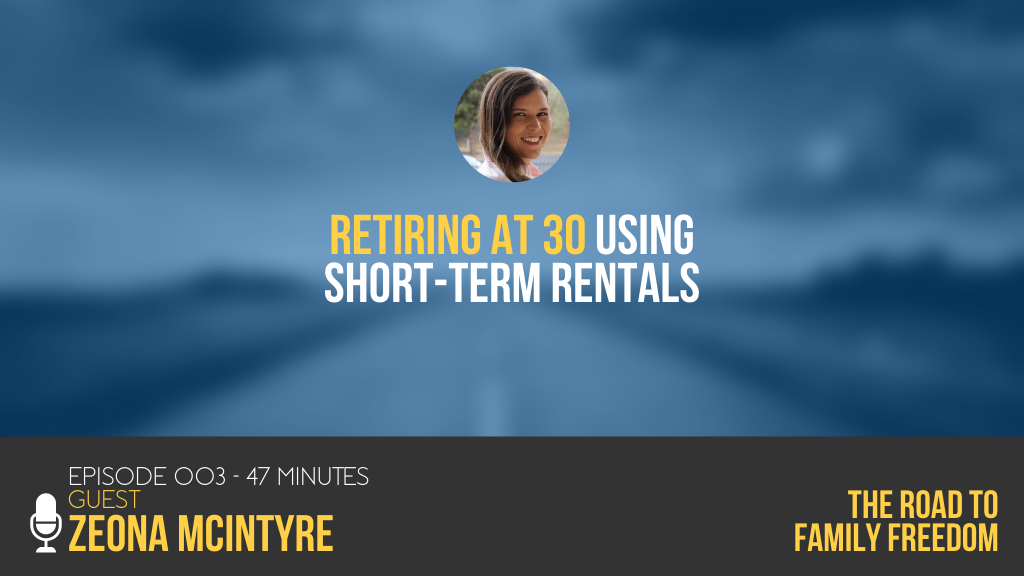 Zeona McIntyre is earning $10-15k a month through her portfolio of vacation rental properties and her co-hosting service for other property owners. All this has afforded Zeona financial independence at a very young age, as she built her operation largely by piggybacking on the growing popularity of Airbnb. With a small team, some smart decisions, and some online tools, Zeona now manages her business from her home in Boulder, Colorado relatively hands-off.
What's her destination?
She wanted to achieve early retirement by age 30. She is well past that, and now struggles with whether she should keep growing or just enjoy life.
How much money did she get started with?
Got started as a side hustle with very little money. She sublette the apartment she was renting as a short-term rental (rental arbitrage). While she doesn't recommend doing that now, that's how she got started.
Bought her first property using a private loan.
How long did it take for her to educate herself?
She learned while doing. AirBnB made it very easy to get started and she just "learned by doing".
How much time does it take her now?
It's not entirely passive, but you can outsource and automate things as you achieve scale, typically 3 plus properties.
Cleaning and unit turnover is where most of the work is and it's the first thing you'll want to outsource.
Could she do this from anywhere in the world?
Yes, as long as she had access to the internet and co-hosts in place.
What you'll learn about in this episode
She owns 6 properties herself and helps manage 15 properties nationwide.
Got started in Boulder, Co but expanded to St. Louis, MO
To replace an income of $75,000 a year with traditional long term rentals would take 12-15 properties. With short term rentals, she's able to do that with 6 properties, more frugal people are able to do it with as few as one property.
AirBnB is not rocket science but you can dig in and learn to improve bookings with SEO (search engine optimization), better marketing, etc.
Evaluating a property as potential short term rental versus traditional long term rental.
Evaluating an area for short term rentals.
She buys properties at retail to avoid having to build a rehab team in a new market.
Creative ways to finance the purchase of short term rentals without traditional bank financing.
AirBnB is not passive, but once you have 3 plus properties it opens up automation websites that can make it more passive.
Tips on furnishing a short term rental.
The importance of using a theme in decorating a short term rental.
The average cost to furnish.
Why she doesn't invest overseas
Invest where it makes sense, vacation where you want to
Dealing with negative guest reviews and bad guest behavior
The importance of vacation rental insurance
Weighing a new opportunity versus the stress to get it
Zeona offers a consulting service for people interested in becoming short term rental hosts/investors.
Subscribe to The Road to Family Freedom
Help Us Out!
Help us reach new listeners on iTunes by leaving us a rating and review! It takes just 30 seconds and instructions can be found here. Thank you so much! We really appreciate it!
Links from the show
Tweetable Topics:
People have this fantasy of owning a short term rental somewhere they plan to vacation frequently. But it's better to invest in a location where it makes sense and then vacation wherever you want.
Connect with Zeona:
Email: zamcintyre@gmail.com
Twitter: @AdventurousZ
Facebook: www.facebook.com/adventurousz
Website: www.ZeonaMcIntyre.com
*FTC Disclosure: This post might contain affiliate links. If you make a purchase after clicking on the links, Road to Family Freedom will get a small commission. We are dedicated to finding the coolest products for families looking to building financial freedom through real estate and we never recommend anything that we don't love.